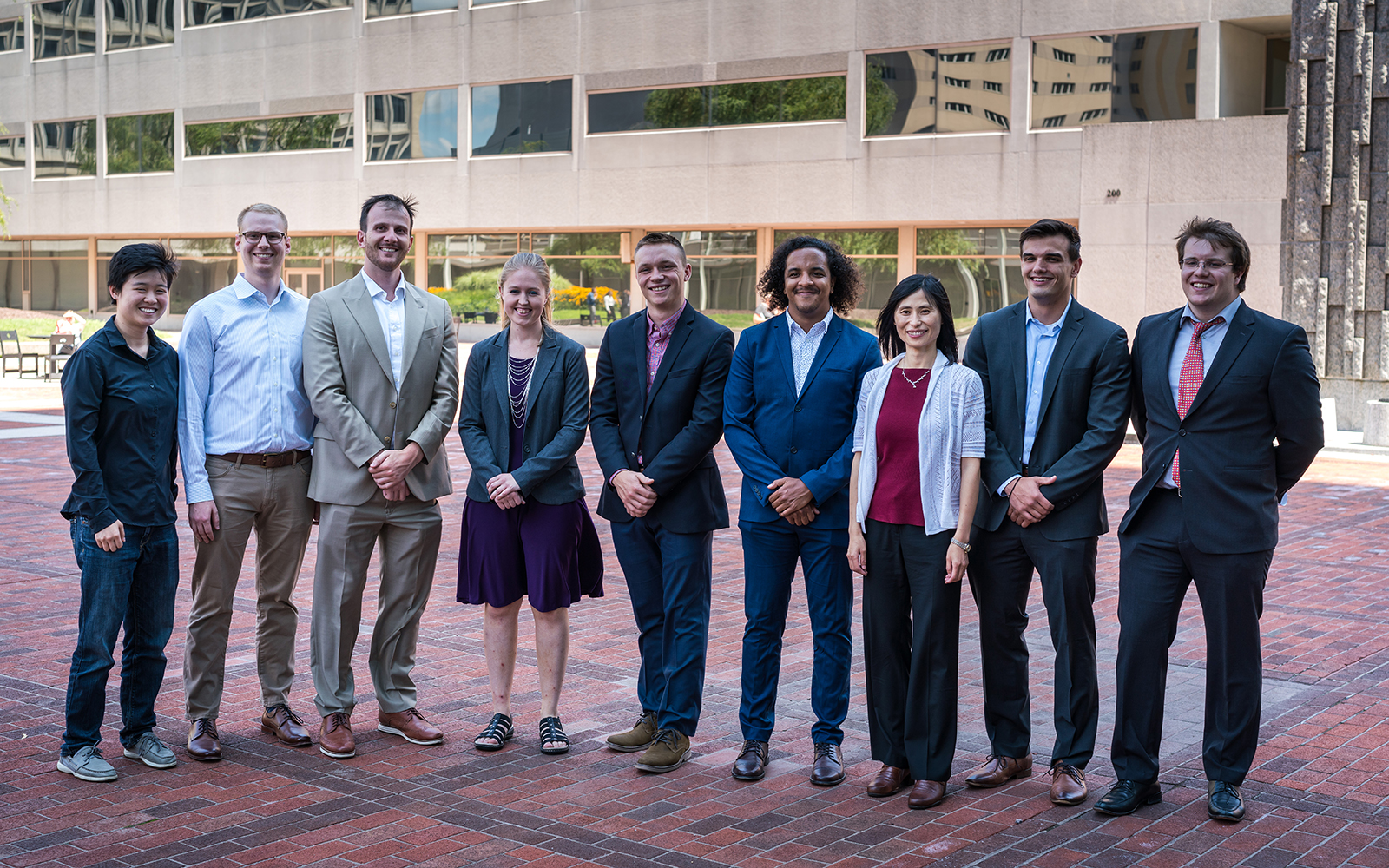 The startups at this year's CCEI Summer Fellowship Finale presented vastly different entrepreneurial ideas, but all were united by a common, altruistic thread.
The following five teams advanced to the next phase, the Wolff New Venture Competition in October:
• A revolutionary new way to deliver radiation treatments to ovarian cancer patients (Nami Therapeutics);
• A method of purifying public drinking water from harmful contaminants thought to cause cancer and other maladies (Geyser Remediation);
• A software that can pinpoint golf-course deficiencies using a robot that works at night, and can reduce the use of insecticides and overwatering (Land Maverick);
• A method to re-mine value materials from 'red mud,' which is the toxic waste leftover from the production of aluminum for products such as cars, computers, TVs and more (Phoenix Trailings);
• An easy-to-use hydroponic food-growing technology that can help alleviate hunger in Haiti and other third-world countries that have scarce natural resources (Levo International).
Competition's Goal: Grow From an Idea to a Company
David Souder, the interim dean of the School of Business, acknowledged he was relieved to not have to select among the advancing entrants in the Aug. 1 finale, because they were all so good.
"Smart competitors know it isn't what you do today; it's what you do today, tomorrow and next month to make your business better. That's the final win," he said.
The CCEI Summer Fellowship is an intensive, eight-week program that welcomes entrepreneurs from 10 startups to learn how to bridge the chasm between concept and marketplace.
"What these participants do here is incredibly impressive and equally important for our society," said Michelle Cote, Director of Strategic Partnerships at CCEI, the Connecticut Center for Entrepreneurship & Innovation, which is part of the School of Business. "We are extremely lucky that we have wonderful mentors willing to invest the time, expertise, and perspective to help the entrepreneurs to grow."
CCEI Program Director Jennifer Murphy noted the caliber of the teams.
"Each year, I am more and more impressed with the startup teams that we have participating in the Summer Fellowship Program. The entrepreneurs we worked with this summer are focused on solving global issues that will have a significant impact on our environment and our lives," she said. "I am pleased to have had the opportunity to work with these startups and look forward to supporting them as they continue to launch their companies and change the world."
Golf Course Perfectionist
Serial entrepreneur Emily Yale, the founder and CEO of Land Maverick, explained that her innovation marries software, and a robot, to collect 200 to 300 data points per hole on a golf course to identify problem areas. Such precise information allows superintendents to have healthy courses, while using less labor, fewer chemicals and less water. The robot can work at night, without disrupting golfers.
"High-end golf courses have to be perfect," said Yale. "I've been told by my superintendents at premium courses that if there is a brown spot the size of a hat, they'll be fired."
Yale, who has extensive background in robotics, is pursuing a Master's of Engineering in Global Entrepreneurship at UConn. She is preparing to test the technology on two golf courses and, if successful, the technology could be of interest to some 34,000 golf courses worldwide. Eventually she hopes to introduce the technology at vineyards, schools, farms and to landscapers.
Project to Feed the Hungry Started in High School
Christian Heiden began a project in high school to end hunger and poverty in a sustainable way. During a trip to Haiti he saw people buying "mud cookies" to feed their starving children. "We wanted to put that industry out of business and replace it with a better one," he said.
He created a hydroponic technology that would allow people to grow food even in places with scarce resources, such as water, and develop a new livelihood. His Levo International innovation can be produced for about $50. He is now refining his product and looking to grow his team with a manufacturing expert.
Thirty-eight Percent of Americans Drink This Contaminant
Nikolas Franceschi and Brandan MacIntyre are on a mission to rid public drinking water of a contaminant called perfluoroalkyl substances (PFAS) which are manmade chemicals applied to materials to make them water, oil and stain repellant. PFAS are found in consumer products, including carpets, clothing, non-stick pans, paints and shampoo, and have been linked to cancer and developmental issues in humans. Water companies consider this one of their top issues, the entrepreneurs said.
Many treatment plans are ill-equipped to handle this toxin and some 38 percent, or 110 million Americans, are exposed to this chemical in their drinking water. The business partners think they have a solution, and are looking to prove their purification-system concept and acquire lab testing space. If successful, they believe they can offer a solution that would only cost consumers about $2 each per month. Business undergraduate student Elizabeth Perry is a member of the team.
Nami Therapeutics Tackles a Challenging Cancer
Ovarian cancer is one of the biggest challenges for the medical community because it is usually discovered in its later stages, said Derek Hargrove, a Ph.D. Candidate at UConn studying pharmaceutical science. Traditional treatment, which involves removing the tumor and administering chemo, can lead to a host of complications, including fluid build-up and chemo resistance, he said.
Nami Therapeutics' proposed treatment would deliver high amounts of radiation directly to cancer cells and small tumors. Pre-clinical data on this nanoparticle technology delivery is strong, he said. It also has implications for other types of cancer, including leukemia. The team has already received $400,000 in grants to date and hopes to begin clinical trials in 2022.
Safer Environment by Recycling Toxic 'Red Mud'
Nicholas Myers, co-founder and CEO of Phoenix Trailings, has developed a method to re-mine value materials from 'red mud,' which is the toxic waste leftover from the production of aluminum for products such as cars, computers, TVs and other products. Manufacturers discard materials that have both monetary and manufacturing value. His plan is to separate components of 'red mud' for additional use; therefore diminishing the size of toxic remnant pools. He wants to work with aluminum refining companies to salvage iron, alumina, silica and rare earth.
Startups Range From Late-Night Tutoring to Therapeutic Bandages
Other finale participants included: Transit2College, a mobile app/software that connects students to tutors for late-night academic assistance in science and math. Business student Michael DaCosta is on that team. P3-EX created a digital health innovation that would allow physicians to prescribe precise exercise regiments for high-risk heart disease patients. Therapeutic Bandage Products offers a new drug-delivery treatment for hard-to-heal wounds that uses microneedles to deliver antibiotics directly to the source of the infection. Business student Malu Foley is part of that team.
Other prominent startups included: Jubian, an Asian grocery delivery service being test-marketed in Storrs, offers a taste of home for international students. School of Business students Ray Li and Wesley Zhang are part of the Jubian team. Another entrepreneurial venture, Green Agronomics, developed a device that attaches to a lawn mower and can differentiate between grass and weeds, and tears out the unwanted plants.
Mentors and Judges Happy to Help
Scott Drozd, one of the competition judges, a UConn alumnus and CEO of FCP Euro in Milford, Conn., said he was thrilled to give back to students following in his entrepreneurial footsteps.
"I didn't have this type of support in my entrepreneurial evolution and it would have been very helpful," he said. "It's a way to give back. I want to continue this culture and environment of entrepreneurship. I live here, my family and my business is here in Connecticut I want this culture to thrive. Why wouldn't I do this?"
Rick Kollmeyer, a serial entrepreneur and co-founder of Adore, said he enjoys the chance to mentor young entrepreneurs. "I get as much out of it as they do," he said. "It's inspiring to hear their ideas and see their enthusiasm. It's invigorating. . I've never seen the same idea twice. The ideas for new innovation in science, technology and the medical profession are fascinating."
"This generation is hard-working," he said. "They are less interested in money and more interested in causes, doing the right thing and protecting the environment."
The finalists in the CCEI Summer Fellowship program are extended invitations to compete in the Wolff New Venture Competition, which will be held from 4 to 7 p.m. Oct. 7 on the Observation Deck at the Graduate Business Learning Center at Constitution Plaza in Hartford. To RSVP, please see: https://docs.google.com/forms/d/e/1FAIpQLScqrsVK7QsKrZ4KmZ9zFb_3K0TEfzKOwbBD_wJOVHoMk8nofA/viewform