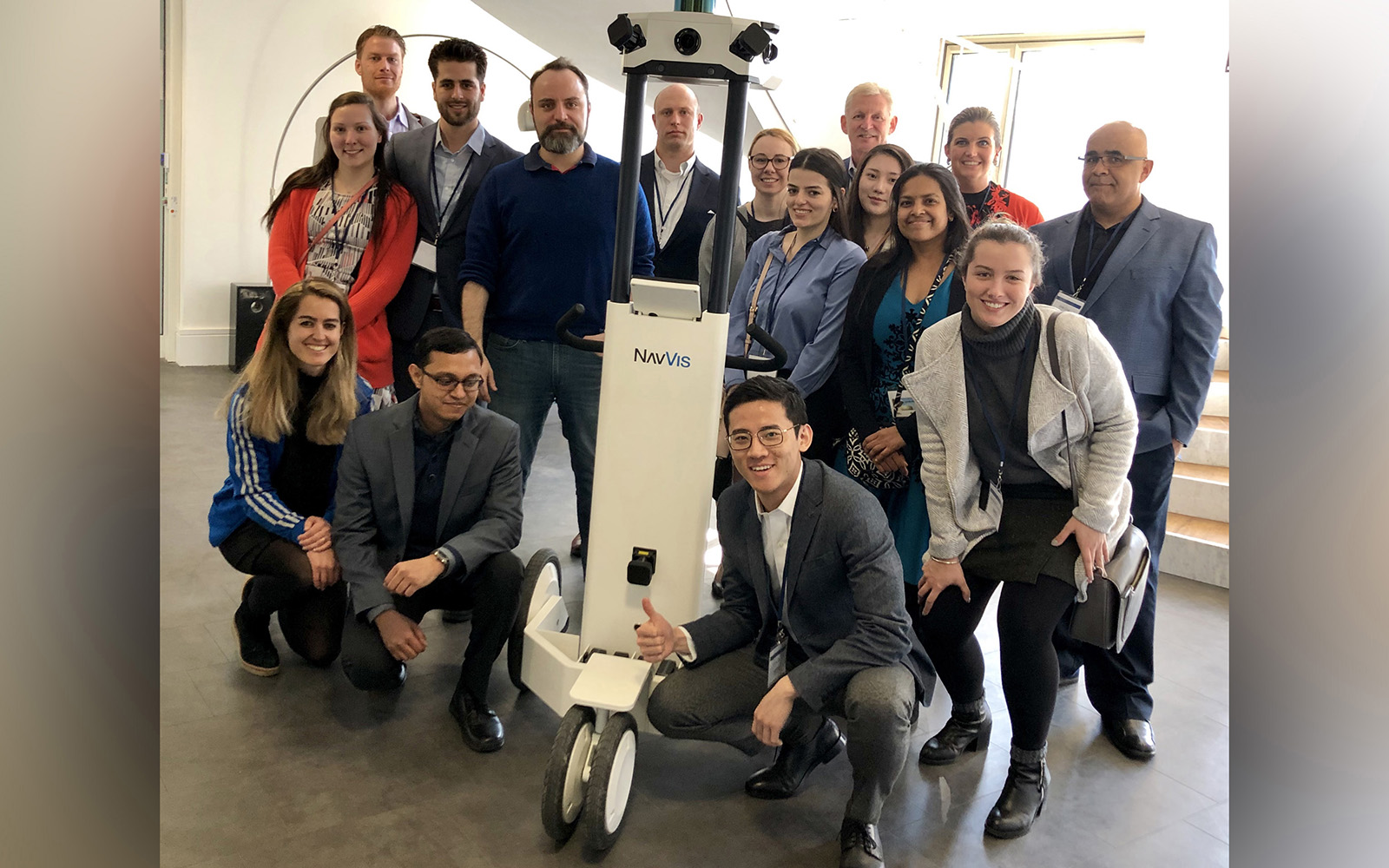 Eleven graduate students recently traveled to Munich, Germany, as part of a course that was designed to deliver an international experiential opportunity that could be personalized to each student's interest.
During the eight-day visit, students toured an IBM facility and a BMW plant, learned about GDPR at a law firm specializing in the regulation, visited an alumni-led consulting company, explored a startup, and much more.
The course, OPIM 5894: Global Technology Management, drew nine students from the MSBAPM program and two MBA candidates.
"Company visits like IBM IoT, BMW and NavVis were amazing in that we could feel the innovation happening around us," said BAPM student Prasanthi Lingamallu. "But what impressed me even more, was the collective intellect of the group and their desire to learn and excel in a global context. Experiencing a new culture was an added bonus!"
How Global Organizations Shape Strategy
"My hope for the course was to give the students an experience that allowed them to observe how various external influences shape strategy, particularly for global organizations," said Professor John Wilson. "We knew the students would be excited but we didn't anticipate how incredibly engaged they were when visiting the companies. They were prepared and took full advantage of the time each company allocated to them."
"The Global Technology Management course aboard in Munich was a valuable learning experience for me," said student Zeyad Farhat, after the mid-March excursion. "As an employee of an aerospace company, focused in a very particular area, it was eye-opening to be able to engage in conversations with different companies and learn about their business, and ultimately coming back and applying the knowledge that I've learned."
Giovanna Sa, a BAPM student who is from Brazil, agreed.
"As an international student I've always been curious about different cultures and how business and technology are done around the world," she said. "Every part of the trip has exceeded my expectations, from the companies' visits to the group itself. I feel that I have changed personally and professionally after this experience."
MBA-candidate Cody Broderick said the trip was impactful.
"Our visits to various companies and organizations, which was really the heart of this trip, were incredibly eye-opening to me in terms of the different ways in which I can put my degree to use after graduation, particularly because of the connections with UConn alums working in Munich," Broderick said. "It gave me a newfound sense of direction with my career goals. This course was perhaps the most impactful, and definitely the most memorable, experience of my graduate career."
Meghan Hanrahan, director of the MSBAPM program said in her 15 years of professional work at UConn, the course was the most dynamic and enriching opportunity she has encountered. Students developed knowledge about GDPR, ethics, international project management and global sustainability, in addition to forming deep friendships among their UConn classmates.
"From curriculum design, corporate outreach, alumni engagement, leadership and faculty support to a holistic international student engagement experience—this course/trip was life changing for the students and faculty," she said.
Wilson said he would like to offer the experience again.
"We feel our first attempt at a trip like this gave us a firm foundation to do it even better next time," he said. The course preparation included pre-trip class sessions and topics to ensure the students were well prepared to have meaningful dialogue with the companies they visited.
Organizers said the students voluntarily met each evening to prepare for the next day's adventure and were able to offer high-level discussions while representing UConn well.