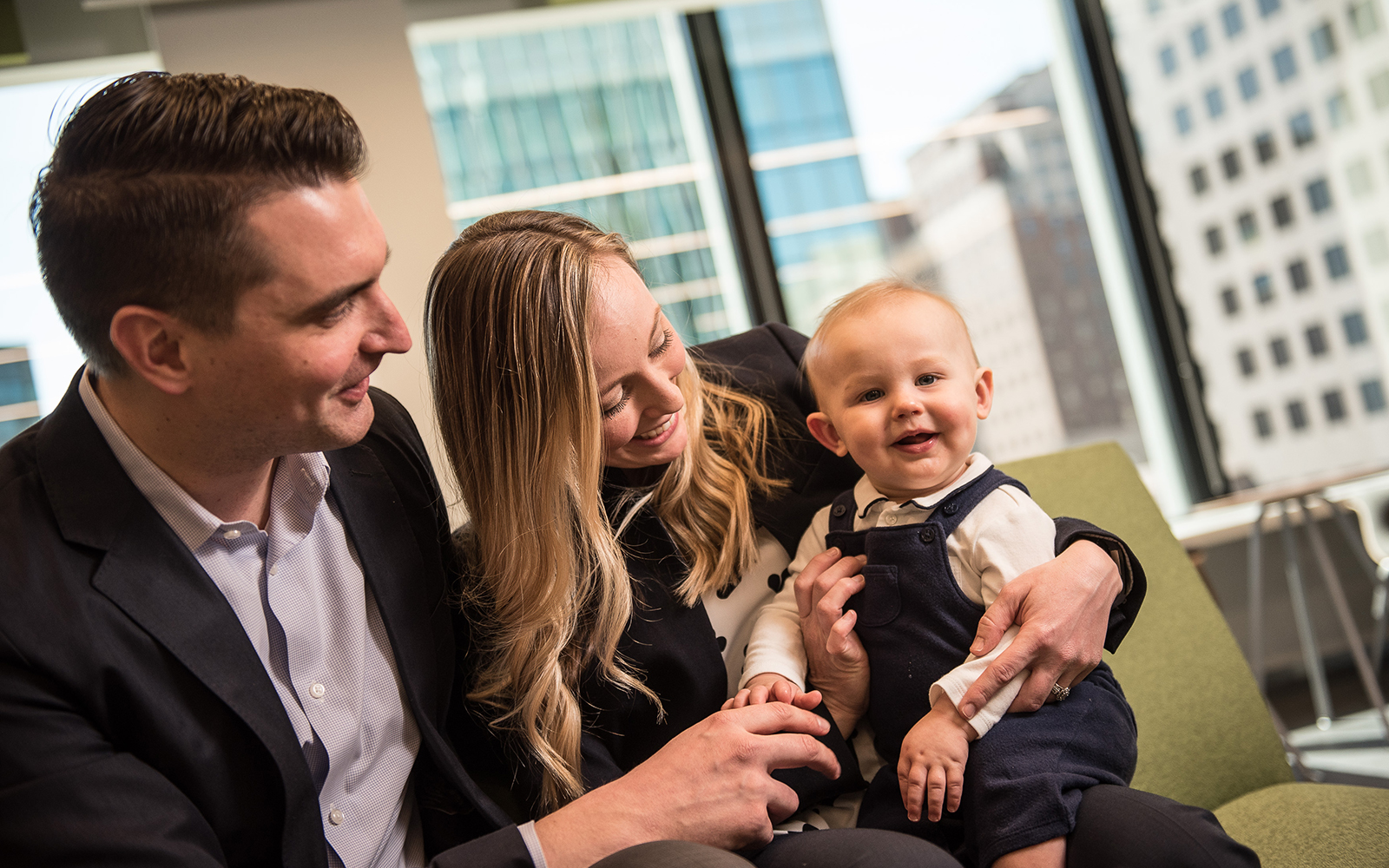 Julie Marquis DiGiacomo and Chris DiGiacomo agree that there are a million reasons to earn an undergraduate degree, but completing an MBA program is an investment you make in yourself.
The husband-and-wife team, both engineers at Pratt & Whitney, completed their UConn MBA degrees in 2.5 years while working full-time, planning their wedding, and preparing for the birth of their first child.
Forgoing some weekend plans, and studying in the car on the way to visit family out of state, was worth the sacrifice, said Julie and Chris, who earned their degrees in May 2018 through the part-time MBA program in Hartford.
Chris' job involves working with the people who decide the direction of Pratt's Airbus A320neo program, and they all have years of experience and/or MBAs.
"Having my MBA helps me understand the higher-level decisions that are made," he said. "Before I had my MBA, I felt like I had to learn things on the fly. Now I feel like I'm on more solid ground and can contribute more effectively to the team."
Julie said the UConn MBA program introduced her to people from various professions, including the military, government, tech and finance, and she benefitted from their different perspectives.
"We keep in touch with other MBA grads and with our professors," she said. "I enjoyed expanding my network and meeting people who shared their career outlooks, and advice on things like balancing work and family."
UConn's PMBA Program Offers New Concentrations
UConn's part-time MBA program is one of the largest in the country, with some 980 graduate students attending courses at UConn's Hartford, Stamford and Waterbury campuses. The program continues to grow academically as well, with new concentrations added in business analytics, business ethics and compliance, and entrepreneurship.
"After a few years in the workforce, many people realize that they want to advance, but they are just not sure how to proceed," said Mia Hawlk, program director. "Our mission in the Part-time MBA program is to provide every student with a rich learning environment that encourages them to expand their professional network while completing a highly sought-after degree.
"We understand that it's not what you know or who you know that provides advancement opportunity. It is both what and who you know, in equal measure," she said. "There is no better place to grow your skills and expand your network than in our Part-time MBA program and these are the keys to career advancement."
Flexibility, Faculty, and France
Julie, who is a structural analyst and deputy manager at Pratt, said she liked the UConn MBA program because it gave students the flexibility to tailor their electives to their interests. She preferred more courses in management, while her husband was more interested in finance. Because they weren't confined to move as a cohort, they even had the option of taking a semester off if needed.
Chris said he appreciated that most of the faculty were working professionals who were at the top of the career ladder and familiar with today's workplace issues. He also liked the convenience of the Hartford campus, located between work and the couple's West Hartford home.
In addition to his coursework, Chris was on the winning team in a negotiation competition with students from the MBA and law programs. "I felt like UConn was a community," he said. "We got to know a lot of people and they were all very friendly. When we came to class we built an experience and learned from them."
One of the highlights of the program, the couple said, was participating in a two-week educational immersion trip in Lyon, France, where they took classes, became exposed to vastly different business mindsets, and made international connections.
"Having a global experience through the MBA program was fabulous," she said. "One of the topics that made such an impression on me was the profound importance of sustainability and social responsibility in business throughout Europe."
Leaving UConn with a Plan
At the conclusion of the program, advisers work with MBA candidates to determine how they can apply their new skills and knowledge in the workplace.
"I thought that was tremendously helpful because you change so much from the beginning of the program," Julie said. "Now you're looking at your future and how you can tailor your career, your path, and your connections in the most beneficial way."
The couple, who welcomed their first child just weeks after graduation, does have advice for those considering pursuing an advanced degree.
"You have to plan for how long it will take to do this. You can't be half-hearted," he said. "You have to be committed and driven to do it."