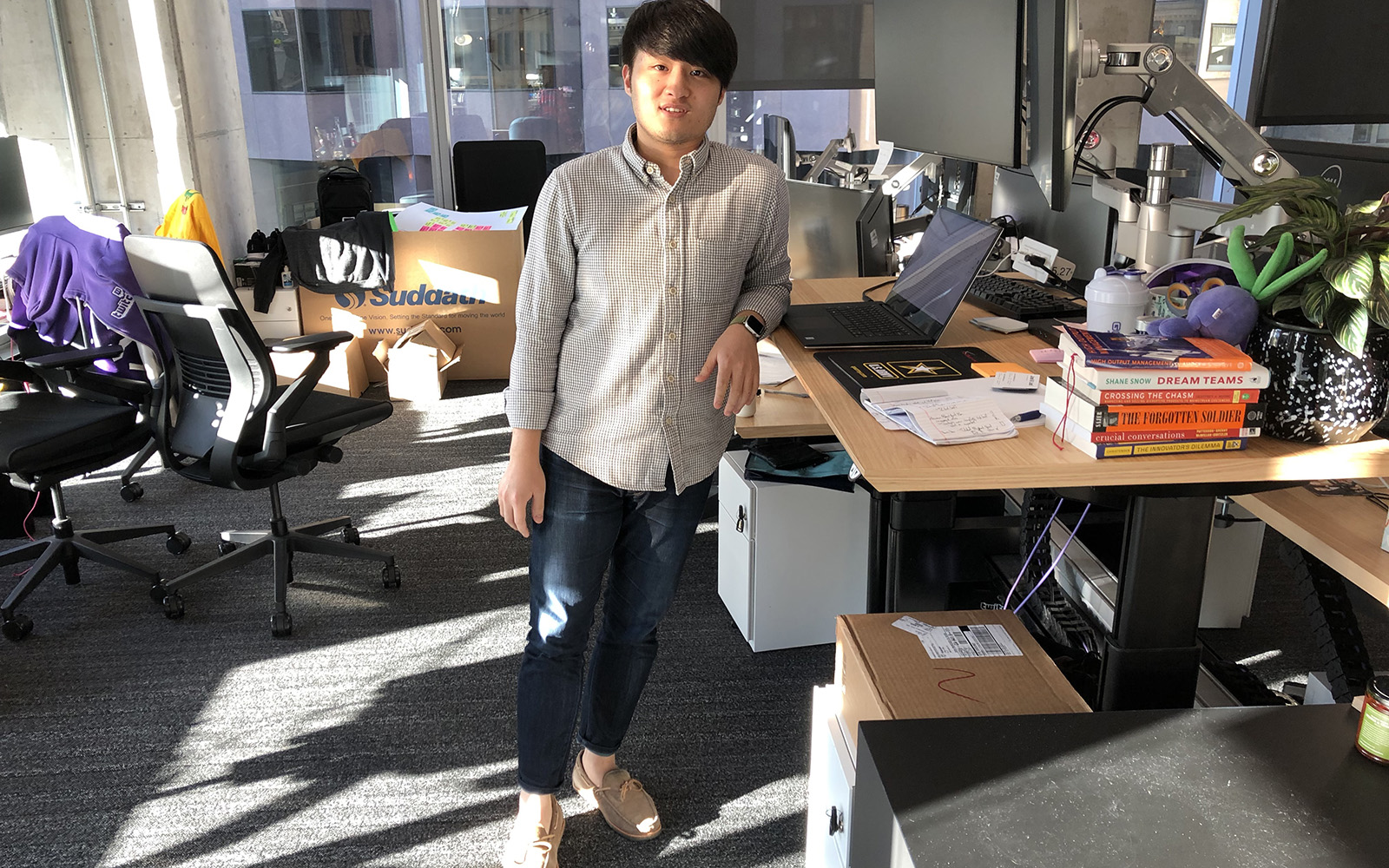 Under any circumstances, alumnus Jimmy Tang's recognition by Forbes as one of the elite 'Thirty Under 30' leaders in the game industry would be remarkable.
But as the shy, oldest child of refugee parents, who grew up in Hartford speaking English as a second language, his meteoric success is even more impressive. Not only did Tang lead the way to higher education for himself, but also for his sister and cousins, many of whom are UConn Huskies.
Now 29, Tang is the director of finance at Twitch, a live-streaming video platform owned by Amazon. It is the leading live-streaming video-game service in the U.S., with more than 15 million daily active users, predominantly men aged 18 to 34.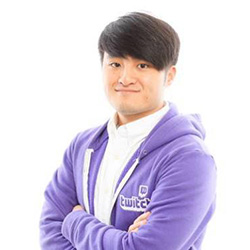 "I'm pretty interested in video games, but, over time, I have played less because of work and other priorities," said Tang from his office at the company headquarters in San Francisco. "When I came here, I was a big user of the platform and I still am. I'm passionate about the product. Most of the people who work here are Twitch users, and it fosters a culture of always wanting to do better for the community."
Tang's responsibilities include supporting the sales business and assisting in launching new features and products for Twitch, which Amazon bought five years ago for $970 million. Twitch allows broadcasters to live-stream themselves as they play popular games including "Fortnite," "League of Legends," "DOTA," "PUBG," and many more.
Much Was Expected of Tang as a Child
Tang was born in the United States to parents who were Chinese refugees. Because his parents were still learning English, he would translate the mail, help them with the taxes, and assist his younger sister with school work. Life had its challenges, but his parents encouraged him to pursue his interests, whether sports, video games, robotics or simply hanging out with friends. They never forced him to do something that didn't appeal to him.
"Money was definitely a concern. My family lived in a small, two-bedroom apartment and I shared a room with my sister until she was 8, and I was 15, and we could move to a larger apartment," he said.
"Looking back, it was very interesting because Hartford Public High School was very diverse. We had students who were White, Latino, African-American, Jamaican," Tang said. "I hung out with people of various races and backgrounds. It allowed me to become my own person. I didn't feel I needed to 'fit in' with a particular group, because we were such a mix of cultures and personalities."
From the early days, Tang was an insatiable learner.
"Growing up, I was very curious about learning in general. I was very interested in history in high school. I took multiple AP history courses and wanted to continue my education. I found the internal motivation because it was just interesting," he said. "Some of the folks I went to school with were equally motivated. At Hartford Public there were a few of us who took the same classes together and developed a core friend group."
"My parents [Huyen and Jin] never went to college, they never finished high school. In China, education ended for women after 8th grade," he said. "My parents didn't have a hard opinion on whether I should go to college. I don't think they were aware of the benefits, it just wasn't on their radar."
"I had great guidance counselors at Hartford Public who encouraged me and my friends to pursue a college degree," he said. "My parents were supportive, but they wouldn't have been disappointed if I went right to work after high school."
UConn: 'I Was Happy From Day One'
Tang grew up a stone's throw from Trinity College, and his mother works there today in food services. But through grants and scholarships offered to Hartford's top students, Tang was able to attend UConn at no cost.
"It was an easy decision. UConn was a top choice for me," he said. "I live in San Francisco now, but at the time I was a big 'home body.' When I knew I was going to UConn, I was happy from day one."
"My younger sister, Jenny Tang '18, just graduated from UConn in the spring, and is a data engineer at Travelers," he said, joining a family Husky network of engineers and nurses. "We're all big fans of the university."
In 2011, Tang completed his bachelor's degree, with a finance major.
"I enjoyed the curriculum. After switching from engineering, I was teetering between accounting and finance and after two semesters of accounting, I realized it wasn't for me," he said. "In finance, the professors really dove deep into the fundamentals, but they always touched on other things that were interesting. I learned so much at UConn, and that helped with my CFA exams."
After graduation, Tang accepted a job with an insurance company in Boston, working in strategy and finance. He enjoyed his four years at Liberty Mutual, but knew it was time to try something else. While visiting friends on the West Coast, he networked and found an opportunity at Twitch.
"Overall I've worked in finance for more than seven years now and I often refer back to the days at UConn. I think the most beneficial course I took was business writing," he said. "Amazon has a culture of 'documentation, not presentation.' At UConn I learned to write in a very factual, scientific way, and I learned how to properly frame a paper. That has helped me tremendously in my career."
At UConn He Became Less Introverted
Living in UConn's Global Learning House and being active with the Asian-American Cultural Center were among the highlights of Tang's UConn experience.
"One of the things that was helpful at UConn was participating in extracurricular activities. I was introverted going into college and I learned not to be afraid to approach people," he said. "I applied the same philosophy to work. Now I have no problem approaching people, talking to them, and asking them questions."
During his time at UConn, Tang spent a semester in Singapore. The experience created a love of travel.
"I did it at the last minute and it all worked out. I think I turned in the paperwork the day of the deadline, and wish I'd done some more future planning," he said. "But it opened my eyes to travel. I've been back to Singapore two more times and traveled many other places because of that experience."
Tang returns to Connecticut several times a year to see his close-knit family, and when he does he tries to make a trip back to Storrs.
"I love UConn. When my sister was still in school and I was visiting the East Coast I would try to visit campus and walk around," he said. "It's great seeing all the new buildings, and visiting the Asian-American Cultural Center and McMahon Hall, where I lived for five semesters. It brings back a lot of memories."
Award Was a Complete Surprise
The 'Thirty Under 30' award came as a surprise. Tang knew that he was nominated, but didn't give much thought to actually winning.
"I had no idea the results would be released that day. I was in a meeting and started getting all these messages saying, 'Congratulations!'" he recalled. "I was incredibly shocked, surprised and honored to be selected."
"My parents were very honored that I was named in Forbes. Forbes is very big in China but it is called by another name. When I first told them, they didn'' fully grasp it, but when I clarified, they were like, "Oh, that's a real publication!" he said, laughing. Ironically, Twitch is banned in his parents' native country.
Dream Job Involves New England Patriots
Asked what his dream job would be, Tang chuckles. "I'd like to work for the Patriots," he said. "It's tough being a Pats fan in California, but Tom Brady's from here, so you get a pass."
"Honestly, I'm still trying to figure out what my dream job is," he said. "I'm still in a phase where I want to try a lot of things and I'm really enjoying what I'm doing now. I'm not sure what my dream job is yet, it's still forming in the back of my mind."