Chirag Ghelani, a student in the MSBAPM program, has been named first runner-up as the Graduate Student Intern of the Year by UConn's Center for Career Development. He has worked as a data engineer intern in quantitative research at Marto Capital in Stamford, Conn. and New York City.
"My internship experience has provided me a more practical exposure of how things work in real-life settings, as well as reinforced many of my classroom learnings, which will help me to better understand and implement solutions as I further pursue my career," Ghelani said.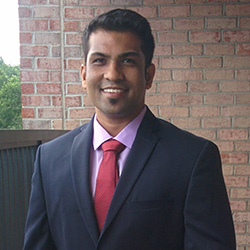 Ghelani is among a group of graduate students celebrated for their noteworthy experiential learning opportunities and their enthusiasm for personal and professional development.
Jean-Gabriel Prince, head of quantitative research at Marto Capital and Ghelani's supervisor, was impressed by the grad student's work.
"Not only did Chirag perform exceptionally in terms of technical achievements, he also had excellent interpersonal skills, from professional communication via email or phone with colleagues, to outstanding presentation skills as he presented the result from his research to our senior investment committee," Prince said.
Ghelani earned a bachelor's degree in information technology from the University of Mumbai in 2012. Since joining UConn, he has worked as a teaching assistant and as a graduate assistant in Stamford. He is a member of Beta Gamma Sigma, the international honor society in business.
"Chirag has not only been an exemplary student, but has contributed to the overall success of the MSBAPM program in Stamford through his leadership and engagement," said Meghan Hanrahan, program director.