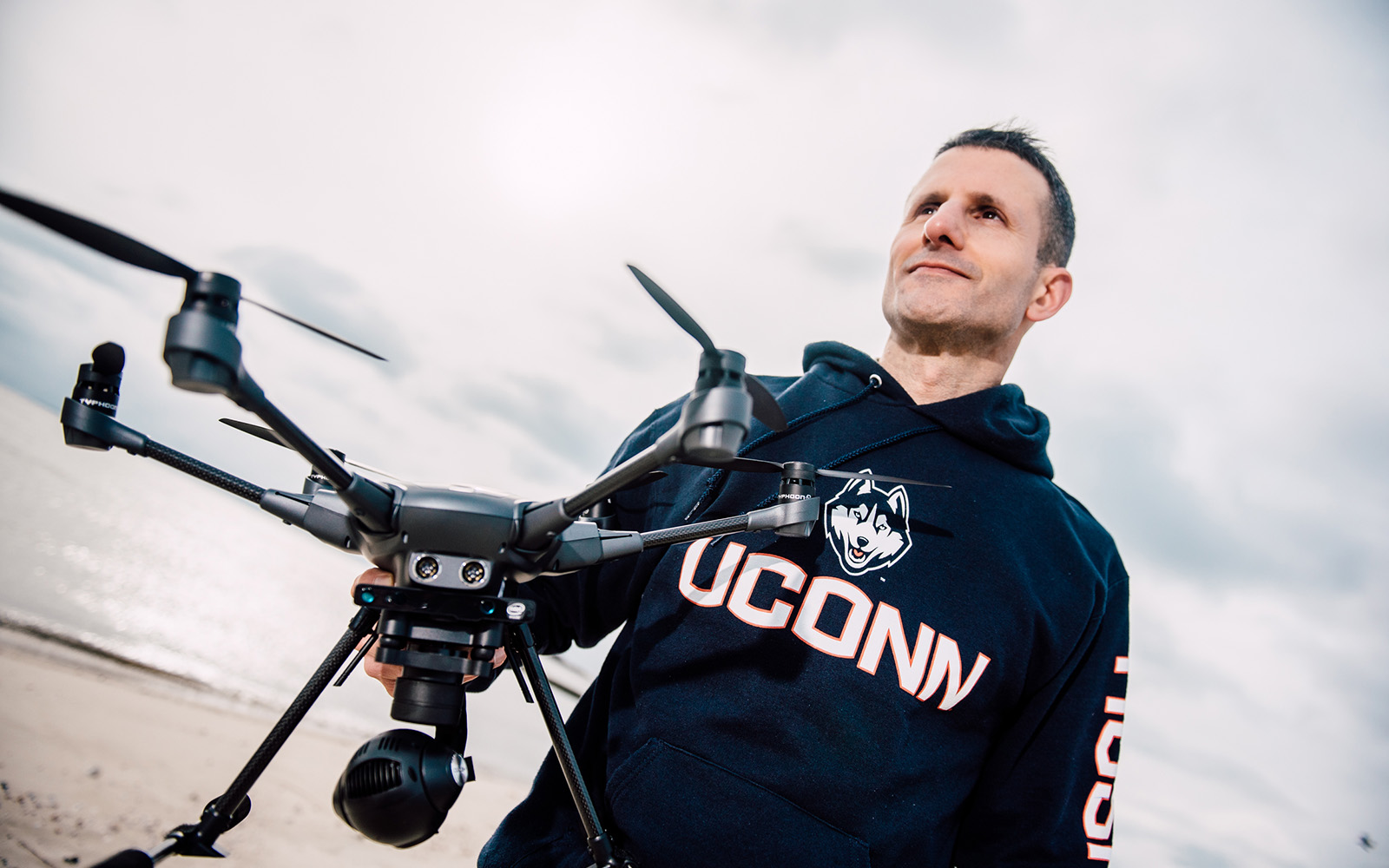 Imagine a young child wandering alone in the woods on a frigid afternoon, with each passing minute decreasing the likelihood of a successful rescue.
UConn alumnus Jason Otrin would like to encourage emergency responders in Connecticut, and across the nation, to adopt the use of drones for such public-safety emergencies. A drone with a thermal camera can detect body heat and quickly search large areas, he said, helping rescue teams to rapidly cover more ground and increase the odds of success.
"I think drones offer an amazing perspective that is something few people see, unless they're in an aircraft," said Otrin, an FAA-licensed pilot who is also a military aviation veteran.
"The possibilities of drone use impact almost every industry and business, whether it is package delivery or inspection of cell phone towers or getting medical supplies quickly to people in need. Drones can offer so much benefit to society," he said. "I think people realize that and are excited about it. It is definitely a growing industry with tremendous potential."
UConn EBV Steered Otrin to a New Career
Otrin joined the UConn School of Business' Entrepreneurship Bootcamp for Veterans (EBV) program in 2017. The 10-day intensive 'bootcamp' provides business training and mentoring to U.S. military veterans who wish to start their own businesses. Otrin was certain that his future involved running his own information technology firm, and he even had the business plans all drawn up.
"I thought I was ready to go, when my mentors helped me to step back and critically look at my business model. They asked me what I was really passionate about," he said. "The answer was that I really love aviation. They helped me consider that, and completely change direction."
On a breezy day along the Connecticut coastline, Otrin had hoped to demonstrate the drone's capabilities. But a hefty wind prevented the launch. That is perhaps one of the greatest limitations to small drone technology. Drones can't fly in bad weather or in high winds. He usually won't launch his drone when winds are above 12 miles per hour or gusting.
Like a Mini MBA
Otrin earned his UConn bachelor's degree, with a major in political science, in 1995, sandwiched between two tours of military service. He had enlisted in the Connecticut Army National Guard in 1990. He earned his UConn degree, at first studying at Avery Point and later in Storrs, while participating in the ROTC program. After graduation he returned to the Army as an officer and served an additional five years. During his military service, he learned to fly airplanes and earned his private pilot license. He also worked as an Army intelligence officer, reaching the rank of captain. He served in the U.S., Korea and Germany.
After completing his service, he went into a career in technology for 17 years. Before starting On Course Drones, Otrin was employed as the IT Manager of Tantor Media, part of Recorded Books, which is the largest independent producer of audio books in the world. He also had helped his wife, Dena, a mental health professional, establish two practices, which taught him about starting and building a small business.
"The EBV program really was life changing. I came into it knowing just enough about starting a business to be dangerous. The EBV program helped me to connect the pieces of what I'd learned," Otrin said. "The average person who has a great business idea doesn't think about the cash-flow analysis and attracting the right stream of customers through a targeted marketing plan. I felt like I earned a mini MBA."
EBV Director Michael Zacchea said the program is fortunate to have Otrin as an alumnus. "He is one of our real success stories, and a great ambassador both to other veterans and to the State of Connecticut," he said. The EBV program has graduated 198 veterans. Combined they have created 163 businesses, producing more than $145 million in gross revenues and generating more than 450 jobs. The program will celebrate its 10th anniversary this summer.
Plainfield Police Trained by Otrin
But while teaching others to use drones sounds like a great deal of fun, it is much more complicated than one might expect, Otrin said. The FAA treats drones like a traditional piloted aircraft and FAA-licensed drone operators are required to know everything from weather readings to maintenance, airport operations to emergency procedures. There are strict regulations about where you can fly a drone—and where you can't.
The lessons are so daunting that Plainfield (Conn.) Police Captain Mario Arriaga chose not to pursue the training. Five of the department's officers are drone certified or are preparing for their certification exams. Arriaga said he was impressed by the professionalism of Otrin and the intensive course that he created from scratch.
"We were the first police department in the State of Connecticut to have our police officers drone-certified. As the price of equipment drops, I think we'll see more police departments taking advantage of this technology, which is new to our field," Arriaga said.
He said the department has used the technology to locate missing persons, to document motor vehicle accidents, and for surveillance purposes during an active crime scene.
"We, of course, have access to the state police helicopter, but it is expensive for them to send it out and there is some down time while we're waiting for it," he said. "If we can use a drone instead, we're saving time and money."
"Jason put so much time in, and wants our officers to succeed," Arriaga said. "I can't thank him enough for helping our officers. We couldn't have asked for more."
Errant Drones in the News
Looking to the future, Otrin is excited about new opportunities for his business. On Course Drones was just registered to bid on federal contracts and was recently certified by the state of Connecticut as a veteran-owned business, opening up additional opportunities.
Otrin said there is much to be done to educate the public about the benefits and dangers of drones. An errant drone, for instance, can severely damage a light airplane or the engine of a large commercial aircraft.
"Recent events with drones disrupting air traffic at Gatwick airport in the United Kingdom and closer to home at Newark Airport unfortunately highlight how misuse of drones can impact safety," he said. "Drone manufacturers work hard to build-in safeguards so drones won't fly in prohibited airspace, and the vast majority of people fly drones responsibly."
"However, there's always those few who are intentionally disruptive, or simply lack good judgement, to put it nicely. Educating people about the rules and why they're important to safety is critical. It's a core part of how I teach my students," he said. "My mission is to train them to not only earn the FAA certificate, but to also fly drones as professionals and adopt the culture of safety that exists in the aviation world."
He feels confident that his business will "take off" based on his experience with aviation, such as taking into account a person's learning style to make training easier, as well as lessons learned in the corporate world about listening to and understanding customer needs.
"I take pride in being very dedicated and professional, and I really enjoy teaching and mentoring," he said. "In the military, your life can depend on how you do your job. I want that perspective in my company, too."
But perhaps the best advantage he has is the enthusiasm he brings to his new career.
"To be able to do what you love is priceless," Otrin said.
Otrin will conduct a drone presentation and demonstration at the New England Air Museum, 36 Perimeter Road, in Windsor Locks, on Feb. 16. For exact times, please visit neam.org or call 860-623-3305.
He will also be speaking at UConn's OPIM Innovate on April 19 from 1 to 3 p.m.
You can learn more about Otrin's business at https://oncoursedrones.com