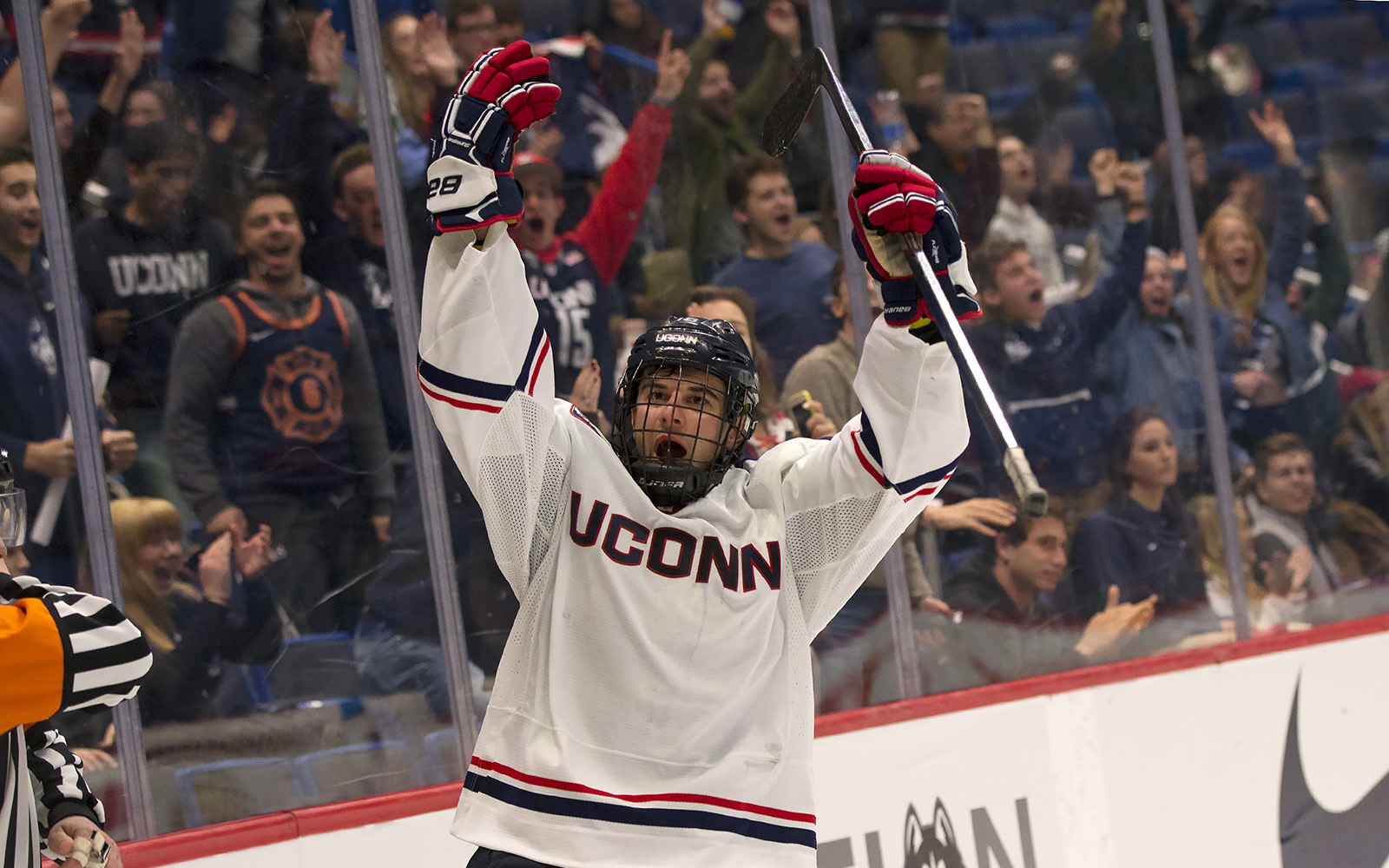 One of the most embarrassing things that has happened to Karl El-Mir, a senior in the School of Business and a forward on the UConn Men's Hockey Team, is stepping on a hockey puck and taking a fall during warm-ups.
El-Mir, a management major, says that it's not something that happens exclusively to him.
"It happens to a lot of people," El-Mir said. Although it is a common occurrence, it is still embarrassing, he said. "I try to get up as quickly as I can, and try to act like nothing happened. But in some situations, you know the whole team saw it, so I just embrace it and laugh it out with the guys."
As a young child, El-Mir, a native of Canada, idolized his older cousin, who was a hockey player. El-Mir traveled around Canada and the United States to watch him play. However, when El-Mir expressed an interest in playing hockey, his parents initially rejected the idea. They were more of a 'ski family' at the time anyway, he said. But eventually he won them over.
"I fell in love with the sport," said El-Mir, who last year played in 33 of UConn's hockey games, scoring three goals and adding 13 assists. His parents have become avid fans of the sport.
UConn Men's Hockey Head Coach Mike Cavanaugh said El-Mir brings more than just hockey skills to the game.
"Karl has continued to improve his game every year he's been here at UConn," Cavanaugh said. "However, the energy and enthusiasm he brings to the rink on a daily basis is by far his most redeeming quality.
"He has an infectious personality that permeates through the locker room every time he engages with his teammates," Cavanaugh said. "I expect Karl to not only have an outstanding senior season, but that he will also be very successful in life after hockey."
El-Mir hails from Montreal, Quebec, but came to Connecticut at age 15 to attend a prep school in South Kent, Conn., to play hockey. He described those three years as a great experience, with a close community.
"Everybody knew each other… we were best friends with the football team, soccer team… I thought it was really cool," he said.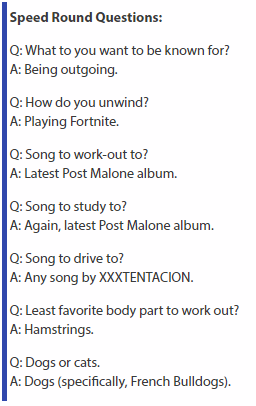 When coming to UConn, El-Mir said that was a completely different experience. He wasn't sure about the protocol.
"Do I say hi, or put my head down?" he said.
He had considered studying engineering while at UConn, but decided to go on a different path from the majority of his family and become a management major instead. He says that he does not regret picking his plan of study at all, adding that he has a great deal of respect for engineers.
Being a management major aligns with his outgoing personality, he said.
"I think it was the right path for me," El-Mir said. "I think things happen for a reason."
One of his favorite classes during his time at the School of Business has been a venture-planning class with Professor Richard Dino, who also serves as director of UConn's Innovation Quest (iQ).
"I think [Professor] Dino is one of the best teachers I've ever had in my life," he said. "He made it his number one priority to teach us something that we can bring into our real life."
El-Mir mentioned that his group had been at the very bottom of the class for an online business competition. However, before the semester ended, they went on to take first place. The class was a good learning experience, he said.
"When things go bad you just have to continue, and at some point it's going to pay off," El-Mir said.
That pay-off is also part of his ritual as a student-athlete.
"Wake-up, go to breakfast, go to class, eat, practice, homework until you're done, and then go to bed and then repeat every day," he listed off.
Despite the intense schedule, El-Mir enjoys the sport and is most excited for the games.
"We work so hard in the off-season (and) during pre-season, that games are fun," El-Mir said. "It's like, 'Finally, the game is here.'"
When El-Mir plays this season, his parents will certainly be watching from the stands.
"They love just going around the U.S. to watch me play," he said. "They're the most important thing in my life… I appreciate them a lot."
A fourth and final year at UConn has El-Mir reminiscing about his experiences. Because he didn't have any teammates in his business classes, El-Mir had to meet new people, and those students became his friends, he said. Through their shared classes, the management seniors have grown to know each other well.
"I'm going to miss it," he said, adding that he hopes to continue to play hockey at the professional level after graduation.