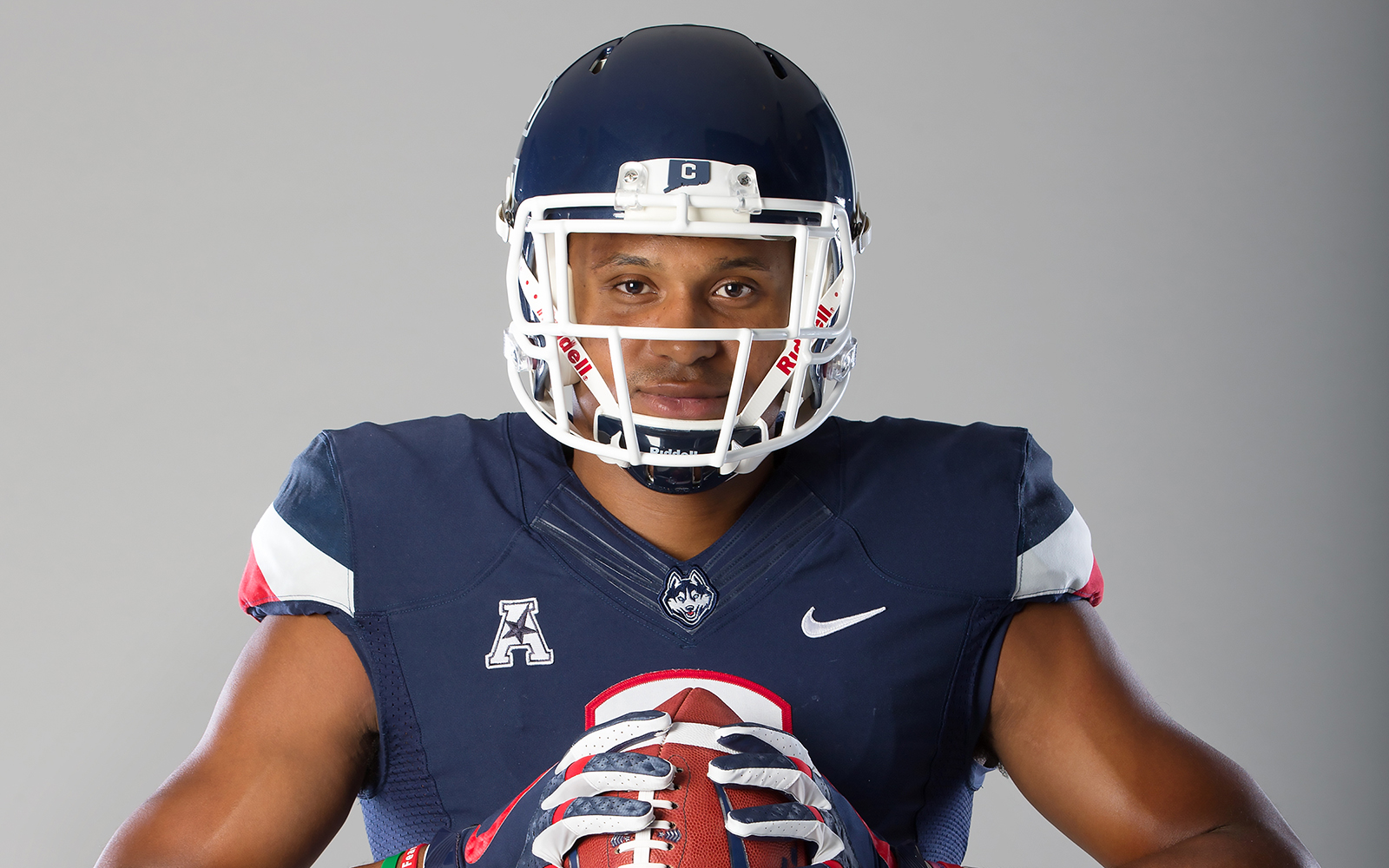 School of Business senior Aaron McLean from Southborough, Mass., is enjoying his last year on the UConn football team while simultaneously preparing for a career in business. In a recent interview he shared his dedication to hard work, his love of movies, and insight into the person who is his biggest sideline fan.
How did you get into playing football? And what is your favorite memory from a UConn game?
"I started playing football when I was in fifth grade and I just kept going from there; I've played every year after that. I would say my favorite memory over my UConn football career would probably be when we beat Houston my freshman year. It was a great feeling having everybody rush the field!"
In high school you played both football and basketball. What compelled you to choose football over basketball in college?
"Throughout high school I started to realize that I enjoyed playing football over basketball. My sophomore year I thought to myself, 'You know what, I have better opportunities in football and I enjoy playing it more, so why not go for it?'"
What drew you to UConn?
"One of the main reasons I wanted to come to UConn was because it was close to home and I wanted my family to be able to see me play. I'm from Massachusetts, only about an hour or so from here. I also knew it was a pretty good academic school. When I first came here, I didn't really know what I wanted to do. Then I was introduced to the business school and saw what it could offer and decided to go that route."
How has the transition been from wide receiver to tight end?
"It's been good. I knew this summer was going to be a big one for me because I had to be stronger going against bigger guys. I think I've started to learn more about the game being in this position. It's been good so far."
What are your individual or team goals for this season?
"I just want to finish out this season strong as a team. I want to go out with some wins. It's my last season and last year here, so I just want to go out on the right note. As for individual goals, I just want to go out there and do my job and do anything I can do for the team."
How has playing the game of football allowed you to grow as a person?
"It has definitely allowed me to grow a lot as a person. I would say being around people as being a part of a team, and working together to achieve a goal, I think that's something that has strengthened me. It's also taught me to work hard and make sure I always do my part, that's the biggest thing. Football has taught me that nothing ever comes easy, if you want it you've got to work hard for it. That's something I try to live by."
I read the article Mike Uva wrote for ESPN and was interested in the topic of your mom. Can you explain a little more on what her impact has been on your football career?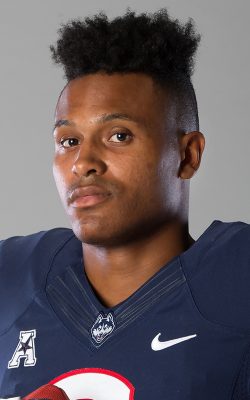 "She's been great, she's always been there for me. My mom's my number one supporter and always has been. At first I was a basketball guy and she was familiar with it because she played basketball in college. When I transitioned to football she was a little more nervous for me since it is a contact sport, but she supported me all the way. She comes to just about all my games; she even makes the trip for my away games. Honestly, she's what drives me."
As a management major, what are you career goals after graduation?
"My first and most important goal is to get a job after college. I'm majoring in management but I'm also thinking about getting into marketing. Sports marketing is something I think I'd like to try. In the long run, my goal is to own my own business one day. I don't know what I would want it to be yet but hopefully that comes down the line."
Is there a professor or class that's been a particular favorite?
"This semester I've taken MGMT 3236, Managerial Negotiations, which has been really interesting and helpful because you can clearly see that what we are learning is transferable to the business world. We've been learning how to negotiate your first salary and stuff which has been pretty cool."
What is something that you've learned from playing football that will also help you be successful in a career in business?
"Definitely working in groups! I think the main thing though is how I learned to work hard. I don't think a lot of people had that ingrained in their minds at a young age like I did, so having that mindset already will help me be successful."
If there is only one memory or lesson that you can take away from your time at UConn, what would it be?
"I mentioned this earlier, but the biggest lesson I've learned is that nothing comes easy. Everything that I have or that I've won, I have had to really work for. I can't expect anything to be given to me, so I make sure that I am doing everything I can do to get what I want."