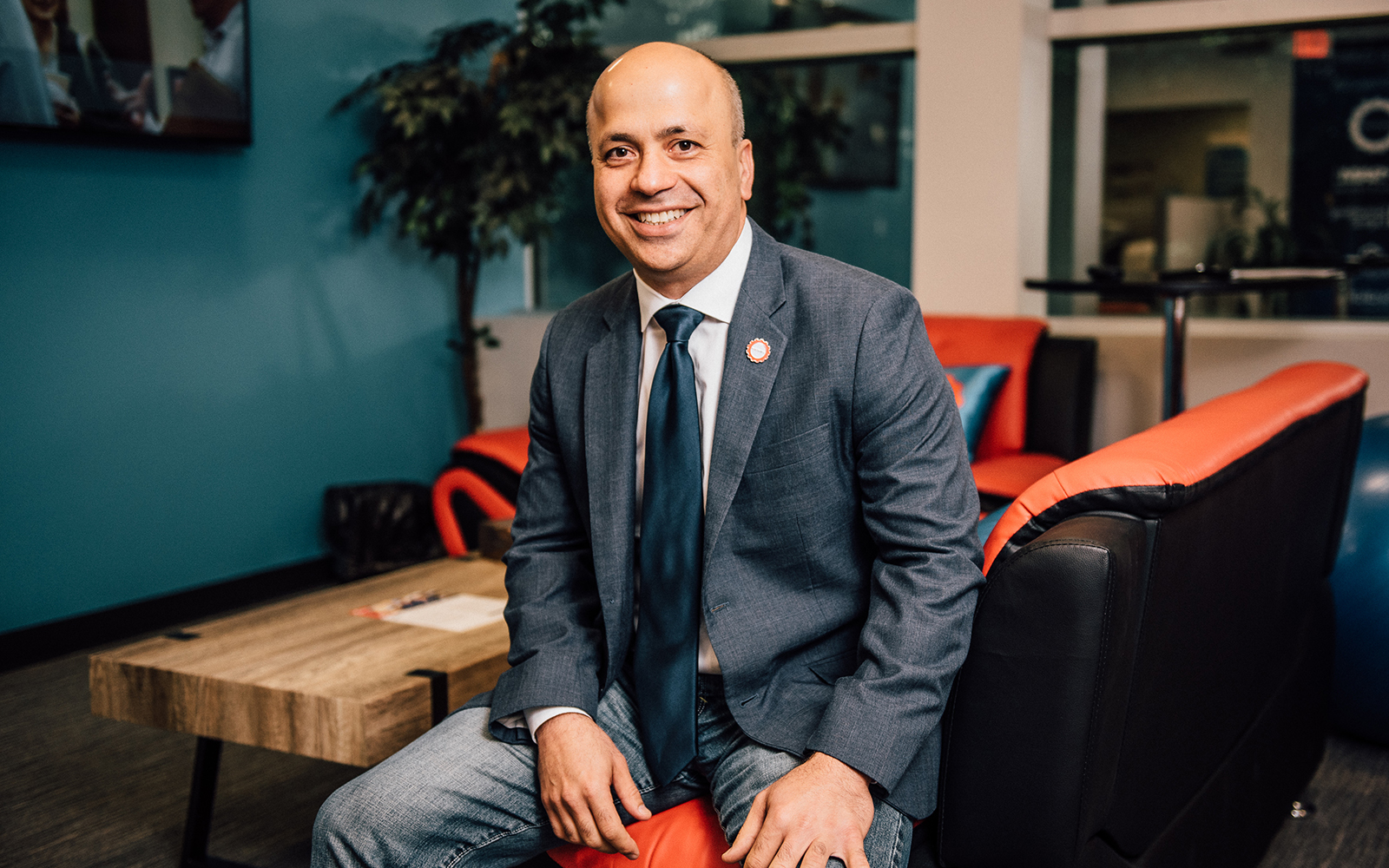 If you've made an online purchase from Rite Aid, Walmart, Amazon, Home Depot, Best Buy, or Staples recently, Logicbroker Inc. CEO Peyman Zamani and his team have helped ensure that you got your order–on time and in good condition.
The e-commerce and supply-chain organization, based in Shelton, Conn., works with more than 1,000 businesses and supports millions of customer transactions each year. Logicbroker provides electronic data interchange and drop-ship technology that unites brands, retailers, and their systems to forge the connections that enable digital commerce.
"When you shop online and place an order, we make sure you get it. We want your order to arrive quickly and correctly," he said. "Half the customer experience occurs after the order is placed. If your order is wrong, the next competitor is just one click away. We offer a great deal of 'white glove' service for our clients. We tell our new clients, 'Talk to any one of our customers. They rave about us.'"
Although Logicbroker isn't the largest in the field, it is one of the most sophisticated and agile, said Zamani, a two-time UConn alumnus who earned his bachelor's in computer science and engineering in 1995, and his MBA 2006.
"One of our competitive advantages is that our technology is so far ahead. We are a small and nimble company. We offer a cloud-based integration hub. That's helped us succeed. We can get clients up and running quickly," he said. "You can't measure us by the number of employees, but by our technology and the quality of our people."
'We get stuff done!'
A sign in the office at Logicbroker reads: "We are smart, passionate people. We work harder than our competitors. We take pride in what we are building. We deliver on our promises. We execute every day. We finish what we start. We Get Stuff Done!"
There's actually another word for 'stuff,' but that's covered up when visitors are in the office, said Zamani, a serious business executive, who nevertheless looks for the humor in his daily exchanges.
He eagerly shares the story of his first job after college, working as a programmer for a fitness-equipment company. He arrived at work eager to join the team and within hours, his new boss quit. Later that day, a second supervisor went to get something from his car, and never returned.
"I thought, 'What is going on here?'" Zamani said, shaking his head. But the silver lining is that he was able to quickly add new skills and responsibilities to his resume, thanks to the unexpected departure of the other employees. Before parting with the fitness company, Zamani had expanded his talent to include expertise in trade shows, e-commerce and more.
UConn Played Prominent Role in 'Catching Up'
At age 17, Zamani and his parents emigrated from Iran to Stamford, Conn. His first jobs here were in construction, and although the money was good, he couldn't imagine himself doing that work for another 40 years.
At 21, he enrolled in UConn, attending classes in Stamford with the intention of becoming a doctor. That wasn't a good fit, but when he tried a computer-programming class, he loved it. Older than the average student, Zamani felt he needed to make up for lost time. That need to accelerate has been a motivating force throughout his career.
After the fitness company, Zamani worked for a consulting company, which was purchased in 2001 by Office Depot. "I moved from a coder to corporate management and worked in retail and sales. I realized I needed an MBA, but, as my wife will tell you, I waited until I'd moved to Shelton and she'd just had our second child, and then decided to go for it," he said with a grin. "I remember my wife saying, 'Now!?'" At age 35, he completed his MBA at the Stamford campus.
The Office Depot job involved a great deal of travel, which was taxing, and one day the top bosses told him to cut his team from 200 to 50. He said to add his name to the list of those departing.
"I said, 'I want to start my own company.' I felt there was a great opportunity out there and if I didn't act on it, I was going to miss out," he said. "So we took our kids to Disney on vacation, and soon after that Logicbroker was born."
Zamani funded the business with help from friends and family and a grant from Connecticut Innovations. Zamani, who didn't take a salary until the company was profitable, has advice for future entrepreneurs.
"First, work for someone who started their own business. I'm not going to sugarcoat it. It's tough. It takes a certain character," he said. "You have to be willing to take out a second mortgage on your home and max out your credit cards. There is a lot of risk."
Zamani credits his company's success with good timing, advancing technology and a willingness to leap at an opportunity. He recalls the advice of UConn computer science and engineering professor Bernard Lovell, who told his class that his job was to teach the students how to teach themselves and to encourage them to become lifelong learners who could adapt to change. "If you can't do that, you won't be in business for long," Zamani said.
That advice was put to use four years ago when he reorganized the company. Today, as he looks to expand beyond the U.S., that advice often crosses his mind.
Logicbroker has a strong UConn presence. UConn alumni include: Rebecca Kaelin '13, director of marketing; Jordan Robidas '14, director of application development; Siena Biales '18 and Ashley Sanders '18, both software developers.
Zamani said he likes to hire employees who have worked hard for what they have, particularly students who worked part-time jobs in college. In them, he sees a work ethic that he appreciates.
"If you look around our office, you'll see the productivity. No one is on Facebook," he said. But that doesn't mean they don't have good perks, including free lunches and a gym membership in the building.
"Fridays we have bagels together in the morning and at 4 p.m. we all sit down and watch 'Silicon Valley' together," Zamani said. "It is a family. We spend 40-, 50- sometimes 60- hours a week here. You want it to feel good."
Every morning, employees have a 20-minute huddle. "We talk about real stuff and we quickly make sure everyone is informed about a new sales opportunity, a new service we are offering," he said. "We move quickly. We're very proactive. Our people take care of our issues before they become a big issue.
"We all work hard but believe in a very well balanced life. If you have to go to your kid's concert or get fitted for your wedding dress, we're fine with that. We think life should be balanced."
The father of three teen boys, Zamani said he's relieved that his sons have made good choices in their lives. He and his wife instilled life lessons in them early but one that he thinks is particularly important is to have integrity, both in business and in life.
"I tell them, 'If you lie, it will always come back to bite you,'" he said. "Be transparent and be truthful. Earning peoples' trust is valuable and will help make everything in your life worthwhile."
And if they, too, wish to become entrepreneurs, he adds one more lesson.
"If you want to own your own company, find something that makes you happy," he said. "Don't do it for the money. I've had friends who chased the money and they were always miserable."