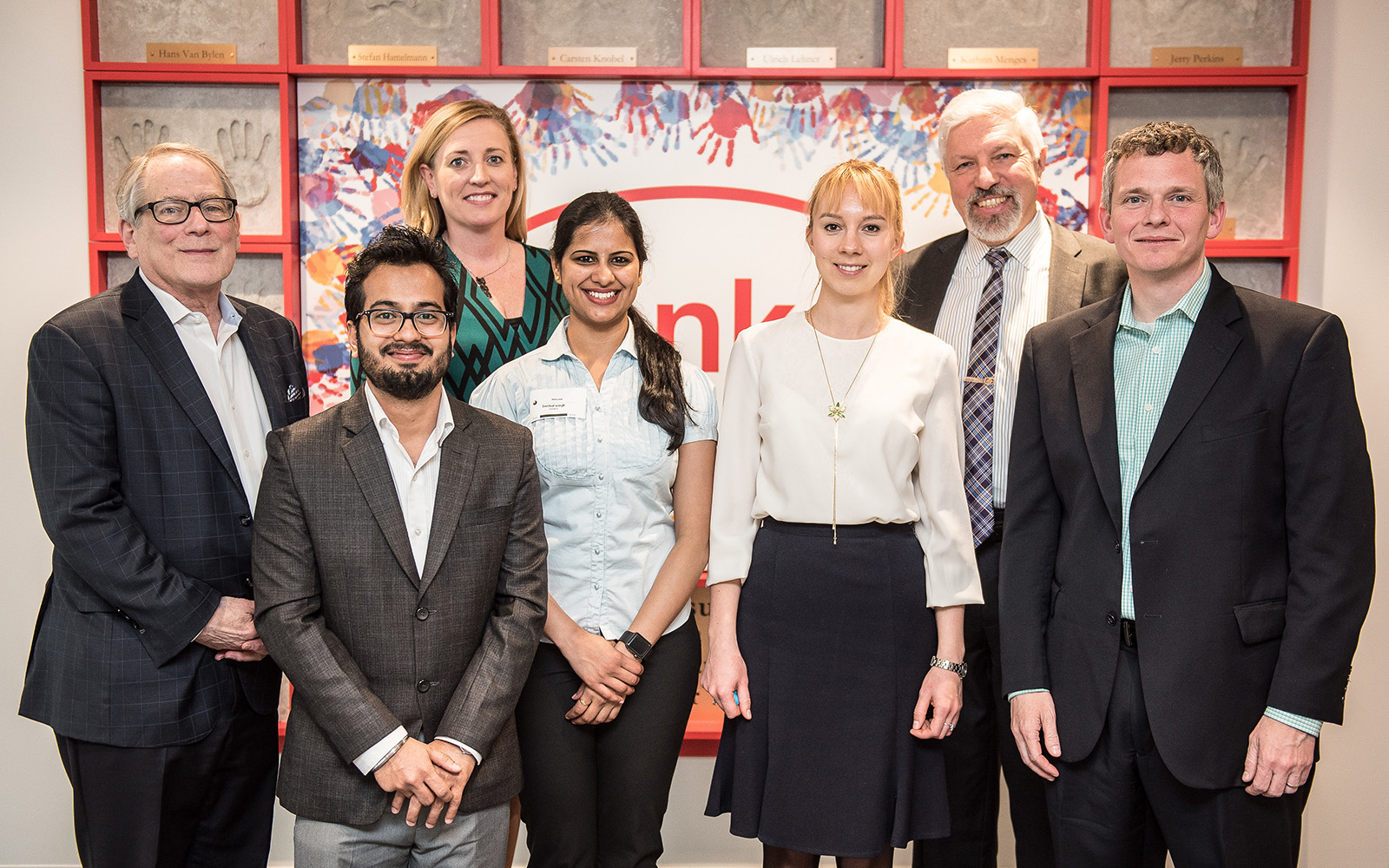 In a world in which the purchase and delivery of laundry, home care, and beauty products is rapidly changing, accelerating digitalization is integral to Henkel's growth strategy.
Henkel is a German-based company with its North American Consumer Goods headquarters in Stamford, Conn. Its portfolio of well-known consumer and industrial brands includes Schwarzkopf® hair care, Dial® soaps, Persil®, Purex® and all® laundry detergents, Snuggle® fabric softeners, as well as Loctite adhesives.
During the spring semester, the company invited three teams of UConn graduate students to uncover opportunities in digital marketing, eCommerce, and supply chain e-transformation that will foster growth and increase competitive advantage.
The students, who were enrolled in the School of Business' Experiential Learning Collaborative (ELC), brainstormed ideas to support the company's strategy. They examined everything from environmental sustainability to streamlining tasks and logistics to the speed at which products get to market. At the end of the project, they presented their ideas to corporate leaders.
'It Really Builds Confidence'
For Samantha Mullins '18 MBA, a student studying at UConn's Stamford campus, the project gave her additional experience and confidence.
"The ELC experience is unlike any other course at UConn," Mullins said. "It really builds confidence, knowing you can analyze a business, uncover issues, provide solutions and present all of that in front of a client."
"The executives at Henkel were clearly very knowledgeable about their brands and operations and their ability to answer complex questions on the spot helped to keep our project moving efficiently," she said. "It was such a great opportunity to be in the room with such powerful decision makers at a global company like Henkel."
Colleen Sherry, senior manager of digital marketing at Henkel, worked closely with the students.
"The UConn MBA students brought fresh thinking and compelling ideas to Henkel. It was a true learning experience, for them and for us. By focusing on some of our key points of digital acceleration, the teams showed how our brands could benefit from these innovations," she said. "They also demonstrated how an intersection of digital media and cause marketing could forge more meaningful connections with our Millennial and GenZ consumers."
Greatly Enhances Their Education
"This experiential learning experience tied together two things that help our students perform at peak levels: a competition format and strong corporate engagement," said David Souder, associate dean of graduate programs at the School of Business.
"We appreciate the time Henkel invested with our students because it greatly enhances their education. It is also gratifying to see Henkel receive a strong return on that investment from the careful analysis and creative thinking by the student teams," he said. "We continue to increase our use of competitive learning collaborations with Connecticut businesses because of the mutual benefits they bring."
Kseniia Poirkina '18 MBA described her experience as extremely worthwhile.
"What surprised me is how the issues are much more complicated than I expected," she said. "The more you 'drill down,' the more you realize how complicated it is. Supply chain flow has so many stages. This has been a very valuable experience for me."
'I Learned to Be Better Prepared'
Niraj Sharma '18 MSBAPM said the Henkel team provided only the information that the graduate students asked for, and that they quickly learned to be information-seekers to strengthen the team.
"I learned to be better prepared," he said. "I learned what needs to be asked, and, especially, what needs to be answered."
"Overall it was a great learning experience," said Snehal Singh '18 MSBAPM, who said she enjoyed applying her classroom training for a project with a real company.
"Because this experience is set up as a competition, we have two separate teams that take different paths and create a different set of solutions," said Gregory Kivenzor, director of the School of Business' Experiential Learning Collaborative. "Their work is well developed and well researched. Their results are rooted in data provided by the client and greatly enhanced by the comprehensive industry research conducted by each team. The benefit for the leaders of Henkel, our client-partner, is that they can use any one of the team recommendations or combine the best features of the two."
Brad Wade, director of process consulting and digital for Henkel's North America Integrated Business Solutions, was pleased with the outcome.
"As we wrapped up the final presentations, I was struck again by the level of preparation and professionalism shown by the UConn students. They brought forward novel ideas, reinforced existing strategies, and engaged in meaningful discussions with our business sponsors," he said. "Gregory Kivenzor and I began this journey about a year ago, and I am very proud of the relationship we have built with the UConn ELC. We will continue to look for opportunities to partner in the future."