Michelle Cote, Managing Director of the School of Business' Connecticut Center for Entrepreneurship & Innovation (CCEI), has been honored with a Connecticut Entrepreneur Award designating her as "Community Builder of the Year."
Cote was selected because of her extensive work with CCEI and also as the director of the Hartford-East Hartford Innovation Place, an effort by more than a dozen entities to increase innovation and commercialization in the region, including the insurance, healthcare, aerospace and advanced manufacturing industries.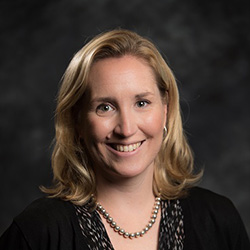 She has worked to develop an entrepreneurial ecosystem and community within the university and the City of Hartford which directly impacts the economy within the State of Connecticut. She has connected industry leaders, startups, community members, as well as students, faculty and alumni of area colleges and universities over the importance of entrepreneurship and innovation to the future of the Connecticut economy.
The Connecticut Entrepreneur Awards recognize the state's leading entrepreneurs, ventures and supporters, and recipients are chosen by a volunteer team of entrepreneur event organizers.