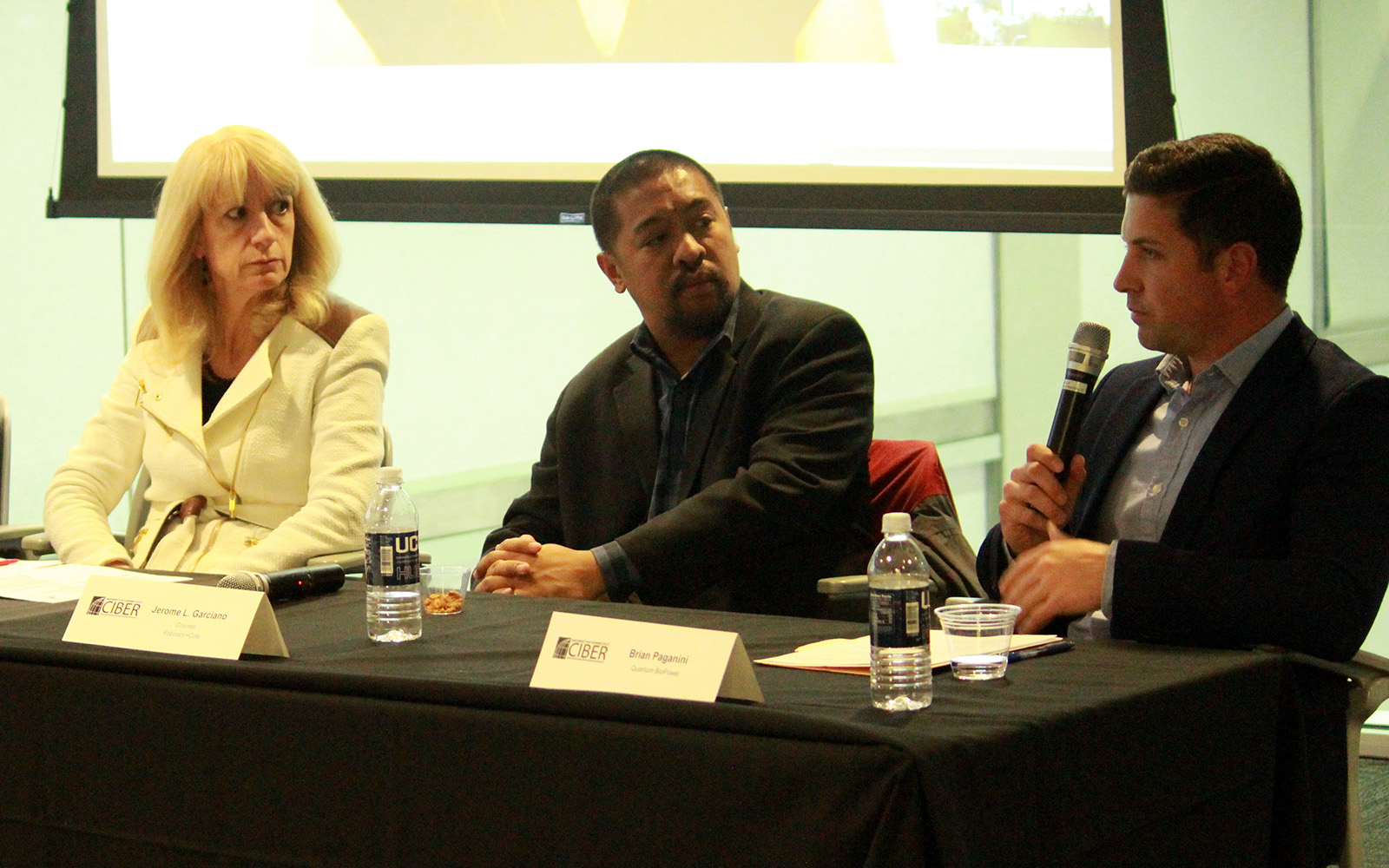 A diverse panel of business experts from around the world addressed graduate students during a discussion titled, "A Global Environmental Response: CSR in Practice," on April 19 at the Graduate Business Learning Center in Hartford.
Panelists included: Diane Cantello, vice president of Corporate Sustainability at The Hartford Financial Services Group Inc.; Jerome Garciano, counsel at Robinson & Cole; Michelle Naggar, president, TakeCare Relief Fund, Marriott; Brian Paganini '03, vice president of Quantum Biopower, the state's first food-waste-to-energy plant; and Belinda Wade, lecturer, University of Queensland School of Business, who joined the discussion virtually from Australia.
The program, part of UConn's Metanoia on the Environment, was sponsored by the Center for International Business Education and Research (CIBER) and UConn's Graduate Net Impact Chapter. Wade is the program leader for the UQ-UConn CIBER Sustainable Business Program, which offers faculty from the School of Business and other U.S. business schools the opportunity to participate in a sustainable business immersion program in Australia.
Business Law Professor Stephen Park, who is also the School of Business' Satell Fellow in Corporate Social Responsibility, moderated the discussion. He noted the range of approaches to sustainability evident in the discussion and highlighted the growing importance of sustainability to companies' stakeholders and financial health.
"Companies are integrating environmental sustainability into their strategies and operations, both as a commitment to social responsibility and a means to tap into new business opportunities," Park said.
"This thoughtful group of speakers explained how sustainability is shaping their relationships with customers, employees, investors, regulators and communities across the world. In the face of such monumental environmental challenges, it is inspiring to learn about the many ways that business can be part of the solution."