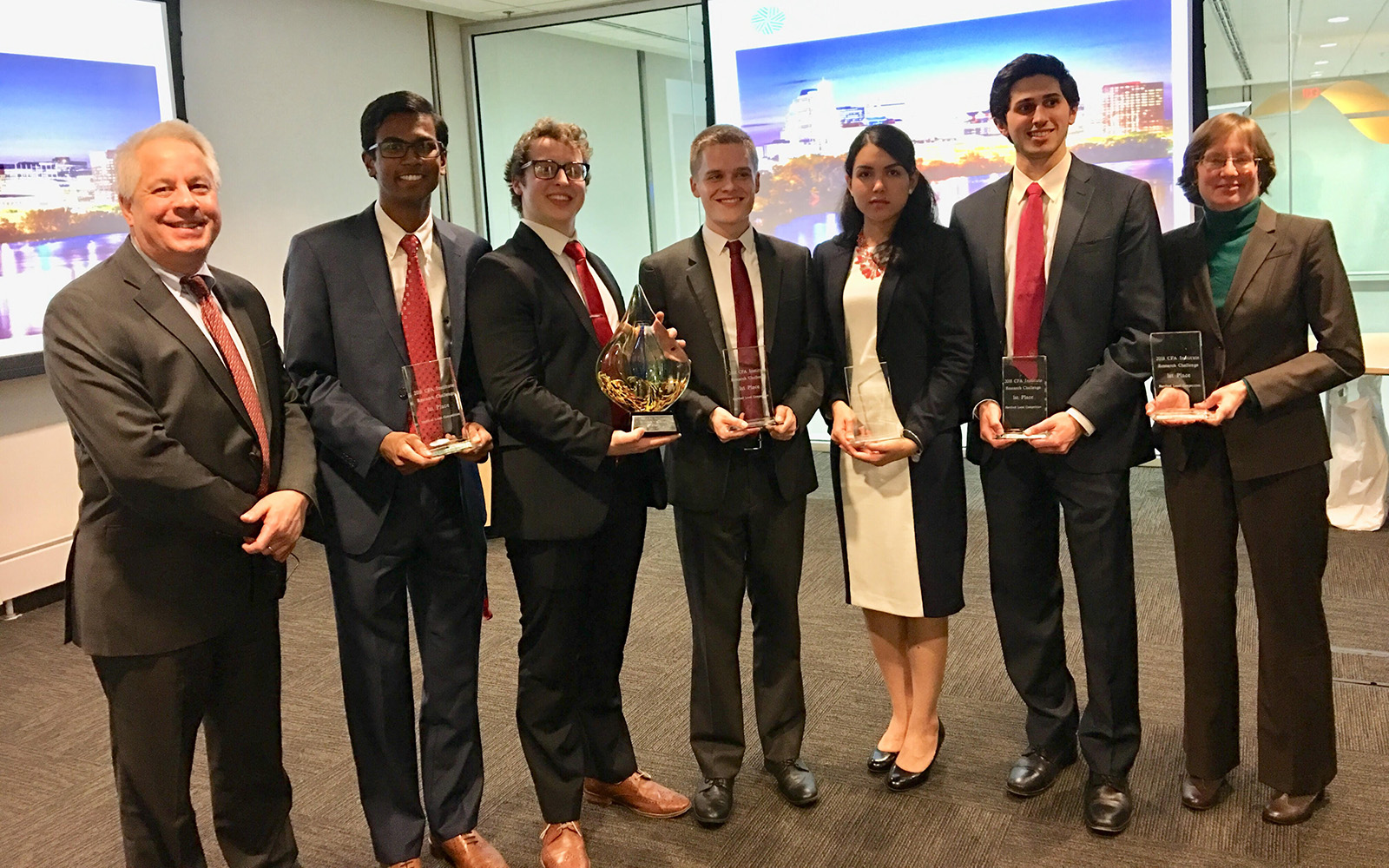 Senior Finance Majors Win CFA Challenge; Proceed to Boston
A team of five undergraduate finance majors won first place in the CFA Institute Research Challenge Hartford, and will advance to the Americas Regional Challenge in Boston from March 19-20.
The team included seniors Bartosz Walas, Ana Walas, Vivek Tedla, Anthony Mottolese and Jack Leyland. Leslie White, owner of Troika Investment Advisors in Hampton, Conn., was the team's industry mentor.
The Research Challenge is a rigorous competition that provides university students with hands-on mentoring and intensive training in financial analysis. Students work in teams to research and analyze a publicly traded company, in this case it was toy maker Hasbro Inc. Each team writes a research report on their assigned company with a buy, sell or hold recommendation—and then presents and defends their analysis to a panel of industry professionals.
"It felt great to see the result of our hard work!" said Bartosz Walas. "Beyond the long hours spent writing the report, working on the slides, and rehearsing the presentation, I believe what really set us apart was our team dynamic," he said.
"We all determined early on that we wanted give this competition our all, and I believe that this, coupled with a positive and friendly working environment, really showed. We also had great advisers, Chris Wilkos and Leslie White, who really challenged us and brought the best out of the group. I believe that all these factors that made us successful at Hartford will translate well in Boston, and I look forward to giving it our all moving forward."
Ana Walas, who is married to Bartosz, said the team's reports were professional and polished, leading the team to triumph over nine teams, including those from Trinity College, Providence College, Bryant University and University of New Haven, in the initial round. In the second part of the competition, the finance students made a 10-minute presentation and bested another UConn team and the University of New Haven.
"From when we started working on our research report, all the way to the time when we were putting together our presentation, all of us were focused on doing our very best," she said. "We put countless hours into the report."
More than 5,000 students, in more than 1,000 teams, are part of the 2018 competition. The winners of the regional challenge will advance to the Global Finals in Kuala Lumpur, Malaysia, in April.
After graduation, Leyland will be will be joining Moody's Investors Service in New York City as an associate, working in credit ratings research.
"My experience during the competition, as well as with the Student Managed Fund this past year, will certainly be of help to me as I begin my career in the investments business," Leyland said. "I have been able to learn a tremendous amount about how to analyze a company and its industry from both quantitative and qualitative perspectives."
Mottolese has accepted a position with Dowling & Partners in Farmington, Conn., as an associate in the company's equity research team. "My role in the CFA Research Challenge is a great opportunity to build the necessary skills as an analyst that I will be developing at Dowling," he said. "Not only that, but the competition and presentation side of this event is the most important part in my eyes. The chance to stand in front of peers and industry professionals alike to articulate and defend our investment thesis gives us a valuable experience."