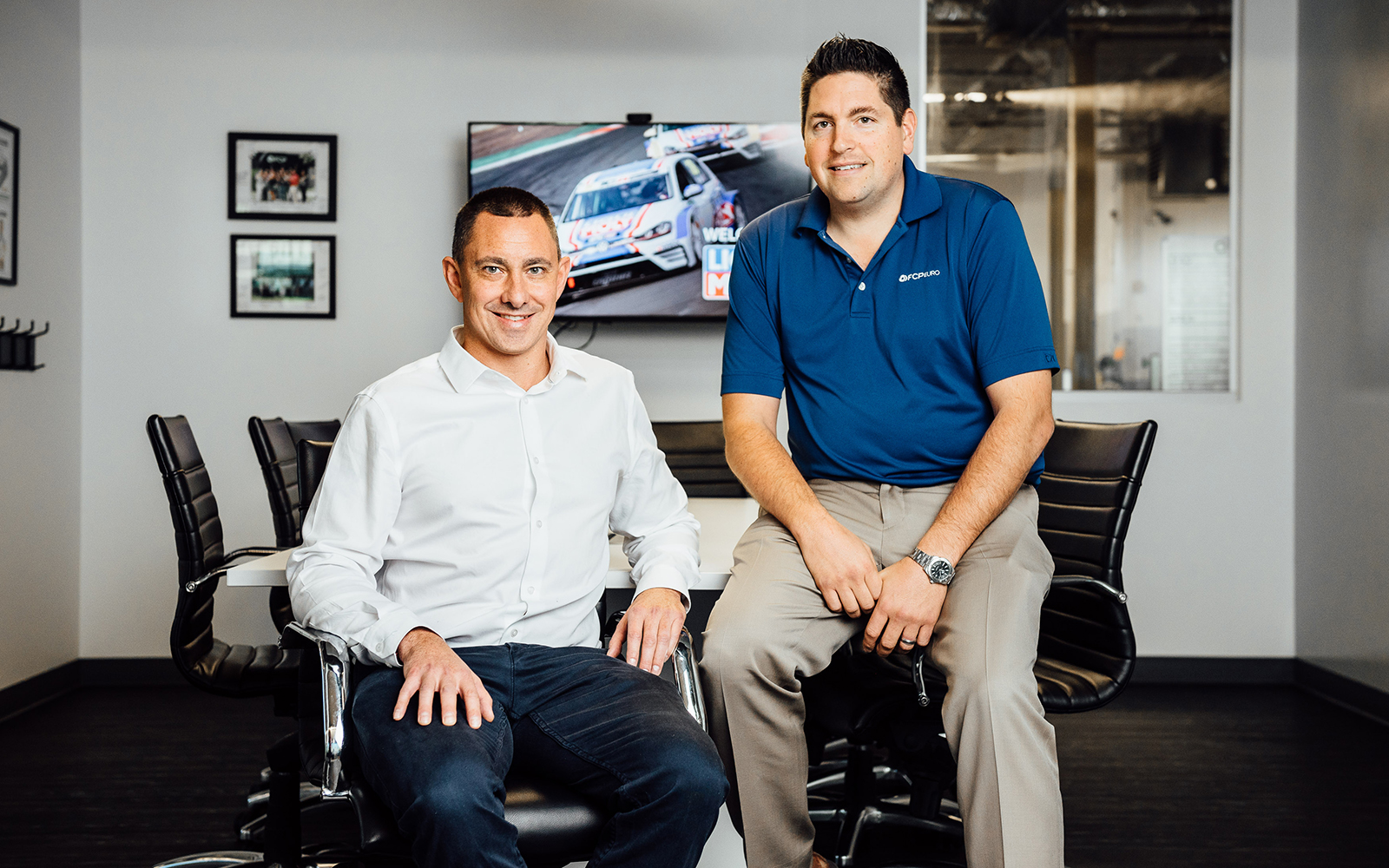 Outstanding Customer-Service Strategy Helped Create $30 Million Business
How do you take a small, mom-and-pop car parts business and turn it into a $30 million, online retail blockbuster?
The secret, according to FCP Euro owners Scott Drozd '03 (CLAS) and Nick Bauer, is that you always, always, always put the customer first, and never stop growing, developing and expanding your business.
"It is our vision to be the most valued and trusted European, online auto-parts retailer in the world, through the relentless pursuit of quality and service," said Drozd, FCP Euro's CEO, during an interview at the company headquarters in Milford, Conn. "If we wouldn't put it on our cars, we won't sell it to you."
Bauer, the president and founder of the company, which is one of the largest of its kind in the world, bashfully acknowledges he is more businessman than mechanic.
"My Dad had me tear down and rebuild a vehicle when I was a teenager. Yes, it got back on the road," he said with a grin. "Cars are a small passion of mine, but what I really love is running a business for car enthusiasts."
"I would tell UConn business students that you have to take risks in life," Bauer said. "But above all, you have to have passion about what you're doing."
'My Parents Are Shocked At Our Success'
FCP Euro was established by Bauer's parents, Harry and Kathy Bauer, in 1986 as a traditional auto-parts store. Located in Groton, Conn., the business serviced the local Volvo and BMW parts markets.
In 2001, under Nick's direction, the company ventured online, selling parts on eBay. The following year, Drozd—Bauer's best friend since they were 12-year-olds growing up in Deep River, Conn.—joined the company.
Over the next few years, the two developed a website that listed the entire catalog, as well developed kitted products. They currently offer more than 350,000 replacement parts for Volvo, BMW, Audi, Volkswagen, Mercedes, Porsche, Saab and more.
"When we started the online business, e-commerce was relatively new and no one was selling auto parts that way," Drozd said. "It was complex to create the catalog, with all its intricacies about what parts fit which car."
But that tedious work paid off, and by 2008 they had an $8 million business. With a warehouse that was bursting at the seams, they moved to Old Saybrook, invested in innovation, technology and employees, and grew the company to $18 million. By 2014, they bought out Bauers' parents.
Today, they have 65 employees who work in a modern, spacious building on Milford's Hill Street. Their offices are sunny with large windows and the reception area displays FCP t-shirts and other merchandise, as well as photos of the company's humble beginnings. They even have an employee tribute wall. Although most of their customers are online, they also welcome walk-ins.
"My parents are shocked at our success," Bauer said. "In 2008, Scott said we'd be topping $100 million, and my dad looked at him like he was crazy."
'Getting Serious About Remarkable'
Bauer and Drozd said their customer-friendly policies have fostered their success. They offer the highest quality replacement auto parts, a lifetime warranty on products sold (even windshield wipers, filters and brake pads) and a series of online videos to equip the do-it-yourselves with the knowledge and technical support to maintain a vehicle. Their typical customer is a do-it-yourself-er and has a car that is between four- and 12- years old.
"When you order an auto part from us, you'll never have to pay for it again," Drozd said. "Offering this service enhances customer retention. Very few people actually take us up on it, so the cost to our company is low. But it allows us to compete with, and distinguish ourselves from, companies like Amazon, that don't offer that service."
To Bauer and Drozd's complete surprise, their company was featured by author, blogger and former dot.com business executive Seth Godin in his Sept. 3, 2017 blog titled, "Getting serious about remarkable," in which Godin highlighted FCP Euro's lifetime guarantee replacement policy as an example of a company that excels.
"We woke up one morning and suddenly he was writing about our company, on a blog with over 1 million subscribers!" Drozd said.
Ready for the Next Great Phase
Not satisfied to just thrive within the industry, the business partners have big plans to expand their company this year.
FCP Euro will launch a professional motorsports team, with race cars and a pit crew, in the 2018 Pirelli World Challenge racing competition, which includes eight races in the USA. The team will be based out of the company's headquarters. The exposure will bring even more attention to the business.
"Our professional motorsport program engages at a much higher level with our customer base, and lends significant credibility to our brand," Drozd said. "It's exhilarating to watch our brand being followed on a national stage."
In addition, the company, which has already produced hundreds of videos to assist do-it-yourselfers with car maintenance, will create a formal media company this year to support auto manufacturers with technical and instructional content.
"As the quality of our content has increased and more automotive manufacturers have expressed interest in helping them with their content, this was a natural progression for FCP Euro," Drozd said.
Asked about their most memorable days, the business partners are in complete agreement. "Our worst day was when we had a recall for a product that was substandard and could snap and cause an accident," Bauer said.
"Our best day was Cyber Monday 2017, when we had our highest revenue day ever," Drozd added. The company is on track to make to make $40 million this year.
The friends said they are constantly reading books, listening to podcasts and always learning. "We've tried and failed at 1,000 things," Drozd said. "The key is that you have to recover quickly and adjust."
"We never stop learning. Every day is an opportunity to improve our skillsets and our field. We have a learning mindset," added Drozd, who enjoys handling personnel, while Bauer is more versed in analytics.
Helping the Next Generation of Business Leaders
Drozd has served as Entrepreneur-in-Residence with UConn's Connecticut Center for Entrepreneurship and Innovation (CCEI) for the last two years, working with startup teams in a summer incubator program.
"I'm taking what I've learned over the last 15 years and passing it down to those who need 'an elder statesman' to guide them through the process," he said. The innovators have impressed him.
"They are very tech savvy and talented, smart and ripe with ideas," he said. "But the flip side is they need more persistence. Some of them lack grit, and patience, and the wherewithal to break through the biggest hurdles."
Drozd said he thinks Connecticut needs to refocus its economic policies to address what he believes are two deficits.
"I think we need to focus on small- to mid-sized companies, the $1 million to $5 million generators, and help them grow and accelerate," he said. "I also think that entrepreneurship is too fragmented, and we need to bring our resources together. The innovation hubs are fighting each other, pitting one town against another, and there needs to be a fresh sense of cooperation."
Work and Life Are Never Separated
For the two men, who jointly own the company, business decisions consume most of their waking hours. "It's just life," Bauer said. "You just think about it all the time."
"There's no such thing as work-life balance when you own your own company," Drozd agreed. "Work and life are integrated, never separated."
One of Drozd and Bauer's favorite experiences is when they receive unsolicited customer compliments.
"It's always fun when Nick and I are out in public now and a customer notices us wearing an FCP Euro shirt or hat, and comes up to us and tells us that they love the company and want to know if we work there," Drozd said. "It's ultimately gratifying that we built a brand with that stature, and that alone makes it all worth the journey."