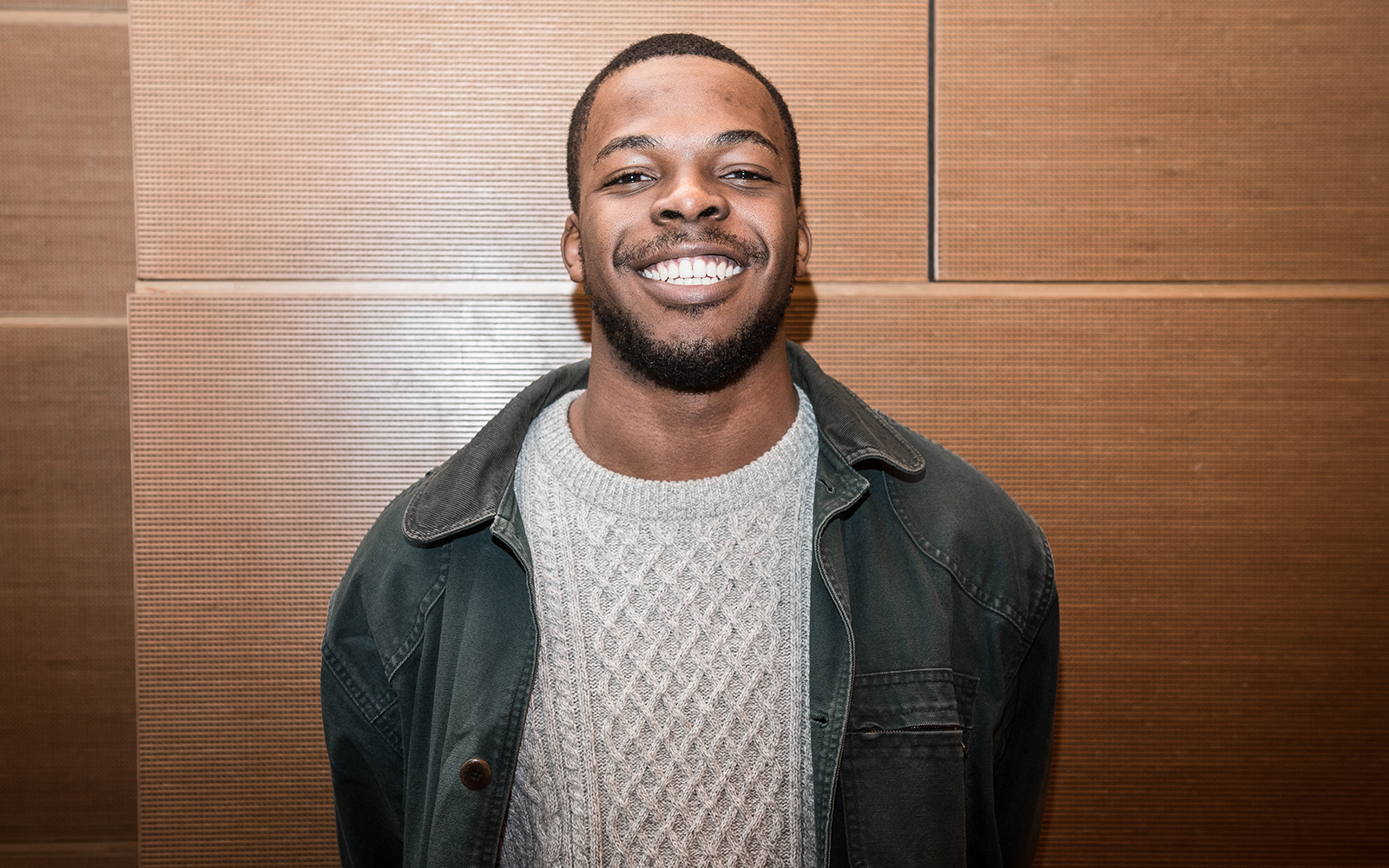 More than 300 Sign-up for iQ Kickoff As Entrepreneurship Takes Root at UConn
When he was a high school lacrosse player, Frank Amaefuna took a slash from an opponent. Although he was wearing a helmet, his head smacked the ground hard.
"I knew it was a big hit, but I think the adrenaline prevented me from realizing what happened," said Amaefuna, a UConn senior majoring in molecular cell biology. His coach noticed that when he returned to the game, Amaefuna's coordination seemed off, a warning sign of a concussion. Amaefuna left the game and was sidelined for a month as he recovered.
The incident prompted Amaefuna's interest in concussion recovery, and he has embarked on a plan to create a standardized protocol for students, school districts and physicians to follow. He and his business partners have traveled the state speaking to school nurses and athletic trainers.
But to move forward with his proposed business, he needs a programmer to design a predictive analytics algorithm, as well as some sound business advice.
Program Differentiates UConn
Amaefuna was one of more than 300 students who signed up to participate in this year's Innovation Quest (iQ) competition. The event, now in its seventh year, kicked off on Feb. 12 in Storrs and Feb. 14 in Stamford.
The iQ program is open to students from any school or major who have ideas for creating a new business. The highly successful program, which has helped launched dozens of businesses, offers mentoring, advice and encouragement from experts in solving complex problems with innovative, sustainable solutions.
Finalists share $30,000 in prize money and an invitation to the popular summer InQbator program, which is a "business bootcamp" for aspiring entrepreneurs. During the final InQbator session, teams present their business plans to an audience of angel investors and venture capitalists.
"This is a highly successful program that differentiates UConn," said Management Professor and Program Executive Director Rich Dino. "The ideas and the businesses generated by our students are remarkable."
The program was established at UConn by alumnus Keith Fox '80, an entrepreneur who had learned of the iQ at CalPoly and thought it would be an asset for UConn students.
"I'm looking forward to another great year," said Fox, who video-conferenced in from his California home. "I think the program is institutionalized now. If you look at the applications, they typically mirror the student majors, from medicine to the arts to technology. It's exciting to have diverse ideas and innovations."
Many of the former participants attended the kickoff and Fox said it has been rewarding to watch their companies mature and compete in the marketplace. "We are grateful to those teams who come back now to help others on their journey," he said. "None of us have all the answers or the background for every type of business. That's why we have a big team of experts to help teams when they need it."
Among the guests at the pre-event reception was Peter Werth, an entrepreneur in the pharmaceutical industry, who recently made a $22.5 million gift commitment to the University to foster innovation and entrepreneurship.
"Entrepreneurship at UConn is growing and thriving," said Lucy Gilson, head of the management department. "The Werth Institute wouldn't be possible without the iQ program, which put us on the map!"
Technology Fostering In-Person Friendships
Shemona Singh, a senior majoring in computer science from Milford, Conn., and Ernesto Ortega, a senior majoring in electrical engineering from Stratford, Conn., hope to create a networking platform, called Mesa, that creates new friendships around food and shared interests.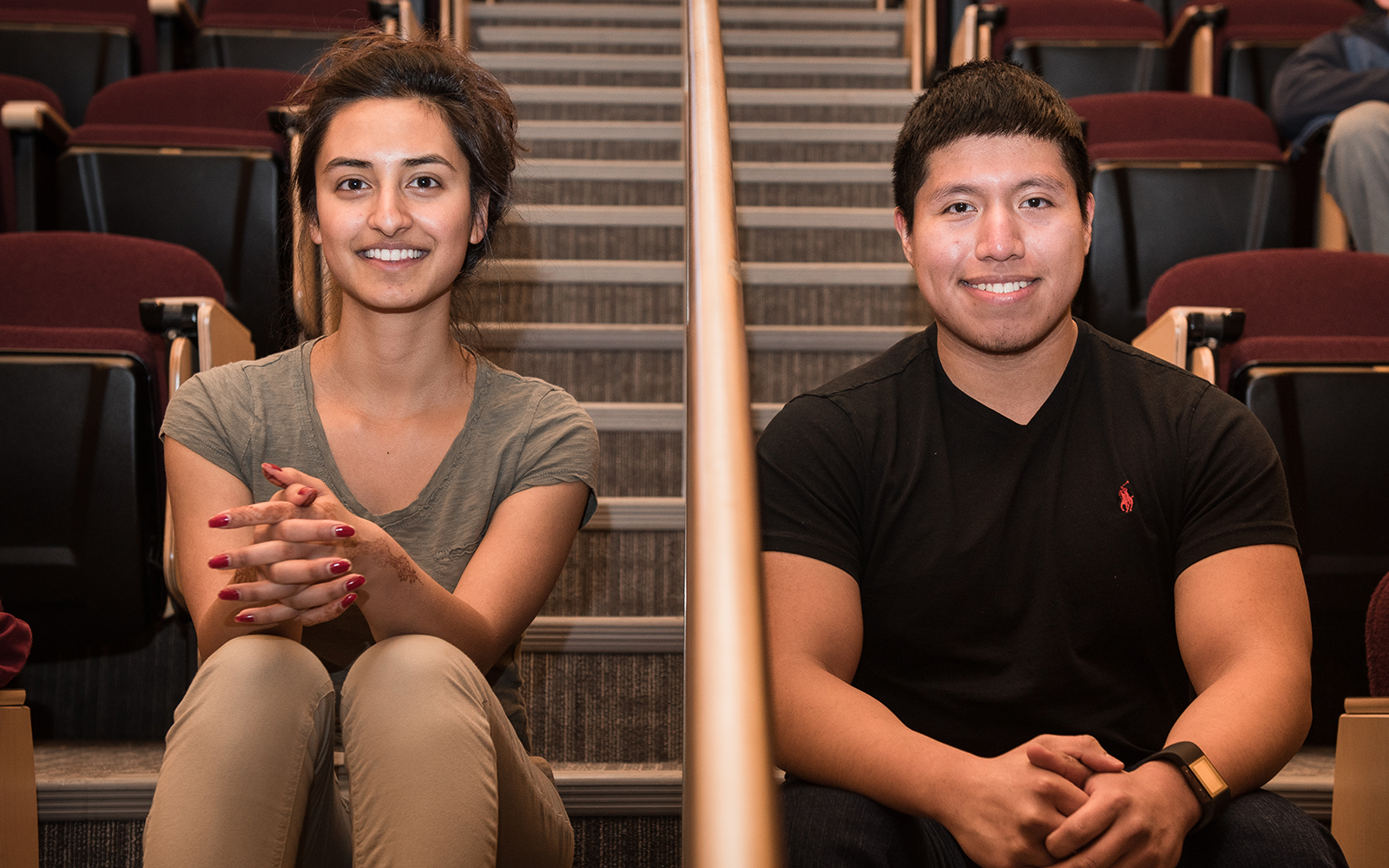 "It would be like Tinder, without the sex and dating," Singh said. "Say you moved to a new town and you want to make friends. This would be a way to create that connection."
"We see this as a means to build a bridge between technology and the community," she said. "Technology isn't going to ruin our lives. It's like putting the glue on it! It can keep us together not rip us apart."
Ortega, who said he likes a vast range of food, would be interested in dining with with people who are intrigued by technology, trends and have a start-up mentality.
"One thing that gives us a leg-up is that we have a very diverse team," Singh said. "We have varied opinions from people of different countries and cultures." The team includes people who have ties to Saudi Arabia, India, Mexico, Vietnam and France.
Ortega has thought about what separates an entrepreneur from others and thinks he and his teammates have what it takes to thrive.
"I think there are many traits that could make a successful entrepreneur, such as determination, perseverance and confidence," Ortega said. "But I think the most important traits that embody all the others and more, are vision, passion, and a willingness to learn and adapt."
Mentor: Strong Team is Vital
Steve McGuire, an engineering alumnus, said this is his fourth year serving as an iQ mentor. McGuire, who runs an orthopedic consultancy firm, has coached college students throughout the state.
"I'm continually impressed by how smart our students are," he said. "You give them a little advice and watch their businesses take off!
"The key to success is to be on a team, not working by yourself. When you connect yourself with other smart people, good things happen. People who are successful know their strengths but also recognize the strengths of others," he said. "If we can drive innovation and start more businesses in our state, we can be wildly successful."