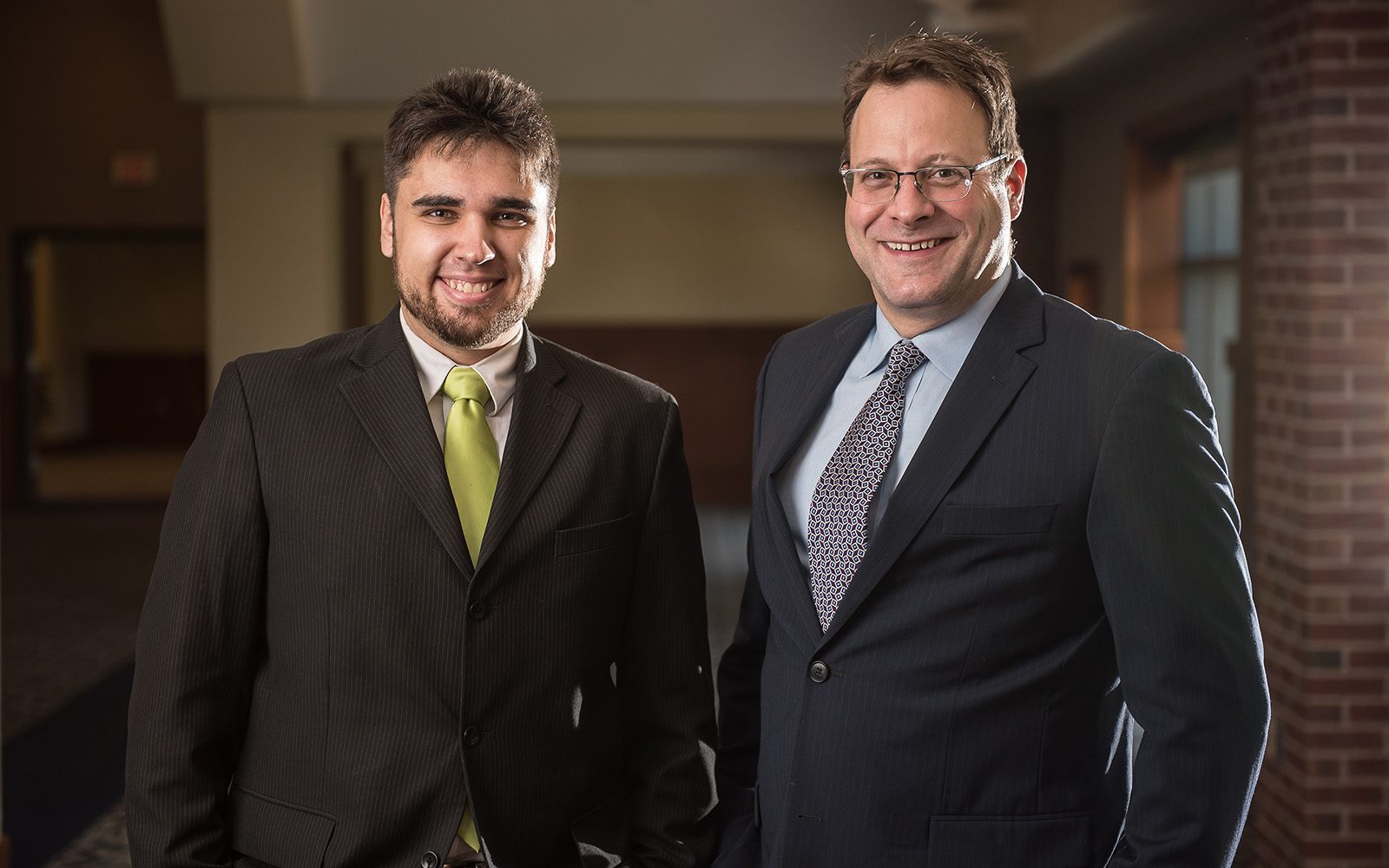 Wolff New Venture Competition Prize Winner: Eir Medical Devices
Everyone knows that smoking, elevated blood pressure, and high cholesterol are key risk factors for heart disease.
But what about "sticky" blood?
Perhaps a bigger contributor to cardiovascular illness is a person's blood viscosity—the thickness and stickiness of blood—which determines how hard the heart must work. And most people don't have any idea if they have this risk factor.
A team of UConn Health researchers has developed a new technology to help identify the problem—a testing kit that would would allow doctors to easily verify blood viscosity using a single drop of blood.
"We envision this in every doctor's office and as part of a patient's annual checkup," said Kostyantyn Partola, a Ph.D. candidate in the School of Engineering. "This will certainly help people assess their health and provide a clearer picture of what's going on in the body."
Partola's startup, Eir Medical Devices, won UConn's Wolff New Venture Prize, which includes a $15,000 gift toward the development of the medical device company. The winner of the Sept. 26 competition beat four competitors, drawn heavily from the medical community at UConn Health. The contest is sponsored by the UConn School of Business.
Partola and his team developed the idea for their invention last February, while researching sickle cell disease. Blood viscosity may play a role in the severity of that illness. During a brainstorming session with colleagues, Partola lamented the lack of a simple, inexpensive diagnostic tool to measure viscosity. Then he decided to create one.
"We said, 'How come no one has thought of this?'" Partola said.
"We are really excited to be part of the entrepreneurial movement at UConn," he said. "I didn't see myself as an entrepreneur a year ago, but now I want to pursue it whole-heartedly. Now, I don't see myself doing anything else."
The new blood-testing device would replace a cumbersome test that requires a substantial blood draw, is expensive, and can yield inaccurate information if the blood isn't processed within 24 hours. Partola's test is conducted right in the doctor's office, using a disposable testing kit which is inserted into a small medical reader.
If a physician identifies a patient with a blood viscosity risk factor, it can often be mitigated with improved diet and exercise, he said. The test can also be used for dialysis patients to determine if their treatment should conclude for the day.
After winning the award, the team has greater confidence in its quest to seek other grants, he said. Some of the award money will be used to create a portable prototype.
"We felt we had a strong chance to win the competition but we knew it would be very close," Partola said. "We are happy that we won and happy to be recognized for what we've done."
As an engineer, Partola said he had no business background before he entered the Connecticut Center for Entrepreneurship & Innovation (CCEI) Summer Fellowship Program last summer. The top teams from that program competed for the Wolff prize.
"The expertise and mentorship that we've received from UConn was exactly what we needed to get this business off the ground," he said. The company has a provisional patent and an initial prototype, but needs to raise $3.6 million over the next five years to take their device to market.
Partola has developed the business with the assistance of George Lykotrafitis, Ph.D., an engineering faculty member, and Thomas Geer, a consultant in the medical field.
Other finalists in the Wolff competition included:
NataSure, a new device that treats cervical insufficiency, a condition that contributes to premature births and miscarriages and offers an alternative to surgery. The company is spearheaded by Dr. Courtney Townsel and Dr. Winston Campbell, both of UConn Health.
Hans Health is developing a new way to provide doctors with information about the specific type of mutations causing an individual's cancer and whether they would benefit from immunotherapy. Veneta Qendro, a Ph.D. student at UConn Health described the approach that she is working on with David Han, Ph.D., at UConn Health.
Potentiometric Probes is a new voltage-sensitive dye that can help medical researchers and pharmaceutical companies study electric conductivity in cells and test for dangerous cardiac side effects when new prescription drugs are in development. The company is led by research associates Corey Acker, Ph.D. and Ping Yan, Ph.D., and faculty member Leslie Loew, Ph.D., all of UConn Health.
Quantum Purification is a new type of filtration process to help producers of biogas, a renewable natural resource, remove damaging and toxic byproducts in a more cost efficient manner. The idea was presented by Dong Yu, an MBA student, who has partnered with Michael Curtis, an industry mentor.
The Wolff Prize is endowed through the Thomas John and Bette Wolff Family Chair in Strategic Entrepreneurship. The Wolff family has a long tradition of personal philanthropy and a commitment to UConn and the entrepreneurs of tomorrow.