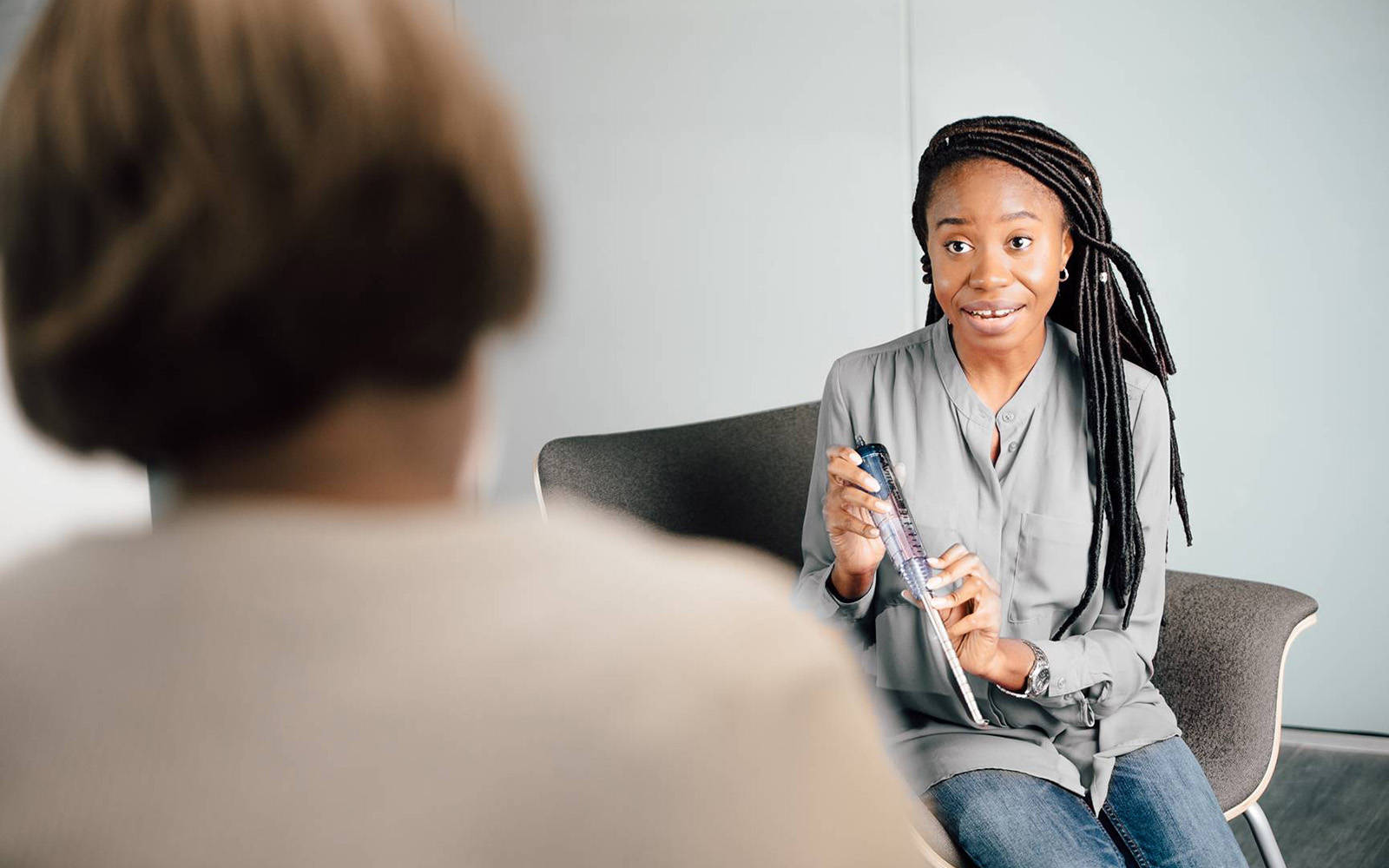 Undeterred: Enuma Ezeife '18 MBA
Enuma Ezeife cringes when she talks about some of the older methods of harvesting bone graft for surgery.
Not only are the procedures excruciating, but they can have numerous unintended consequences, including fracture of a patient's femur, she said.
Although Ezeife had never worked in the biomedical field before, the second-year MBA candidate eagerly accepted a summer job educating surgeons about a new medical technology. Created by Avitus Orthopaedics, the new device offers an easier, faster, safer and less expensive alternative to conventional procedures.
"When people have health or physiological challenges, the last thing they need is a procedure that further complicates the problem. Bringing an outstanding medical innovation to market that alleviates patients' suffering and speeds up recovery, makes for meaningful service," Ezeife said.
"To make the most of any experience, you need to give 100 percent and extra," she continued. "Passion just keeps you steadfast and makes the process more enjoyable."
'She Challenged Our Perspective'
"When we hired Enuma, we were already impressed with her entrepreneurship experiences in her homeland of Nigeria," said Avitus co-founder Maxim Budyansky, a 2010 UConn alumnus with a bachelor's degree in mechanical engineering. "We never thought of her as an intern, and we found her to be exceptional throughout her time with us."
"We like to say we threw her off the cliff and told her to build the plane on the way down," he said. "She asked us great questions, she challenged our perspectives. We lucked out with our three interns because they formed an awesome team that exceeded our expectations. When you're given such purpose and meaning, it becomes like you're marketing your own medical device, and it very much became that."
Ezeife recalled her initial meeting with Avitus co-founders Budyansky and Neil Shah, and how their innovation impressed her. The company is based in Farmington, Conn. and supported through UConn's Technology Incubation Program. "My passion to see Avitus succeed came naturally, sown from day one," she said.
Perhaps the most difficult part of her job was making 'cold calls' to surgeons' offices and trying to get past the office "gatekeepers." She had to adjust her 30-second telephone pitch with each call, requiring her to think quickly. Typically every sixth call would net an invitation to meet with a surgeon.
"For most surgeons, the decision to adopt Avitus was a no-brainer," she said. "Once they saw it and how well it worked for the patient and the physician, it wasn't difficult to see their enthusiasm."
Avitus' technology, which has received FDA approval, harvests bone graft through a small incision. Once hooked up to a suction device, it can typically acquire the needed material in a few minutes. The procedure is used to acquire graft and marrow for use in a range of orthopedic, foot and ankle, spine, and podiatry surgeries.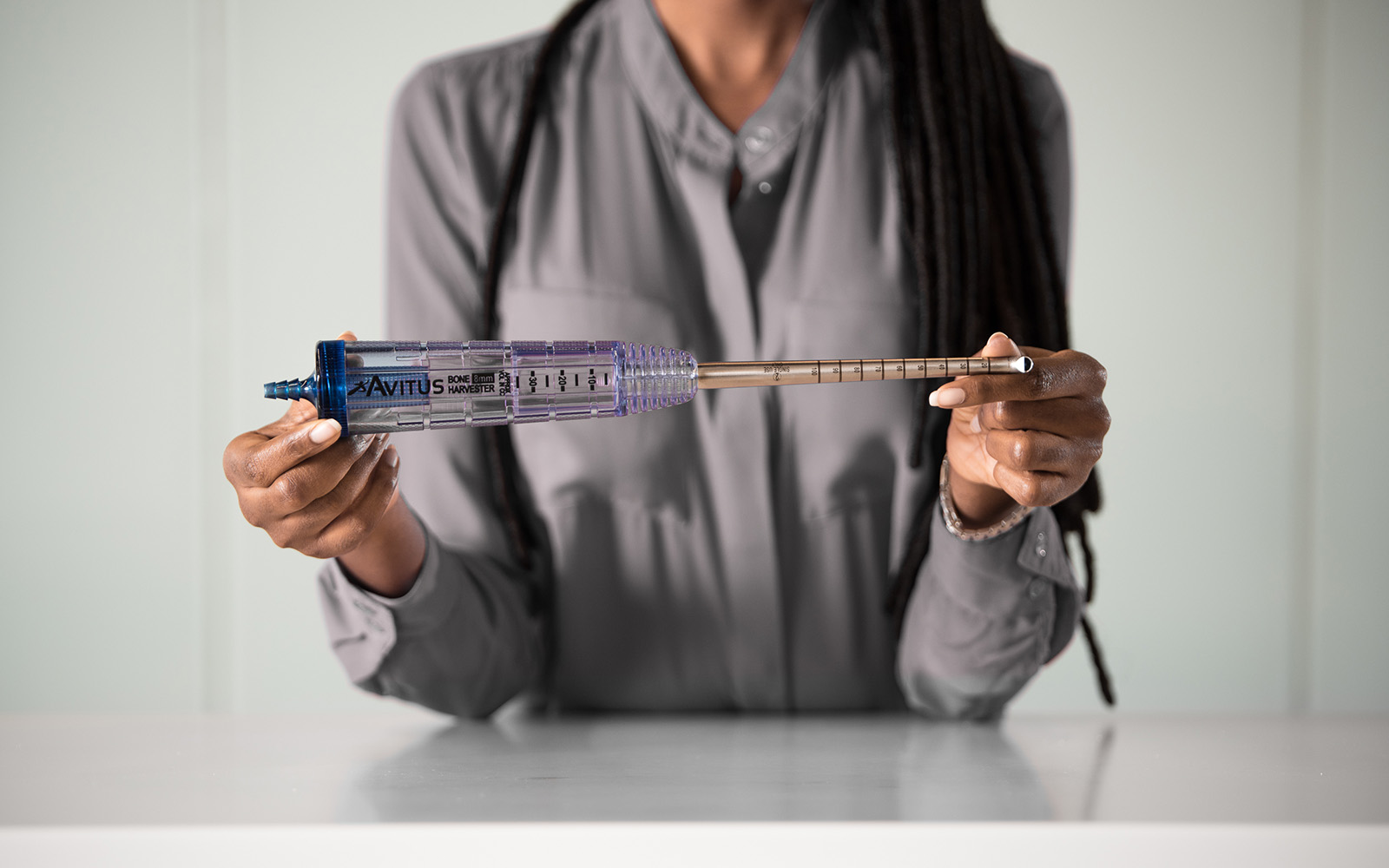 The grafting is also helpful to diabetics, whose injuries are slow to heal, and to people who have experienced a traumatic injury. "The bone and marrow is rich in stem cell and helps the bones heal and grow," she said.
"Enuma did an amazing job and had a big hand in building our sales this summer," Budyansky said. "We're now demonstrating surgeries in hospitals based on the leads that she established."
'This is My Growth Phase'
Ezeife, who was born and raised in Nigeria, has always been interested in business. At the beginning of her career, she owned her own leather-goods trade company, which also manufactured custom jewelry. Next, she worked as a commercial relationship manager for the nation's largest bank, handling loans and risk assessments for her many clients, including oil companies and law firms.
"It was very, very hectic, but that's what I wanted," she said of her four years in that role. "I wanted many experiences that would broaden my knowledge."
After much online research and international phone calls, she chose UConn, sight-unseen, for her graduate work, where she is a top MBA student. With a strong background in marketing and sales, she is now sharpening her knowledge of finance and consulting.
"Now that I'm an MBA student, this is my growth phase!" she said. "I want to learn all I can and eventually hope to own my own business again."
Her internship with Avitus was empowering, she said.
"It was enriching to see a business strategy for a United States startup that was just going to market," she said. "I saw what they were doing, how they were doing it, and what they were doing right."
It would often take six weeks to get hospital approval to demonstrate the new surgical technique. "I certainly learned that you can't give up halfway through," she said. "I knew nothing about the medical field when I started this internship, but it has been such a good experience. I found that I really enjoyed learning about biotechnology."
Coming in as an international student, she was eager to make new friends, and found UConn a warm and welcoming place. She and her cohort even went to a Yard Goats game, a particular thrill for her because it was her first baseball game.
'Millennials Want to Change the World'
"Our second-year MBA classes are even more challenging," she said. "Everyone is more serious and our work is more complicated. We are learning about mergers and acquisitions, business law, negotiations, brand strategy and so much more."
And while the fundamentals of business haven't changed, she thinks business leaders of tomorrow are extremely invested in creating a better world.
"I think millennials want to change the world through technology, but also by the way we treat each other and especially the way we treat those who are different from us," she said. "I think our goal is to be forward-looking."
UConn was the best choice for her, Ezeife said. She said in addition to traditional skills, the MBA program gave her bonus knowledge, such as classes in organizational behavior and communications, which will supplement her knowledge.
"I think one of the things I will take with me from my MBA experience is the tremendous enrichment that I received from the people I've met. I've made many valuable relationships here," she said. "Where I'm from, they say that your value is based on the people you know, not the money you make. Friends are the mark of your wealth."