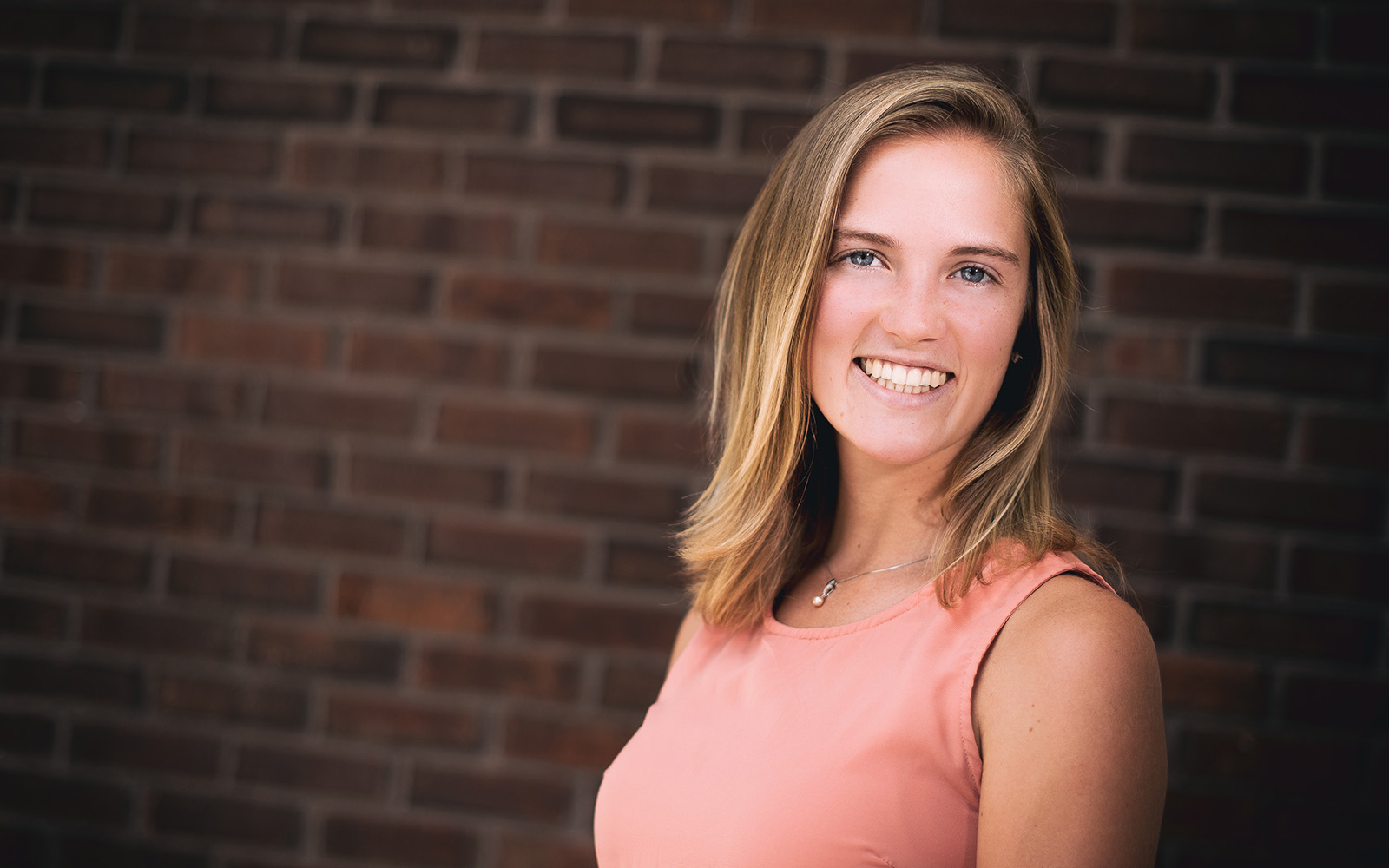 Award Will Be 'A Tremendous Help' to MSA Student Ashley Uliasz '17
UConn alumna and current Master of Science in Accounting (MSA) student Ashley Uliasz '17 has been awarded a $10,000 scholarship, one of the largest grants received by a UConn accounting student.
The award was presented by the Public Company Accounting Oversight Board (PCAOB). The Accounting Department is on a winning streak, with the last three nominees all receiving the significant, merit-based grants.
For Uliasz, who is balancing work on her master's degree with a move to a new home and plans for a wedding, the financial assistance is very helpful.
"I re-read the award email four times to make sure I read it right,"
said Uliasz, a native of the Tariffville section of Simsbury. "This will be a tremendous help in paying for my master's degree. I'm really honored to be selected."
"Ashley is an outstanding individual and excellent student, who also worked as our assistant in the department," said accounting professor Dave Papandria, who nominated Uliasz. "She was one of 167 nationwide winners, and the scholarship is well deserved based on her academic achievements and leadership skills. She truly has impressed everyone with whom she has worked."
The Accounting Department is allowed to nominate a student for the scholarship every two years, and Uliasz's award continues UConn's winning streak. In 2015, UConn's Matt Zalewski won the same scholarship, as did Myra Li in 2013.
Typically the organization gives about 80 awards, but this year it offered 167 scholarships totaling $1.6 million. The one-time award can be used for tuition, fees, books, supplies and more.
"It is certainly one of the most significant scholarships for a student in our department," said George Plesko, accounting department head. "To have students be awarded the PCAOB scholarship speaks to the reputation of the program and the excellence of our students. We are very proud of Ashley's accomplishments."
Uliasz entered UConn with plans to be an engineering or actuarial science student. "When I took 'Intro to Accounting' with [now professor emeritus] Dick Kochanek, I just fell in love with that class. It all made sense to me."
"Dick's class pretty much jump-started my career at UConn," she said. "He was inspiring. All of my accounting friends loved him and his class. He is just a happy guy who enjoys his life. He was a great professor, but especially to have as a first accounting professor."
She went on to become a teaching assistant for the class and consequently got to know most of the accounting faculty. Because she transferred into the program in her sophomore year, Uliasz wasn't able to interview with the big accounting firms, but found a professional home with the smaller firm of Whittlesey & Hadley. She completed an eight-month internship there and will join the firm after earning her CPA.
"I loved the people and it was an awesome experience," she said. "I didn't want to go with the Big Four and work a 90-hour week every week, so this was a better choice for me."
In addition to her internship, she worked as the assistant to adjunct professor Leanne Adams in the accounting department, during her junior and senior years. She was also a member of the Volunteer Income Tax Assistance (VITA) program and reviewed tax returns. The experience gave her the confidence to prepare her own taxes and those of her sister, Whitney Uliasz '14, a teacher.
Uliasz attributes her academic prowess to a family that always supported her. "My family always encouraged me to be a good student and I wanted to do well for their sake," she said. "It is important to me to contribute to my family, friends and the company for which I work."
She said she is enjoying the MSA program, particularly the group projects where she is paired with more experienced professionals from across the country.
"My grandmother always said, 'You've got to become a doctor so you can take care of me when I'm old,'" Uliasz said with a chuckle. When she told her grandmother that she really wanted to become an accountant instead, her grandmother acquiesced and said that was okay. Besides, Uliasz is bringing a doctor into the family. Her fiancé Andrew Yanik is about to begin medical school at Quinnipiac University.