Healthcare in the age of technology, offers different tools for the consumer.
To prepare for healthcare technology, you have to understand what types of technology exist. For the individual, there are personal health tools, often in the form of wearables. It's the FitBit that you'd have on your wrist, or other wearable devices – GPS trackers for example. It could be your smart phone. These include monitors and medical devices, such things as blood pressure cuffs, or other disease-state monitors to help you know what's going on. And increasingly research tools, so you can go onto the internet and find out more and more about your medical state: go and see 'Dr. Google' to prepare you for the discussions with your caregiver.
Listen here:
This audio clip originally appeared on the Connecticut Business and Industry Association's CBIA Business Minute.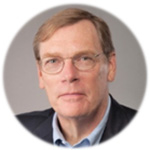 Robert Booz
Healthcare IT Faculty, Healthcare Management & Insurance Studies
Robert H. Booz is a healthcare professional with extensive experience in policy analysis, business operations, and technology enablement. Author of over 125 research articles and having conducted over 2,000 client one-on-one inquiries, his strengths are analyzing the current challenges, emerging trends, and future opportunities of healthcare and the vendors that support them. He has been teaching at UConn for more than 15 years. View Posts