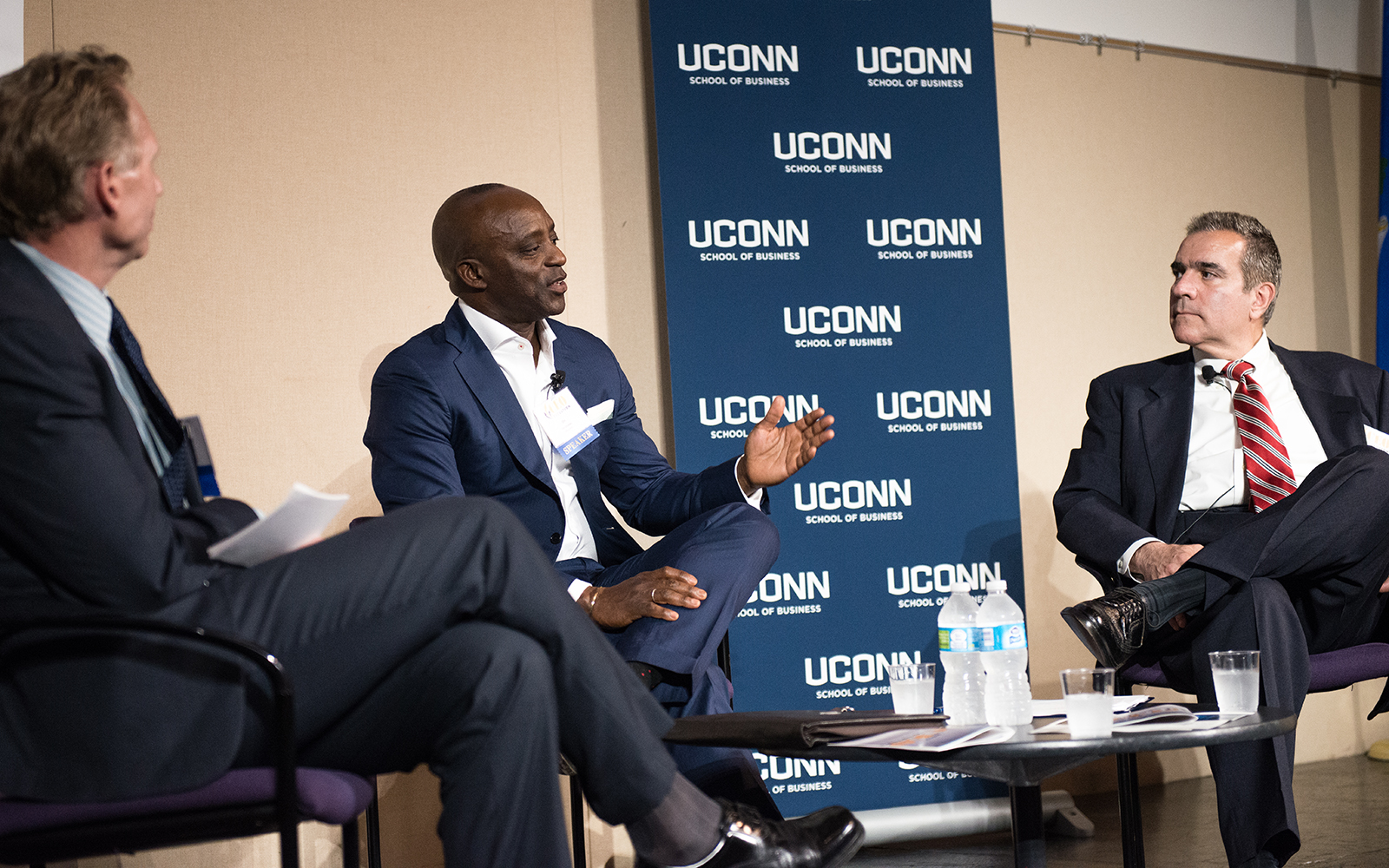 Right People, Strong Culture Are Keys to Success, say Experts at 'CEO Evolution' Program
Two prominent executives in the software and technology industry credited their companies' enduring successes, in large part, to well-chosen employees and a vibrant corporate culture.
"I think the number one thing an executive needs to do is pay attention to people," said Oni Chukwu, an executive, investor and entrepreneur in the software industry. "The common denominator of a successful company is having the right people in the right seats on the bus."
Chukwu was one of the guest panelists at the 2017 CEO Evolution, an annual event that offers business advice to more than 100 rising managers and UConn graduate students.
The program, sponsored by Citrin Cooperman, the UConn School of Business and the Fairfield County Business Journal, was held on June 14 at UConn-Stamford.
Chukwu is the CEO and a member of the Board of Directors at etouches, a $9 billion Norwalk-headquartered, cloud-based, event-management software company with more than 1,000 clients in 80 countries.
He was joined at the event by John J. Preli, director of regulatory management and governance for The Weather Co., which includes The Weather Channel and Weather Underground. The company is owned by IBM, where Preli has worked for more than 36 years. He is also an adjunct faculty member at the School of Business.
Despite the serious topic, there were many light moments in the presentation. Chukwu said his previous company, Triple Point Technology, had offices on six continents and he was committed to keeping a robust culture in all.
"I got the team to take employees at each location to the fanciest restaurant in town for a quality evening with the CEO, CFO and others, to talk about anything they wanted. Once you have an open bar, the information flows freely," he said, with a chuckle.
He urged the business executives and future leaders in the audience to make the investment in their people.
"Maintaining the right culture is hard, but it is key for success," he said, noting the cultural challenges that have impacted Uber, once considered one of the top-ranked companies for quality of talent, that is now in a leadership conundrum after accusations of sexual harassment and discrimination.
Preli agreed, comparing a business to a tree, in which all facets must be healthy for it to survive.
"Culture is a set of values," he said. "What is your company's purpose in the world? How is the mission delivered? All the elements are interconnected. Of all the thousands of IT projects that have failed, I'll bet the vast majority came down to culture and the way in which humans and technology interact. Culture isn't part of the game; it IS the game."
Chukwu, who has founded or led five companies, said he believes it is important to continuously survey employees to make sure they are happy and that they are committed to the well-being of the business.
"We also use surveys every six months to 'take the temperature' of the business," Preli added. "The trend is important. When leadership changes, the responses either go way up or way down."
An audience member asked how to get the right people to join your organization, particularly if your company is a startup.
Be open, give fair compensation, offer stock, and surround yourself with good advisers, Chukwu said.
Preli agreed that appropriate compensation is essential and added that employees should trust the leadership team and that everyone must be doing work that impacts the world. "If you can convince people of these three elements, they'll stay on, or join, your organization," he said.
Corporations can also successfully reinvent themselves, as IBM has done many times over the last 100 years, Preli said.
Although many people believe the tone is predominantly set at the top, the idea is too simplistic, he said. He believes to transform a culture a company must have strong, written policies; leadership that is unwavering; organizational justice, meaning people are rewarded for appropriate behavior; two-way communication; a design that holds people accountable and multi-dimensional measurements of achievement.
Other key takeaways from the evening included:
Chukwu joked that he was either too stupid or too stubborn to listen to business advice in 2008, when the market was volatile, and he pursued aggressive acquisitions as a vice president for Triple Point. "The time to double down is the time when everyone else is afraid," he said. Once the recession was over, Triple Point's strategy was so successful it had "built a moat" around itself, he said. When the company was sold in 2013, it was the largest sale of a software company in the world that year.
Preli urged the audience to focus on the future, including mobile technology, social media and big data. "The largest nation in the world is not China, it's Facebook," he said. "There are more active users on Facebook than there are people in any country." He also said big data need not be expensive or intimidating and that small businesses can employ the help of college students to get started. "Don't be afraid to put your toe in the water."
Chukwu said that he believes that employees should have a comfortable work space. "Start with a nice office so people feel like they want to be there. Make it a place where they can think, create and produce," he said. "We have offices around the world and once I walk into the space, I feel like I'm in Norwalk. They all have a lot of energy and life. However, in India, you may get run over by cattle when you leave!"
Some 70 percent of Chukwu's staff members in Norwalk are millennials. "Get into the mindset of appealing to them. Figure out the millennial question," Chukwu said. "They want days off. They don't want to work until they're dead to buy a washer," he said, to laughter from the audience.