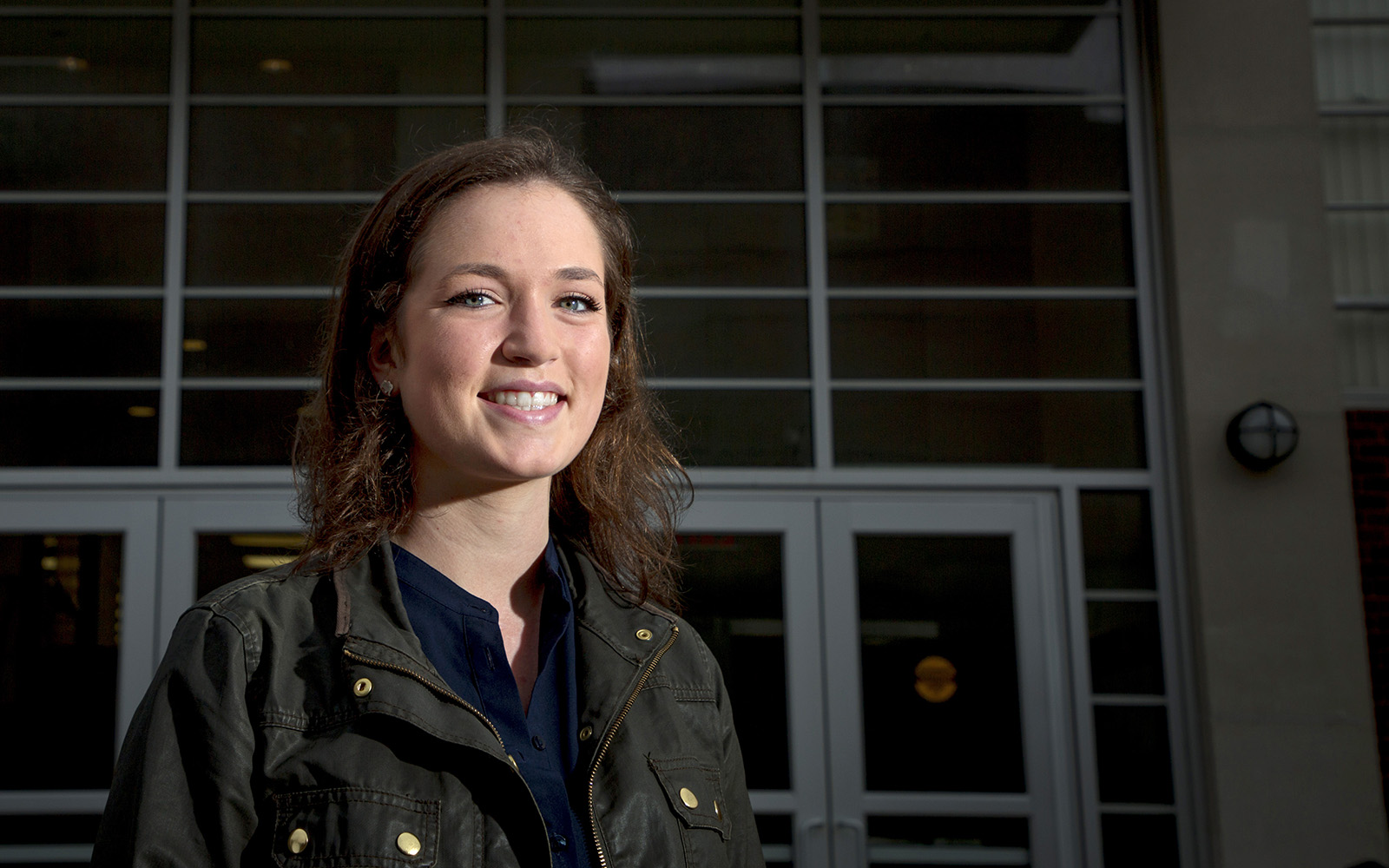 MEM Student Lindsey Gilson's Dual Expertise Saved Unilever More than $1 Million
During the eight months that UConn senior Lindsey Gilson worked at Unilever, she led two projects that saved the company over $1 million and improved its inventory system.
Gilson, who is a Management and Engineering for Manufacturing (MEM) major, found that the company's grocery-inventory system had flaws that caused it to incorrectly report product availability.
"People would go to shelves and they would say, 'I really want this size of mayonnaise but it's not there,'" Gilson said. "They either don't buy it, or buy a competitor's mayonnaise."
For her exceptional work, Gilson was named the UConn Co-Op of the year for 2016 and the Intern of the Year by the American Society for Engineering Education.
The popular MEM program has tripled enrollment in the last five years to 148 students. The program currently has 23 percent women students, much higher than the national average, said Co-Director Bob Day, who is also an OPIM professor.
"Manufacturing is a hot career now," Day said. "The partnership between business and engineering is particularly attractive to employers. Our students are filling a niche that the market needs, people who are savvy in both business and engineering; people who are able to lead the specialists of the world. UConn is proud to be creating leaders in this field."
Gilson is equally excited about the career opportunities she will have.
"The business portion of my degree will give me an edge in the workplace because I can see the cause-and-effect of engineering decisions on the entire business scale," Gilson said. "I think many people are 'siloed' in their degrees, but adding the business portion to my manufacturing degree allows me to see the entire picture. It boils down to this: everything is a business, therefore we must understand the business world."
In January 2016, Gilson traveled to Minneapolis to start her work with Unilever, where she was in charge of managing the inventory of Unilever mayonnaise and tea to a large chain of retail stores.
In addition to her day-to-day responsibilities, such as preparing reports and data analysis, one of Gilson's projects involved improving on-shelf availability. Once she was able to improve the system, she was excited to test the results, tracking products from store arrival through sales and then verifying the accuracy by going to the store and counting the inventory.
Her second major project involved refining a program created by an outside contractor that automatically manages orders for a large retailer, which was used by 4 percent of the company's distribution centers. The program was supposed to sense when a new order was required and automatically order new stock, but that task was not working well.
During a team meeting, managers discussed the issue. Afterward, Gilson decided to fix the problem herself.
"One Friday afternoon, I sat down at 3 p.m. and didn't stand up for four hours. I built an Excel document that essentially replaced the contractor's system. No one really asked me to do that. We were on a call one day and everyone was so upset that I just took it upon myself to fix it," Gilson said.
"We were on a call one day and everyone was so upset that I just took it upon myself to fix it."
Gilson's program addressed a flaw in the contractor's ordering algorithm, which was making the process inaccurate. After the switch, Gilson's system immediately began improving the ordering process, with a nine percent increase in effectiveness. The ordering issues were fixed within two weeks. The system she made was expanded and used in 12 percent of the retail company's distribution centers and was eventually incorporated into the original program.
Catherine Hernlem, a customer supply chain manager with Unilever, praised Gilson's maturity and leadership.
"Lindsey Gilson was by far the most exceptional co-op that I have ever worked with at Unilever, truly an asset," Hernlem said in a letter supporting Gilson's nomination as the Intern of the Year. (UConn refers to Gilson's eight-month stint at Unilever as co-op, while the American Society for Engineering Education defines Gilson's term as an internship.)
As a result of her exceptional work, Gilson was offered a place in the Unilever Future Leaders Program. The program offers recent graduates a three-year rotation in three different jobs throughout the supply chain of Unilever, to help them become better leaders within the company.
Gilson, who is vice president of the MEM Society, said that she was glad to be recognized for her hard work, while emphasizing that other students could excel as she did, if given the chance.
"My one piece of advice for future MEM students is to come ready to learn and ready to work," Gilson said. "This is a demanding program, but with great work ethic in MEM, comes great reward. The friends I have made in both the students and professors through MEM are who I attribute for my success."
"Throughout the last four years they have pushed me to grow and learn, to take on leadership roles and learn new skills," she said. "It is an exciting time to enter the work force, especially with a degree like MEM that is all about being efficient and optimizing success."