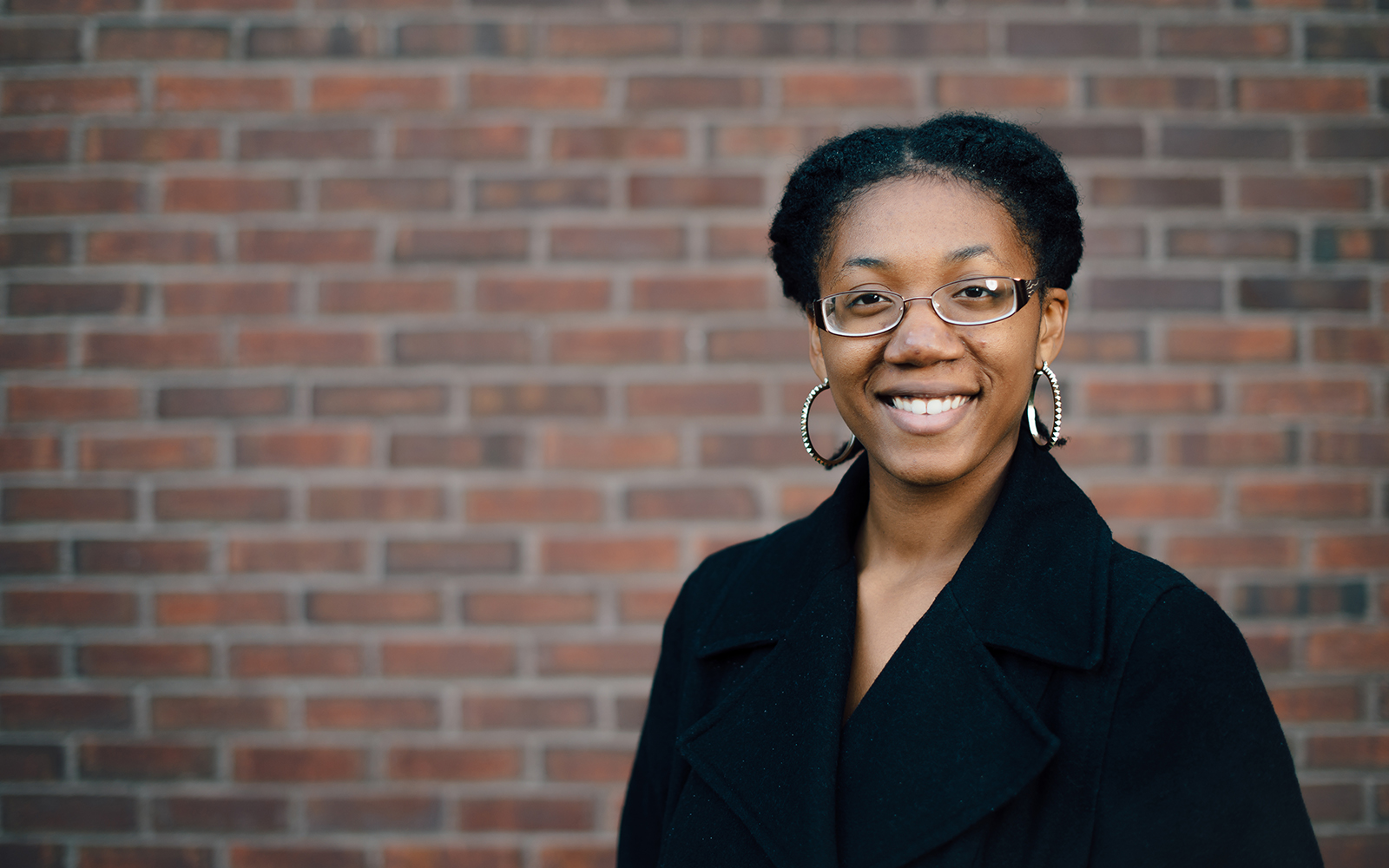 Management Senior Alleya Jenkins Envisions a People-Focused Business Career
For Alleya Jenkins '17, helping others will never be an afterthought in her career, extracurricular activities or free time. 
The management student from Bridgeport, Conn. is also a public policy minor and is in the Fast-Track Master of Public Administration program, meaning she is taking graduate-level courses in her final year as an undergraduate.
When asked what her long-term goals were, she laughed and said, "To be happy." Other than that though, Jenkins wants to go into management consulting, non-profit management or a corporate social responsibility department.
Jenkins said she was raised in a religious home, attended church regularly and grew up with a strong belief in community service and giving. She has volunteered at her local Taekwondo school and at her church in New Haven.
Jenkins said her most memorable community service project was creating a workshop for high school students. She saw the need for college preparation in New Haven, and organized several workshops to help prepare for college applications and college life.
"I've noticed the benefits of that because I've seen those kids that I helped off doing great things. They are all freshman in college now, and I see some of them ended up here, some of them ended up at Hampton University," Jenkins said. "Seeing how they've grown and took the knowledge and applied it made it all worth it."
That desire to help her younger peers launched her into the role of facilitator of Honors First- Year Seminars. She helped younger honors students adjust to college life.
"Alleya possesses a combination of sharp analytical skills, the ability to stay calm under pressure while managing large projects, and superb interpersonal skills," said Paula Wilmot, one of her mentors and an assistant director in the Honors Program. "She also has strong spiritual roots."
In the MPA program, Jenkins said she is able to take the skills her business background taught her and apply them toward the public sector. The program is comprised of many different students with varying backgrounds including history, economics and business.
After she graduates in May she will take MPA classes for another year and participate in an internship.
Lucy Gilson, professor and management department head, said Jenkins has been a wonderful student.
"We have some amazing management students doing some really exciting things. Alleya is one of them – she has recently agreed to be a Management Ambassador which means she represents us at Open House, as well as meeting with potential students and their families. Students like Alleya are fabulous exemplars of what we mean when we say 'students today, Huskies forever.'"
Outside of academics and volunteerism, Jenkins is the president of the UConn Voices of Freedom Choir and is an intern at the Center for Career Development. As president of the choir, Jenkins coordinates concerts, funding and a yearly tour. As an intern, she critiques resumes, conducts mock interviews, holds presentations on resume writing and helps students cultivate their "professional brand."
"Coming to UConn I realized that I really want to incorporate community and giving back into my career," she said. "I want to do business for community centers or government institutions that give back to people directly."