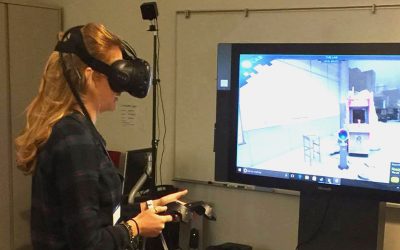 OPIM's New Virtual Reality Technology Entertains, Educates in Entirely New Way
I wasn't sure what to expect when I walked into the Gladstein Lab in the Operations and Information Management Department. I heard a few things about virtual reality, mostly through the 30-second videos that popped up on my Facebook news feed. Would it feel like a glitchy video game? Or, possibly worse, would it feel so realistic that I would become nauseous or fall over? Thankfully, I was pleased to find it somewhere in the middle.
Jonathan Moore, instructor-in-residence in OPIM, was gracious enough to show me how virtual reality works and the different types of headsets and programs that give users a 360-degree experience. Some of the headsets are more inexpensive and accessible for users, such as the $5 to $10 cardboard headset that accompanies a smartphone and the free Google Cardboard app. Others, however, require an elaborate, wired headset and noise-cancelling headphones, such as the HTC Vive.
We ran through a few programs, both educational and entertaining. Moore showed me one program that brought me through the human body–from the blood stream to the arteries of the heart–"Magic School Bus" style.
On the entertainment side, the program had a version of "Temple Run," where I dipped my head to each side to avoid potholes in the road, as well as slid my fingers along the touch-screen side of the headset to jump and slide. My favorite game, however, was the Star Wars game which used the most advanced headset, headphones and hand-held controllers.
Moore explained that in the future, music would be seen and heard. One app played music that the visuals synched to in a "virtual space." While the visuals in that app were not the most realistic, the idea that music can be an immersive experience is exciting. I would be thrilled to sit in on a concert from the comfort of my living room.
Moore said the program that impacted him the most was one in which he followed a girl into a Syrian refugee camp and met her family and friends. He was able to see, nearly firsthand, her school and her condition of life. While I was not able to experience that emotional voyage, I can only imagine how I would react to it. This, for me, is what makes virtual reality so promising. To be able to step into someone else's shoes, anywhere across the world, will reinvent technology.
At one of the OPIM workshops earlier this semester, Moore showcased the technology to University of Connecticut students, faculty and staff. The session was overbooked because so many people wanted to experience the wonder of virtual reality.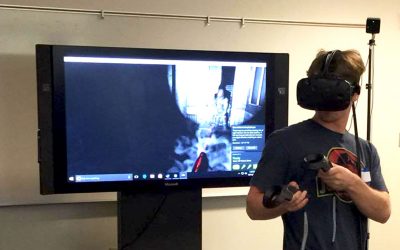 In the future, Moore hopes to implement more virtual reality into his curriculum and workshops. He even hopes to receive a grant to implement the inexpensive cardboard headsets into his gamification class next semester. Students can analyze user interfaces and experiences to see how this could be applicable in a business setting.
Moore first got the idea to have a VR lab from students who completed internships and worked with drones, the internet of things and virtual reality. Moore believes there are applications for virtual reality from manufacturing and retail to insurance and finance.
For those interested in exploring the technology through workshops or volunteering in the lab, reach out to Jonathan Moore at jonathan.a.moore@uconn.edu for more information.
The next OPIM workshop will take place on Nov. 11 and will include an overview and presentation on Splunk Analytics Software. Following that, an "Internet of Things" workshop will be held on Dec. 2.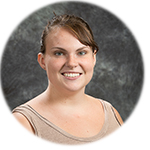 Claire Galvin
Student Written Communications Specialist, UConn School of Business
Claire Galvin is a senior majoring in journalism and communication. Claire works in the School of Business Office of Communications as a student written communications specialist. She loves to cook and even writes a cooking column for the UConn student newspaper. View Posts