Ready. Set. Go!
Ok, hold on, did you say "Go?"
This was how I felt when I entered the New Orleans Convention Center to attend the National Black MBA Career Fair. Supercharged by the adrenaline flowing through my body, I was ready to deliver my elevator pitch to dozens of recruiters and land that critical summer internship for 2017. 
Then I walked through the large double doors, saw the magnitude of the event and for five minutes I just stood there taking it all in. Was I really ready, or did I need another five minutes?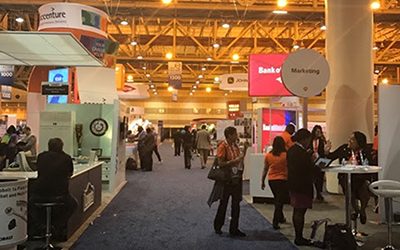 The National Black MBA Conference and Exposition is considered one of the largest professional development events in the nation. With a few hundred participating companies in attendance, attendees vie for coveted interview spots and time with key company representatives.
Fortunately, the MBA Career Development Office at UConn prepared me. Armed with knowledge from workshops on interviewing and networking skills, along with the essential business cards, resumes, a sharp suit and even a nice pen, I walked over to the first company. It seemed to have a system, a type of order that was the quintessence of "National Black." For example, one representative conducted an initial screening. Once acceptable, a more senior person took over.
The entire conference was powered by technology–from the iPads recruiters used to gather information, to the mobile app created for the conference, which provided information on booth locations and activities. One recruiter told me "Taking physical resumes is so 'old school.' Look how many trees we are saving."
Before moving on to other booths I was sure to walk outside, regroup and decide my next target. When I returned, I could see lines starting to form so I hurried to my top prospects. They asked the hard questions, looked me directly in the eye and got straight to the point.
Then my moment came. I heard the magical words: "You have great experience. I'm going to put your name through for an interview at 1:30 p.m." It was 12:00 p.m.
Navigating another huge hall with interview booths marked by company names, I finally found my place: booth number 1246. Competing against the best and the brightest can be intimidating but I had to remember why I was chosen and speak to my strengths, but also recognize areas of weakness and how I address them. This was the essence of my discussion with my interviewer, who was the head of marketing.
The general flow at the career fair was informal and some interactions were ad- hoc, in line with the company culture. Yet, the conversations were authentic and followed a natural order.
Thinking on your feet was critical at the event. My favorite experience was a marketing challenge given by a top company. After I learned more about the company and shared my work experience I was given an on-the-spot challenge. It started with "Tell me how you would market…" followed by multiple follow-up questions. This ended with several rapid-fire questions with the instructions "Don't think about it. Just tell me the first thing that comes to mind." For example, "If you could be any emoji, what would it be and why. Go!"
There it was again, that feeling that this was the moment I had to seize. The experience could not be wasted. The moment I was in couldn't be more valuable.
The connections, face-to-face engagement and the experience of navigating my first large career fair went far beyond my expectations.
I'm already planning for next year. See you in Philadelphia!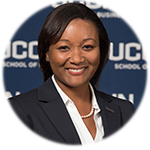 Kimberly Douglas '18 MBA
Student, Full-time MBA Program
Kimberly is an MBA candidate at the University of Connecticut, specializing in digital marketing strategy and analytics. She has significant experience in marketing, business development, human resources management and retail management. In her most recent role, she managed a retail portfolio of 19 retail stores and has successfully led large teams toward the achievement of corporate goals. View Posts