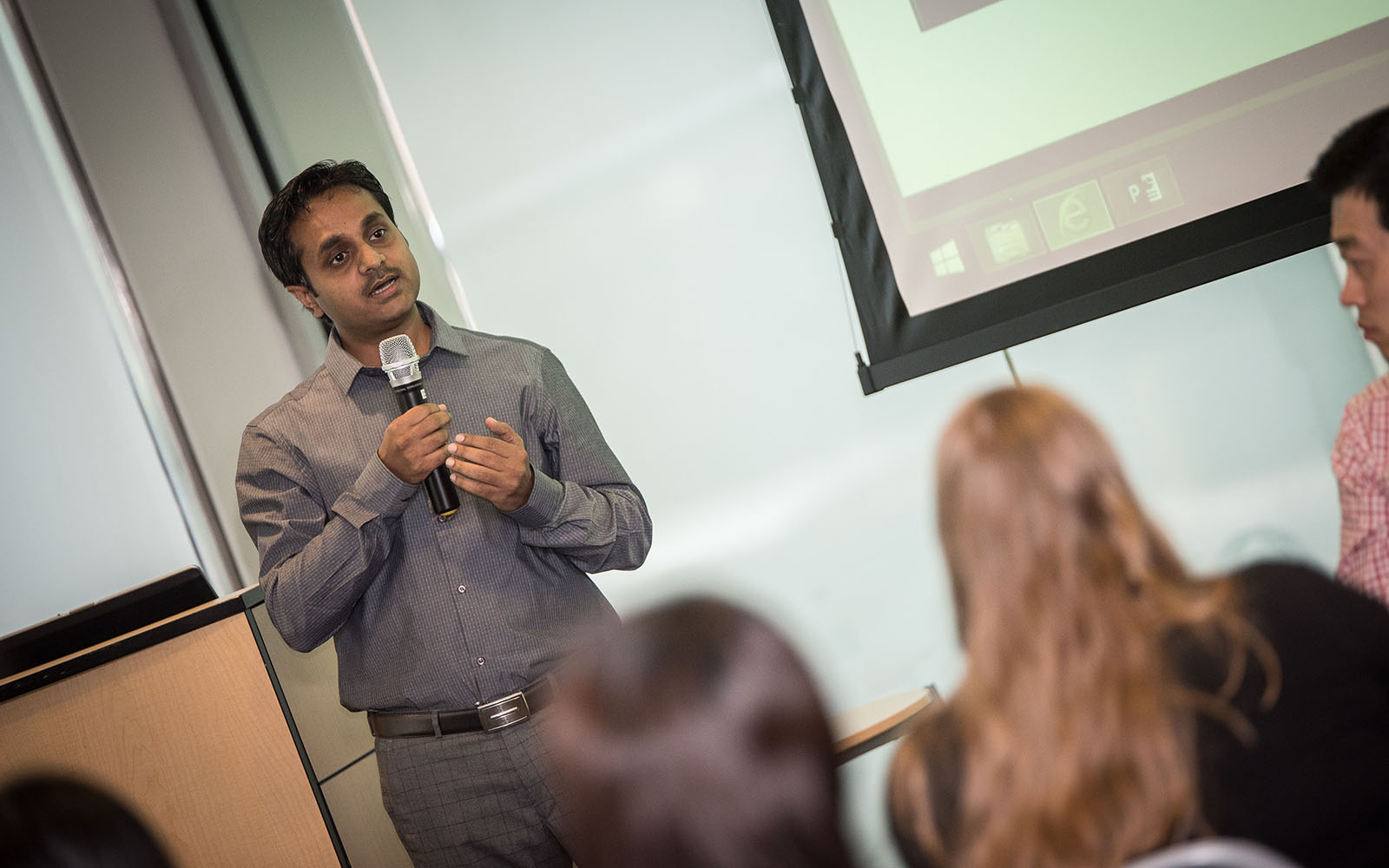 Graduate Students Find Fulfillment in Assisting Startups; Business Owners Grateful for Helping Hand
Sumit Kumar, a second-year MBA student, couldn't believe his good fortune.
This summer he was able to devise a market strategy for a growing beverage company and conduct market analysis and funding research for a biomedical-device manufacturer, both in Connecticut.
"Working on a startup is my dream," Kumar said. "The world is wide open and brimming with opportunities. I was able to take all the ideas I'd learned in school and use them to benefit these companies. I was able to converse with the CEO without any red tape. It was a very enriching experience for me!"
Kumar and four other UConn graduate students participated in a new summer program called The Verge Consulting Group, which paired them with Connecticut startups, to help overcome the hurdles of entrepreneurship. Some of their work included devising business and marketing plans, financial models, competitive assessments and strategy work.
Each student received a $5,000 stipend for the 10-week program, which was delivered in partnership between the Connecticut Center for Entrepreneurship and Innovation (CCEI) and the Connecticut Small Business Development Center (SBDC).
John Fantry, vice president of nzymSys Inc. of East Hartford, was thrilled to work with UConn MBA student Vikram Kaimal. NzymSys develops new environmentally responsible products for cleaning, disinfection, eliminating odors and reducing greenhouse gas emissions.
"He was an industrious fellow. He finished another project early and in just three days was able to do a market assessment for us." Fantry said. "If we didn't have his help, we would be stalled. We had a potential investors coming in and we needed that information."
"I had no reservations about using UConn students," said Fantry, who had hired undergraduates in the past to conduct market research. "The UConn School of Business has been very good to my company. It is nice to know that research and other help is available to us. I would welcome more in the future."
Michelle Cote, managing director of CCEI, said the new program, which had more than 40 applicants, gave talented students valuable work experience. "They dove deep into challenges faced by the startups they were working with and helped them with growth, while being mentored by SBDC advisers," she said. "We had excellent results."
Gaurav Khaitan, another second-year MBA student, used his background in technology consulting and his interest in finance to create a financial model for SBDC clients. He said he enjoyed gaining experience while assisting others.
"Startups move fast and sometimes things don't come together smoothly," he said. "I felt [that] what I was able to do prepared companies for presentations to venture capitalists."
Emily Carter, state director for the Connecticut Small Business Development Center, said the program was very well received. "We united nine clients with a team of fantastic MBA students. I heard great things from our clients," she said.
Joe Ercolano, associate director of the SBDC, also praised the program. "The students were so amazing to work with both because of their academic backgrounds and their experiences," he said. "What really struck me was their enthusiasm and willingness to take on more than was expected or anticipated. We were really pleased."
Suchi Oza, an MBA student, worked for a company creating an educational video game for children. "The most rewarding experience was doing market research and analysis for an innovative and impactful technology startup," she said.
Luc Dang '15, founder of Phood LLC, in West Hartford, is working with UConn, Yale, the Rhode Island School of Design and others to tackle food waste, through planning, forecasting and other techniques. VERGE summer intern Sishi Yang, an MSBAPM student, was a phenomenal help, he said.
"She was able to contribute marketing and finance work. Working for a startup isn't like working for a traditional company. It fosters drive and commitment. You see all aspects of a company and it really inspires excitement. It was great to be able to bring in talent like this. I was very pleased."

This summer's cohort of five graduate students was the first for the program. CCEI and CTSBDC are currently reviewing the results of this first round of student work, and preparing to develop similar opportunities for students in the future. For more information about the program, or to inquire about participating, please visit: http://ccei.uconn.edu/verge-consulting/