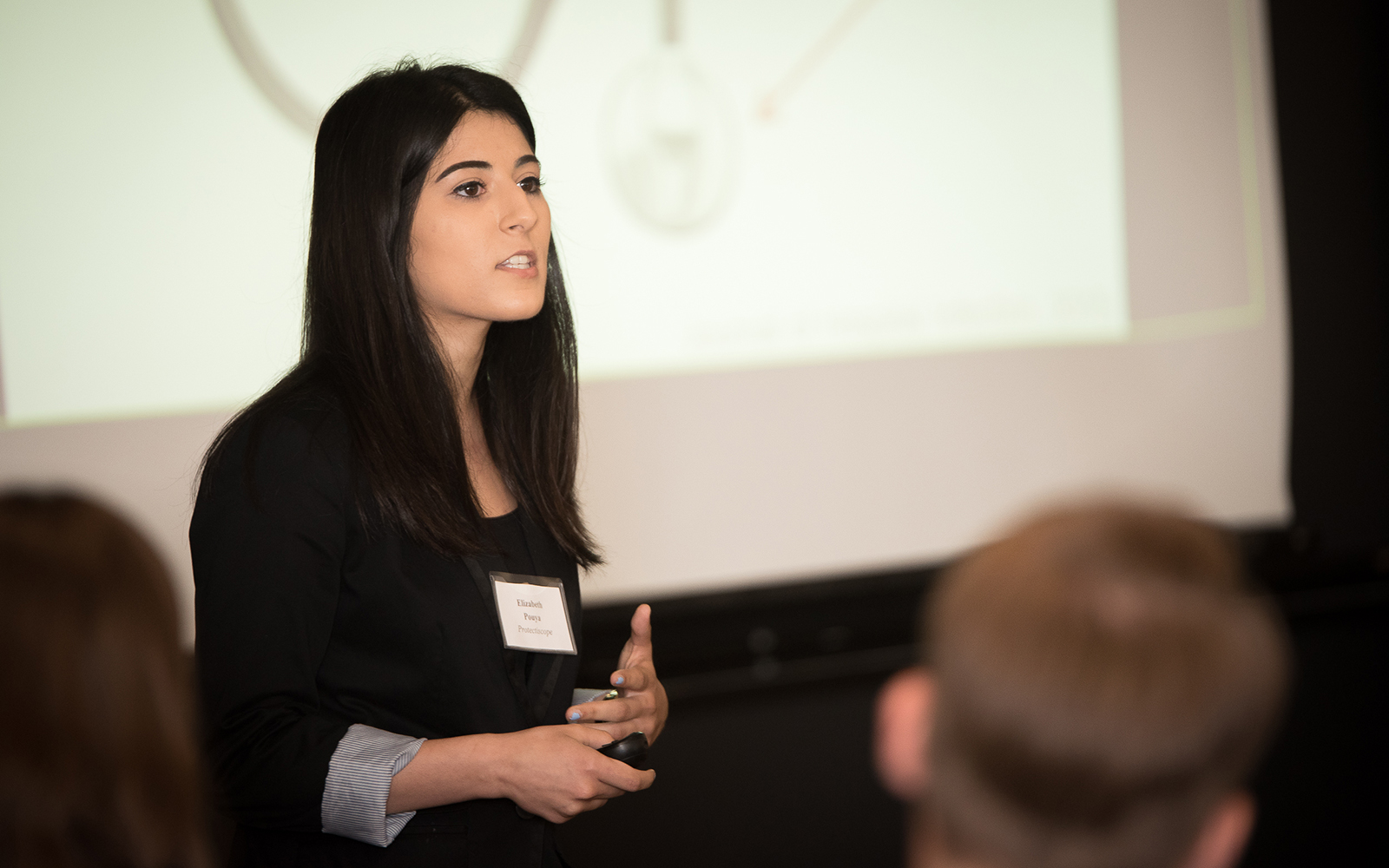 "I Was Surprised That Someone Hadn't Invented This Yet"
UConn senior Stephen Hawes debuted as an entrepreneur several years ago, working diligently to perfect his first invention: a wrist-mounted, propane-driven flame thrower.
His parents worried that their son, a mechanical engineering student, would burn down their home.
But Hawes persisted, and brought his prototype to an engineering conference in New York City. There, he saw a company demonstrating artificial appendages for children missing fingers.
"I thought what they were doing was really cool," Hawes said. "But based on what I'd done with the flame thrower, I knew I could do something better, by creating a muscle-driven prosthetic for people with more severe handicaps."
Using a 3D printer, and a plastic similar to that used for Legos, Hawes can develop a light-weight, muscle-driven, sophisticated prosthetic, which he is calling the Atlas Arm. A traditional, value-priced prosthetic sells for about $20,000; the Atlas Arm will cost significantly less.
"I was surprised that someone hadn't invented this yet," said Hawes, the second-place finalist in UConn's 2016 Innovation Quest (iQ) competition. "But I guess that's what entrepreneurship is about—recognizing that something is lacking and doing something about it."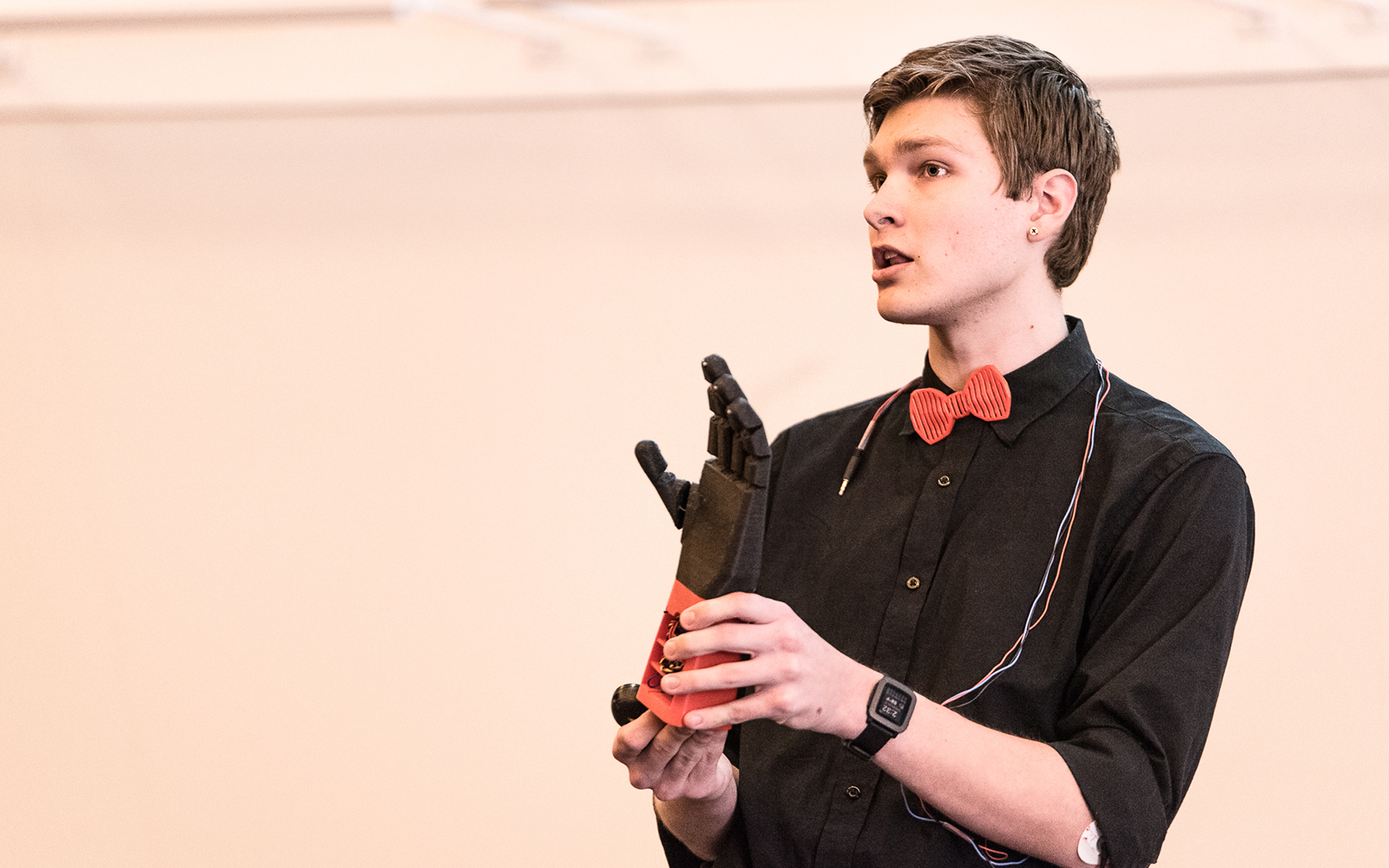 Elizabeth "Liz" Pouya, a rising senior majoring in physiology and neurobiology, who ultimately hopes to become a physician, found the seeds of her invention while shadowing an oncologist at Yale-New Haven Hospital. Hospital protocol requires cleaning the stethoscope between patients, a time-consuming task for a busy physician.
So Pouya came up with the idea for ProtectiScope, a product to enhance stethoscope hygiene, and it was the top winner in the competition. Pouya and teammate Ryan Cordier have just earned a provisional patent. While cautious about revealing too much detail too soon in the highly competitive medical market, Pouya said the invention would prevent transmission of bacteria and allow physicians to clean the equipment less frequently.
"I've been thinking a lot about my future," said Pouya, a Storrs native. "Attending medical school is still my priority, but finding additional ways to improve medical care is also exciting to me. In fact, I have an idea for another medical invention as well."
UConn's Innovation Quest (iQ) competition seeks the best from among hundreds of inventions or innovations. Finalists are mentored to help them improve their ideas. After an intensive summer business bootcamp program, called the inQbator, the program culminated with the top eight teams presenting their ideas to prospective investors.
"The students who participated in this year's competition are cream-of-the crop innovators," said program director and management professor Rich Dino. "Their innovations are both novel and useful, and have great market potential."
That's the hope of Stephanie Knowlton, a graduate student working on a Ph.D. in biomedical engineering, who won third place for mBiotics, a rapid, on-site disease-diagnostic tool.
Knowlton, of Tolland, said mBiotics is a low-cost, automated, disease diagnostic device that can cut the cost and reduce the wait time for important medical information and eliminate the need for shipping samples to remote locations for analysis. Several diagnostic applications are in development, and Knowlton and her team are currently working on a test for sickle cell disease, drawing test samples from UConn, Yale-New Haven and Boston Children's hospitals.
"It started as a technical research project, with a paper in mind, but we didn't want our hard work to just get stuck in a paper," she said. "I asked myself, 'How do you commercialize technology?' and I realized I don't know anything about that—I'm an engineer!"
Knowlton said before iQ, her only knowledge of marketing a business came from internet tutorials.
"iQ gave us the tools to be really successful," she said. "The mentors had a broad range of knowledge and tell you things you might never have thought about."
For all the finalists, the ability to make a difference in technology or human potential is tremendously motivating.
"I am so incredibly excited about working on this invention and taking the next step," said Hawes about the Atlas Arm. Having previously won an IDEA grant from UConn, he had been able to create a prototype but not get it into production. Now his work is in clinical trial.
"Without iQ my invention would have died on the vine," Hawes said. "I doubt I would have found a way to bring the Atlas Arm to market without this program. I definitely would have continued building and developing it, but I would have had no clue how to even start thinking about how to sell it.
"I see the Atlas Arm as being a go-to option, especially for kids because they are growing and need frequent alterations to an artificial limb. I'm also working with veterans to see if it would be useful to them. And I believe it will appeal to people whose insurance doesn't want to pay $20,000 for a prosthesis and anybody who doesn't want to carry around something that's more expensive than a car," he said.
"I was surprised by how much I learned at the inQbator," Pouya said. "We just learned about accounting in great detail and what needs to happen when you start generating revenue. It was very intense. I've never taken a business class, so I feel like I'm getting a crash course."
"Something I learned about entrepreneurship is that you may think you know what the customer wants, but nine times out of ten, you're wrong," Hawes said. "The only way to make sure that your product is marketable and useful to someone is to put it in front of them and let them tell you themselves."
As their ideas and inventions move on to the next stage of development and marketing, the iQ students all said they have changed as well.
"This has totally changed how I see myself," said Hawes, of Marlborough, Conn. "Before, I saw myself working in a place that makes things. Now I see myself running the show."
"I used to think of myself as a nerd, but I don't think I'm a nerd anymore," Knowlton said. "I've learned business skills and practical skills I didn't have before. I'm a double-sided person now who can be in a lab and then put on a suit and be a business person."