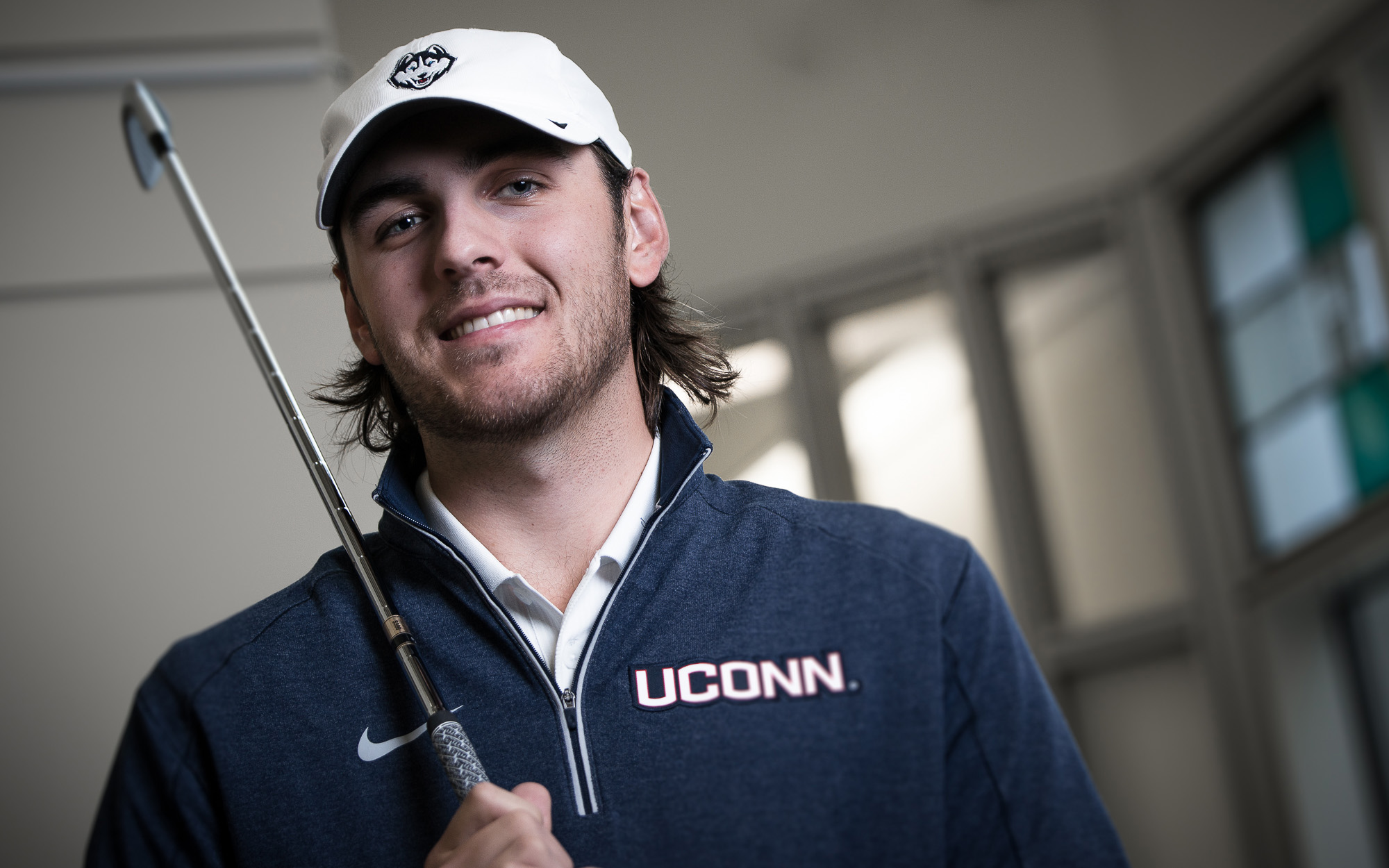 No one needs to tell recent School of Business graduate Corey Birch '16 to keep his eye on the ball. Or the green. Or the competition, for that matter.
Birch, a member of the UConn golf team, who graduated in May with a degree in accounting, is hoping to turn pro golfer this fall, fulfilling a career goal that he set in the sixth grade.  
"Playing professional golf means an opportunity to work hard and convert my passion into a career path," he said. "I think I will be a little more nervous in my professional debut… but at the end of the day, it's still the game I've been playing for a long time."
UConn Golf Coach Dave Pezzino is excited about Birch's prospects.
"Corey is a very serious and focused individual who has worked tirelessly at both parts of his life—the academics and the athletics," Pezzino said.
"The great thing the School of Business offers our student athletes is it gives them an opportunity to have a base to chase their dreams, in this case of playing golf, but with a world-renowned degree in their pocket," Pezzino said.
"If Plan A doesn't work, then plan A-1 will take care of them for the rest of their lives," he said. "You can chase your dream but if it doesn't go the way you like, there's a Fortune 500 company ready to hire you."
Pezzino is thrilled for Birch and Birch's three former roommates, Cameron MacKay, Zach Zaback and John Flaherty, who are all seriously focused on a pro golf career.
"Corey was a great student and is a good guy. The guys on the team loved him. All the seniors lived together. Even though they were all fighting for spots on the travel roster, they were extremely close, almost like brothers. I wish I had them here for four more years," said Pezzino.
While at UConn, Birch participated in 24 tournaments, averaging 76.3 per round. He has three Top 11 finishes including a career-best tie for seventh in the 2014 New England D-1 Championships. He has also been named to the American Athletic Conference All-Academic Teams. During the summer of 2013, he shot rounds of 69 and 70 at the Links at Union Vale (Lagrangeville, NY) to take medalist honors at the sectional qualifying round for the 113th U.S. Amateur Championship. Last summer he finished tied for seventh at the Palmer Cup in Waterbury, just three strokes behind the winner. At the 2015 Connecticut Open he was tied for the lead with UConn teammate Flaherty after a first-round 65 and finished in the Top 40.
He will spend the summer playing as an amateur and improving his game. He will play mini-tour events this fall, getting ready for the LatinAmerican PGA and Canadian qualifying schools in the spring. From there he hopes to work his way to the Web.com tour and eventually, the PGA Tour.
If successful, he would join several other UConn alumni who are pro golfers, including including Jeb Buchanan '12 (finance), Matt Dubrowski '11 (communications sciences major/business minor), and Brian Hughes '13 (economics).
Born and raised in Memphis, and then Ohio, Birch first held a golf club at 3. His favorite childhood memories are playing golf on summer afternoons with his parents, John and Lynn, and his sisters Kelly and Kaitlyn.
"Are we competitive?" he said, with a laugh. "At times, definitely!"
Birch began playing in tournaments in middle school, after moving to Ridgefield, Conn. During his junior year in high school, the Ridgefield High School Golf Team, which Birch captained, won the state championship, and four players from that team went on to play college golf.
"UConn was a really good fit for me," said Birch. "I wanted to play golf, of course, but my parents said I had to have a backup plan. I really liked the School of Business and it was nice to be close to home."
Golf taught him time management and to develop a strong work ethic, practicing 20-hours a week in addition to his studies and team commitments.
"Dick Kochanek was my favorite professor," said Birch, who graduated with a strong GPA. "I loved how positive he was, even very early in the morning. I had his accounting class at 8 a.m."
Pezzino said business and golf are a winning combination.
"What could be better than having a resume that says you played Division I golf at UConn and graduated from the School of Business?" Pezzino said. "Don't forget, a lot of business decisions are made in the board room, but many are made on the golf course, too. I think the combination makes my players more attractive to hire."
No two days are the same when you play golf, Birch said.
"Some days you love it; some days you hate it," he said.
Like all golfers, Birch said his mental game must be as strong as his scorecard.
"The best advice I've been given is to always be confident in yourself. I've struggled if I have had a couple of bad shots in a row. Sometimes it gets in my mind," he said. "I have to forget about it and move on and just do the best I can."
And, clearly, his coach will be cheering him on—even if it is from a distance.
"When Corey has the opportunity to focus just on golf, there is no limit to what he can do. Nothing has been thrown at him that he can't handle," Pezzino said. "He's just a great, great young man!"
When asked what he will take with him on his journey from UConn graduate to golf professional, Birch doesn't hesitate.
"The friendships and camaraderie with my roommates and teammates," he said. "and the pride of being a Husky and being able to represent UConn."