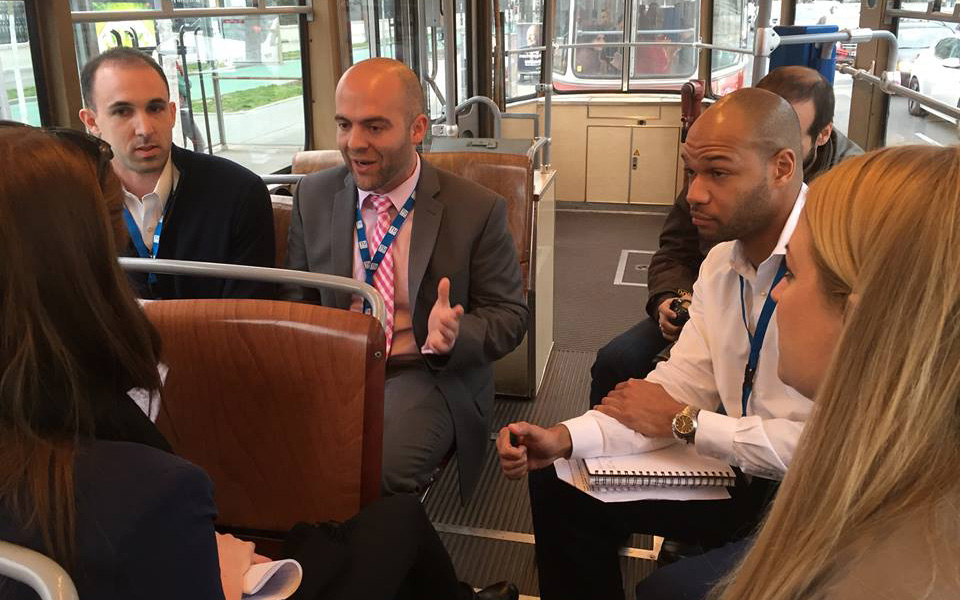 Imagine trying to negotiate an agreement, while riding a tram around Vienna, one of the world's most beautiful cities, and trying not to get distracted by all there is to see.
How well would you do?
And, could you adjust your negotiation style after learning that your fast-talking style, so popular in New England, wasn't in sync with the international colleagues you were addressing? Would you be able to slow your pace and address them in a more leisurely way?
Those were some of the challenges that three UConn students faced during a three-day Negotiation Challenge 2016 (TNC 2016) in Vienna, Austria, in early April.
After learning about negotiations in class and participating in an internal negotiation competition last year, graduate students Andrew Ouellet and Armond Hodge, both MBA candidates, and Joshua Correia, a law student, were selected to participate in the competition.
The Negotiation Challenge is one of the few international negotiation competitions that gathers students from leading universities all over the world to compete against each other in realistic team negotiations and helps to prepare them for the complex business negotiations they will face after graduation.
"As students we work towards developing our skills in the classroom and studying current events, but there is no substitute for competing against other trained negotiators in a simulated real-world experience," Ouellet said.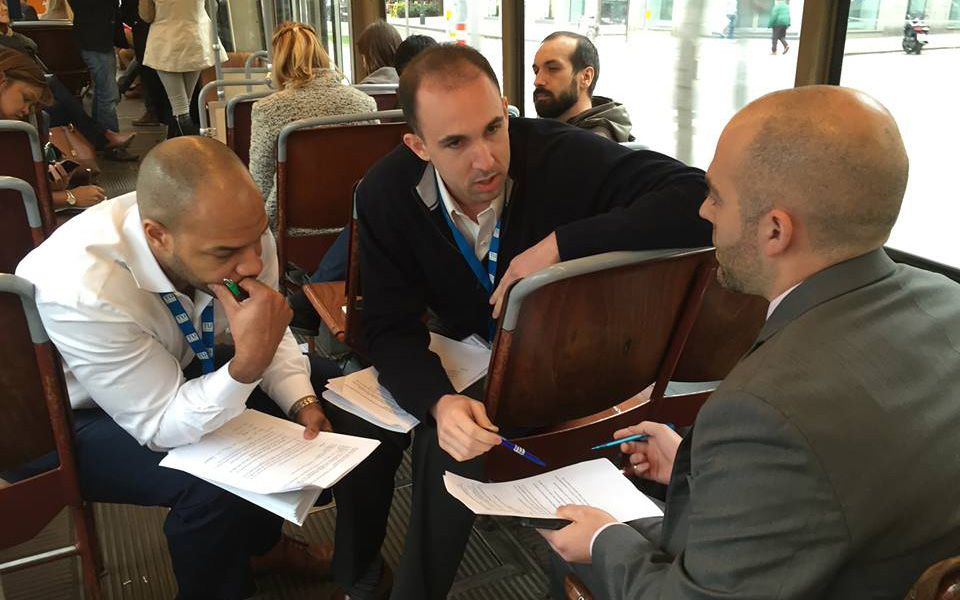 The participants this year came from 16 universities, and from at least 13 different countries and backgrounds. One of the biggest advantages of the UConn team was its interdisciplinary nature, representing both the School of Law and the School of Business. The students met through previous negotiation competitions last year and continued their friendship, which created a very strong team, said Management Professor Nora Madjar, the faculty adviser for the event.
"Their complementary skills and ability to work together well were obvious through the multiple rounds of negotiations, and I was proud to be their coach throughout the competition," she said.
The team competed in four very different rounds of negotiations, which tested both their ability to develop relationships with the opposite side and develop integrative agreements as well as their skills in "claiming their share of the pie" in purely distributive situations.
TNC presented new twists and challenges. In one of the rounds the teams were split, and each member had to negotiate independently in multi-party negotiations. In the afternoon, the best surprise was the removal of the "negotiation table" and the preparation and negotiations on a tram, Madjar said. The tram made four complete circles around Vienna's Ringstrasse, both as an opportunity for all students to see the beautiful buildings surrounding this historic street and as an additional distraction to the participants.
As first-time participants in the Negotiation Challenge, the UConn team did not win, but UConn managed to attract the attention of both other participants and the judges, with their authentic and very convincing strategies, she said.
"As a team we excelled in preparing arguments to justify our positions as well as presenting these arguments to the other side. The judges agreed and scored our performances favorably, ultimately missing out on the finals by only a couple points," Ouellet said.
In addition to experiencing Vienna, with all of its beauty and glory, and visiting its 650-year-old university, there were cross-cultural experiences along the way, with both amusing situations and serious realizations of how sometimes the New England way of being in a hurry to complete a deal is not the best way and patience or just going slow is the better strategy, Madjar said.
"The Negotiation Challenge was an invaluable learning experience where I was provided the opportunity to stretch my negotiation skills in a hands-on international environment," Hodge said. "Not only did my teammates and I compete against global business and law schools, in a foreign country, but we also formed solid business relationships with other international students."
"The Negotiation Challenge brought together students from all corners of the globe to compete with each other face-to-face. We were pitted against teams from Iceland, India, Vienna, Germany, Serbia, and Denmark, among others with each side trying to claim as much value from the other side as possible," Ouellet said. "What I will remember most from this experience is the exposure to all the different cultures we encountered. Being away from home and spending time with people from different heritages all around the world gives you a new perspective on the world, and how we all fit together. This was an experience I will never forget and something I would recommend for all students at UConn to aspire to compete in."
"TNC was extremely valuable towards my professional development by providing an opportunity to practice my negotiation skills, network with global young professionals, and experience several different cultures," added Correia. "I negotiated against people from Iceland, India, Belgium, and Washington D.C. The competition required our team to strategize and adapt to our surroundings and consider the culture of negotiators on the other side.
"Our judge later provided excellent feedback that I will definitely incorporate into future negotiations. I am thankful for this amazing opportunity, and I would highly recommend the University encourage teams to apply for next year's competition," he said.