Alum Gives Fellow Business Students a Chance to Thrive
Like many UConn finance majors, Jeffrey R. Talbot '00 followed his dream after graduation of working on Wall Street. He became a successful investment banker at Morgan Stanley in New York, but soon realized his passion was actually real estate investment.
He liked the entrepreneurial nature of real estate investment, the sense that he could create something for himself. He wanted to work for a smaller company where he could map his own destiny.
He landed a job in Miami, where his real estate career took off. He later became a principal at Insula Companies in Sarasota, Fla., a firm that buys, renovates, and manages apartment communities around Florida. In just five years, he acquired and sold more than 4,800 units worth $325 million.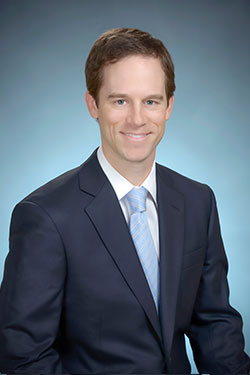 Hoping to give back to UConn for giving him a strong grounding in his business, Talbot recently decided to endow a scholarship at the School of Business.
"I wanted to give an opportunity to a promising student, someone who can realize his or her potential and hopefully become a good member of the university community as well," he said.
"So many students really thrive at UConn. I think you just need to give that person a chance."
Talbot grew up in Manchester, Conn., where his father and grandfather ran a local ambulance service and used some of their proceeds to invest in real estate in the area. Those investments helped pay his college tuition.
"The Talbot Family Scholarship Fund is a way to honor and say thanks to my father and grandfather," he said.
An honors student, Talbot was on the first undergraduate team selected to run UConn's Student Managed Fund in 2000. The fund allows teams of students to invest a total of $1 million of the UConn Foundation's endowment. Each year, an undergraduate and a graduate team compete with each other to see who can raise the most money in real investments portfolios. The experiential learning initiative enables students to learn how to invest as well as manage and understand the workings of a business.
"It was fun. I always find that the best learning occurred within a smaller group of bright, motivated peers where there was a little competition but also collaboration," said Talbot, who remembers that the internet stocks were doing really well at the time, but collapsed around the time that they graduated.
"The students who run it now I'm sure have gotten far more disciplined and hopefully improved our performance," he said. "I remember it being a really cool thing to talk about on my resume when I was looking for jobs."
School of Business Dean John A. Elliott said he is grateful for Talbot's generosity.
"I had the pleasure of meeting him recently and am delighted at his success and his appreciation for his experiences at UConn," Elliott said. "Because of Jeff's generosity, another business student will also have the opportunity for a life-changing education at UConn. The tradition of giving back is becoming part of the fabric or our community and Jeff is another leader in this effort."