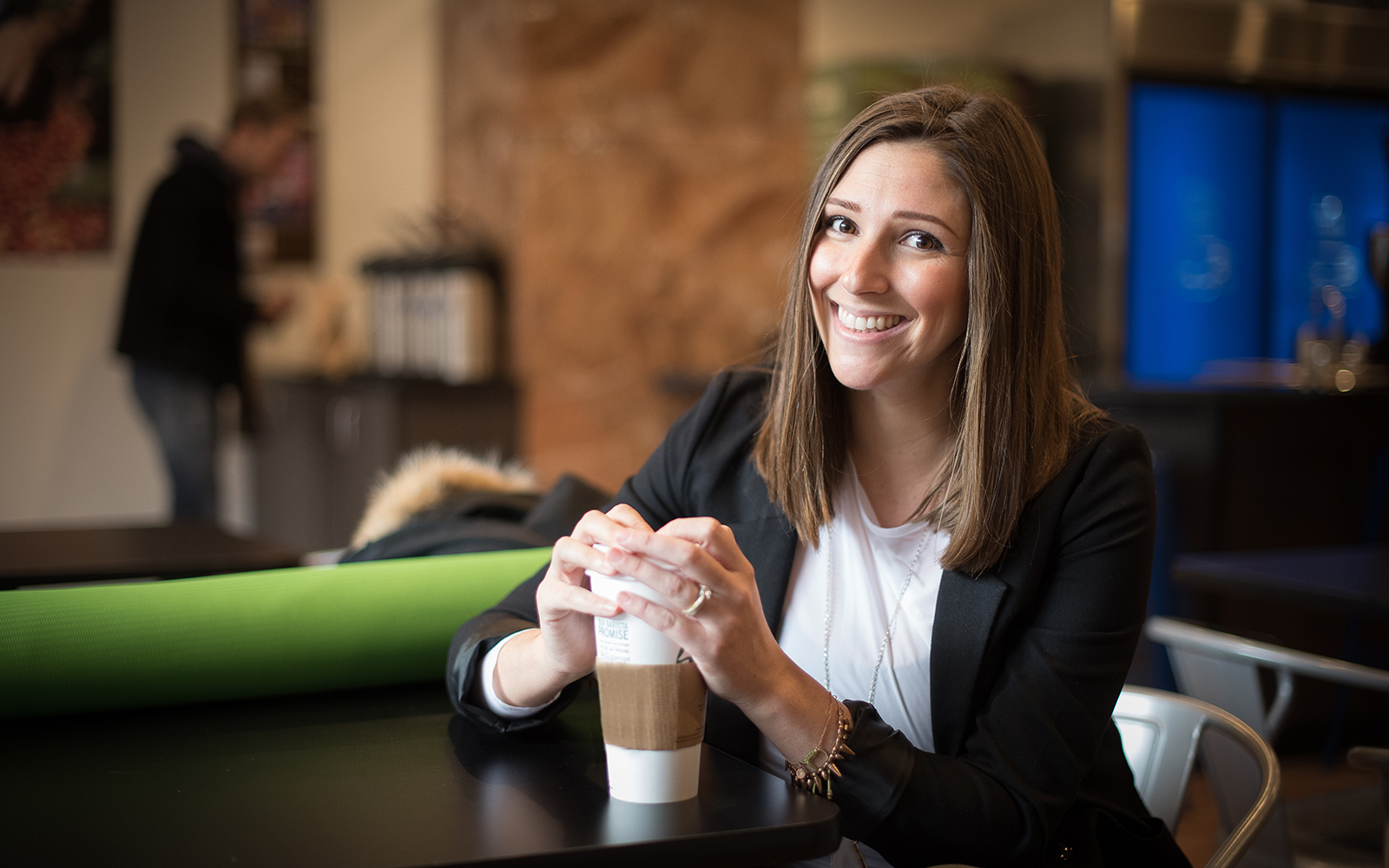 For Yoga Studio Owner Natasha Roggi '05
The first five times that broken pipes damaged her thriving downtown Hartford yoga studio, UConn alumna Natasha (Grove) Roggi '05, mopped, scrubbed, repaired–and soldiered on.
But the sixth time was devastating. The water damage was so extensive that the studio was a total loss, the building uninhabitable.
"I felt like it was the worst day of my life," Roggi said of March 4, 2015, when flooding forced Bikram Yoga Downtown Hartford studio to shut its doors. "I'd been in business for three years and we had just turned a corner. We had a solid following of loyal clientele."
But don't underestimate the determination and vitality of this Husky, who is coming back stronger than before.
Her rebranded business, Hartford Sweat, is slated to open in late March at 777 Main Street in Hartford. The new, $500,000 facility, backed by both the City of Hartford and the State of Connecticut, is 50 percent bigger, more luxurious, and will allow her to expand the studio's offerings to include barre classes, Zumba and more. She will increase her staff from eight to 25 teachers.
"I love what I do," said Roggi, who earned her bachelor's degree in management with a concentration in international studies in 2005. "I love the yoga part of it, as well as the business side."
"People ask me about my hours and I tell them this, 'I start work when my eyes open in the morning and I'm thinking about it until they close at the end of the day,'" she said. "When you're an entrepreneur, you can never rest. I'm always thinking of the next thing. I'm now planning to open a second yoga center, elsewhere in the country."
An Ambassador for Hartford
Roggi, a native of Glastonbury, is among a new and enthusiastic group of young city dwellers working to make Hartford alive again. Today she and her husband Henry, a third-generation owner of Roggi's Auto Service & Sales, work in Hartford and live there too, raising their newborn son with Bushnell Park as his playground.
When she first opened the studio, the majority of her clients were Hartford employees, who lived in the suburbs. Today, as more people gravitate to city living, it is evenly split between residents and Hartford employees. In fact, 12 percent of her customers commute from the suburbs to Hartford just to take her studio's yoga classes.
"We're excited to be involved in a movement of young entrepreneurs in Hartford," she said. "We enjoy getting the word out about the city. I like to promote, advertise and develop the opportunities here. I feel like a mini veteran of this movement. I've learned the process. Now I'm helping others."
A Winding Path to a Second Career
After graduating from UConn, Roggi initially worked in insurance, as a broker for Liberty Mutual. During that time she took yoga for good health and 'fell in love' with it.
In 2009, when Liberty Mutual laid off all its brokers, she had the chance to pursue her yoga interest. "I had a hefty severance package and that afforded me the chance to go for yoga training for three months," she said. A new job was waiting, but when she returned to the financial industry, the spark was gone.
In 2012, she launched the yoga studio. "We have a young, fast, vibe. We know the name of everyone who walks through the door. It's very personal," Roggi said. "That's what has brought us through this time of adversity."
Her clientele is about 60 percent women and 40 percent men, although children sometimes attend with their parents. While the majority of her clients are younger adults, it isn't unusual to have 70-somethings in the classes.
Without a permanent home, her studio has offered free classes in varying locations throughout Hartford, and classes still draw at least 30 participants.
What has surprised and bolstered Roggi the most is the barrage of awards she has won over the year. Roggi was named U.S. Small Business Administration's Young Entrepreneur of the Year in Connecticut for 2015. The Hartford Business Journal named her as a '40 under 40′ honoree, an award recognizing young professionals excelling in their industries.
"Strange as it may sound, this year has been incredible. We've gotten a lot of press and publicity about what we're doing," she said. "Now we realize what we've done for downtown. We're ready to reopen with a bang."
UConn Gave Her Confidence
A management class during her senior year, with now-retired Professor Emeritus Jack Veiga, was a turning point in Roggi's life.
As a capstone project, students had to find a struggling company and work with its executives to make improvements.
"It was scary, because you've got somebody's business in your hands," said Roggi, who selected a sporting goods retail and rental company in Springfield, Mass., for her project.
"Things that weren't apparent to them, were glaringly obvious to me," she said. "Professor Veiga made me feel very sure of myself and comfortable with the idea that I could start a business."
But the lesson didn't end there.
"My favorite part about this whole thing is staying in Connecticut, creating a business where my roots are," she said. "I love the city and watching its success and rebirth. In the 1990s and early 2000s, no one came downtown. This is our state capital! Someone needs to make that change, I thought.
"My professors emphasized that as the role of a good business model," she said. "They always said, 'Do what can you do to make an improvement wherever you are—whether creating a startup or helping someone who needs a savior.'"