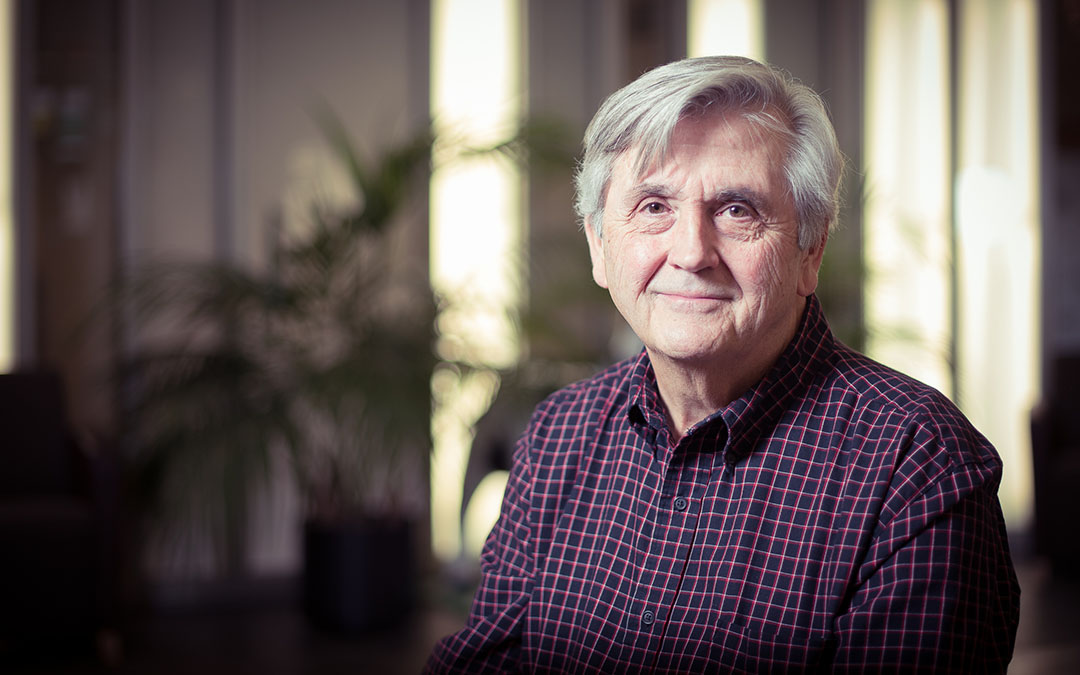 Retired Management Professor Jack Veiga Still Winning Awards, Challenging Misconceptions
Retired professor of management John "Jack" Veiga was thrilled when his research paper won a major award—doubly so to be honored in a field that isn't his specialty.
Veiga and his colleagues examined why some people become highly proficient with new, large-scale application software packages while others fail to master even the most elementary applications. The paper was named one of the five Best Information Systems Papers of 2014 by the International Conference on Information Systems (ICIS) Senior Scholars.
"While I have won awards for my research before, being honored for interdisciplinary research that is outside my field is particularly gratifying," Veiga said.
When asked why he is still working so hard, after retiring from UConn in 2009, Veiga had a clear explanation.
"I'd say it's for the love of the game," he said with a chuckle, "and I like helping the School of Business and the University further its reputational goals. As I have always done, I pursue research topics that pique my interest. I get personal satisfaction out of it and it keeps me mentally sharp."
Published in the European Journal of Information Systems the paper, titled "The Longitudinal Impact of Enterprise System Users' Pre-Adoption Expectations and Organizational Support on Post Adoption Proficient Usage," examines why information systems are often underutilized, despite corporations' costly investments in them.
After spending an estimated $24 billion on enterprise systems, companies in the U.S. still find great discrepancies in adopter proficiency.
"Research indicates that implementation failures occur more than 60 percent of the time, resulting in underutilization and lower-than-expected investment returns," Veiga said.
He became intrigued with the subject of information system's adoption and proficiency, when a family member described colleagues' resistance to, and subsequently underutilizing of, a new, very costly system.
"That got me interested in the behavioral side of system adoption," said Veiga, who is a Board of Trustees Distinguished Professor of Management Emeritus.
He and three colleagues gathered and analyzed data from a major global bank for their study, investigating how 153 financial analysts, from different countries, adopted a new global ledger system.
Not only did they identify the factors that can bring greater success in implementing new information systems, they also challenged a long-held and inaccurate benchmark for successful adoption.
For the past 20 years, researchers equated successful adoption with the amount of time users spent engaged with a system. "We didn't think that was a good indicator because usage of the system alone does not equate with proficient usage," he said. Working with the bank's system designers, his team developed a methodology for measuring proficiency, and then tracked the progress of the financial analysts over a three-month period.
After the analysts were provided extensive training on the system, and just prior to its launch, they were surveyed as to their expectations about adopting the system. They were queried, anonymously and confidentially, about such things as their motivation to learn the new system and whether they believed that having the new skill would benefit their careers.
"We found that adopters who hold pre-adoption expectations reflecting greater internal and external motives to adopt the system, and who plan to systemically approach learning about the system, are more apt to use the system in ways that enhance their cumulative knowledge of it, and subsequently develop higher levels of proficiency post-adoption," he said. Furthermore, the team found that greater organizational support, particularly technical support, enhanced the impact of adopters' expectations on proficiency.
"We believe our research provides an important first step toward understanding how organizations can increase the beneficial outcomes of their information systems," he said. "Our research showed that while time spent using a system is essential to developing proficiency, how that time is spent is the most critical because it is significantly shaped by the adopters' pre-adoption expectations. For example, when adopters expect that mastering a new system could enhance their career opportunities, they are apt to be more conscientious and determined in using the system and, as a result, enhance their proficiency over time. That means companies need to stress the real payoffs for the employees, and not simply highlight the payoff for the company, when they introduce new information systems."
Veiga's co-authors include Steven W. Floyd, professor of innovation and entrepreneurship at the University of Massachusetts; Marcus M. Keupp, head of the department of Military Business Administration at the Swiss Federal Institute of Technology in Switzerland; and Franz Kellermanns, a professor of management, who earned his Ph.D. in Management from UConn and now holds an endowed chair in international business at the University of North Carolina-Charlotte.
Veiga headed the UConn management department for 26 years and served as interim dean of the School of Business from 1991-92.
He has other articles in the works, as well as one pending in the Journal of Management that examines how the self-estranged behavior of professional workers takes a significant toll on their job performance by corroding their social exchange relationships with co-workers.