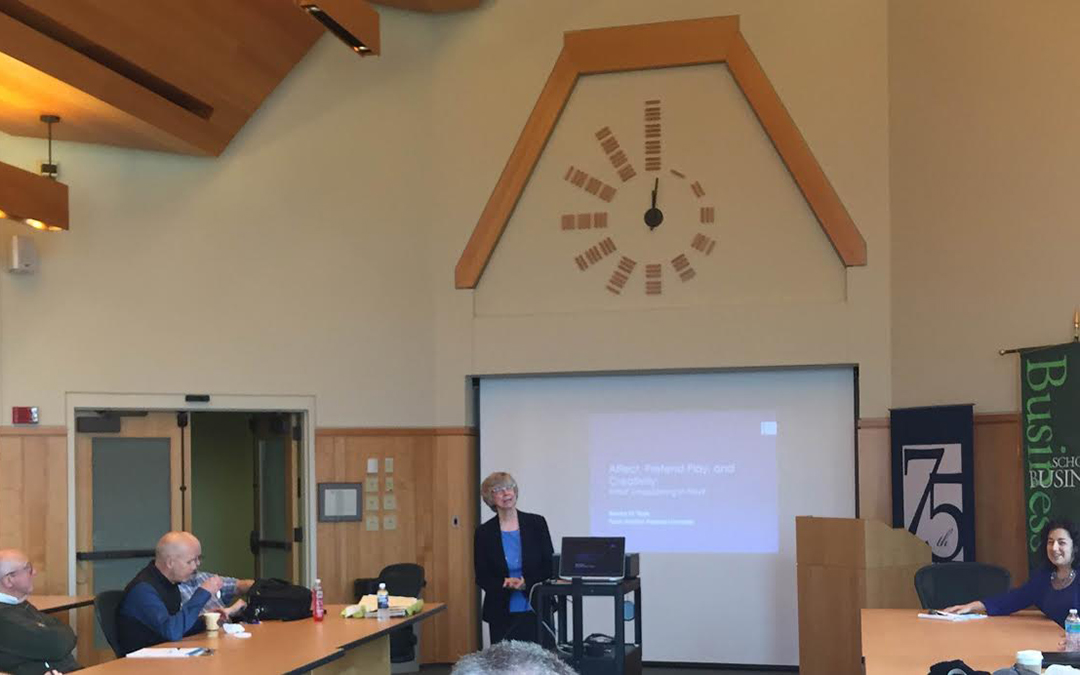 Management Department Hosts Interdisciplinary Creative Brown Bag Lunch Series
The Management Department had the pleasure of hosting Sandra Russ as part of this year's Interdisciplinary Creativity Brown Bag series. Russ, a distinguished university professor in the Department of Psychological Sciences at Case Western Reserve University, spoke to her research related to creative processes in pretend play. She has extensively researched the correlates of pretend play and the effectiveness of play interventions to facilitate pretend play and creativity.
What is pretend play?
Pretend play is essentially improvisation, Russ explained, but beneath those words we find a much deeper, more stimulating process taking place in the improviser's mind. This improvisation implies self-generated thought created from cognition, emotion, and action. Russ explained further, "taking the perspective of the other" and acting "as-if" is a critical part of the pretend play creative process.
"The integration of affect and emotion is what sparks children's imaginations and creativity during play," she said.
Practicing creativity
Russ discussed the theory of pretend play as "practicing" creativity. The fundamental idea here is that play makes one more creative. Additionally, it helps consolidate memories, sets the stage for enjoying creativity, and is self-reinforcing.
Russ and her colleagues have been able to measure the affect and emotions of play through several distinctive studies. Among some of their most interesting results, they found that divergent thinking stimulated by play correlates with a child's ability to cope with stress. Furthermore, the creative and imaginative associations appeared to remain stable and continue their positive effect over time.
Understanding creativity in adults
The revelations from these studies carry through to our understanding of creativity in adults as well. As Russ exemplifies, many artists find inspiration from their childhood emotions. Through previous studies, it is evident that children's play is full of emotions. Similarly, a strong correlation has been found between creativity and emotions, not just in children but as a prolonged affect into adulthood.
The next steps suggested by Russ were posed as a call to action. The benefits of pretend play in prolonged creativity are evident and yet there is still a stigma towards play in school. Russ explains the obstacles we have to get over today such as cultural barriers and a new generation revolving around technology. She emphasizes the importance to find a way to conquer these obstacles and encourage the incorporation of the different principles of play in schools in order to stimulate prolonged creativity.
In the final discussions after Russ's presentation, we discussed the implications, as professors and graduate students, of lack of play in the school system. Russ believes that when professors find themselves teaching a generation from now, a generation that did not grow up experiencing pretend play, they will most likely find students with less creativity and less enjoyment for learning. The negative implications of all of this for adult creativity at work will follow. In closing,
It's essential to continue to advocate for play outside and within the classroom to encourage and empower creative thinkers of the future.
This Interdisciplinary Creativity Brown Bag seminar was supported by the combined efforts of the UConn Scholarship Facilitation Fund, Department of Educational Psychology, School of Engineering, Management Department and Digital Media Department.