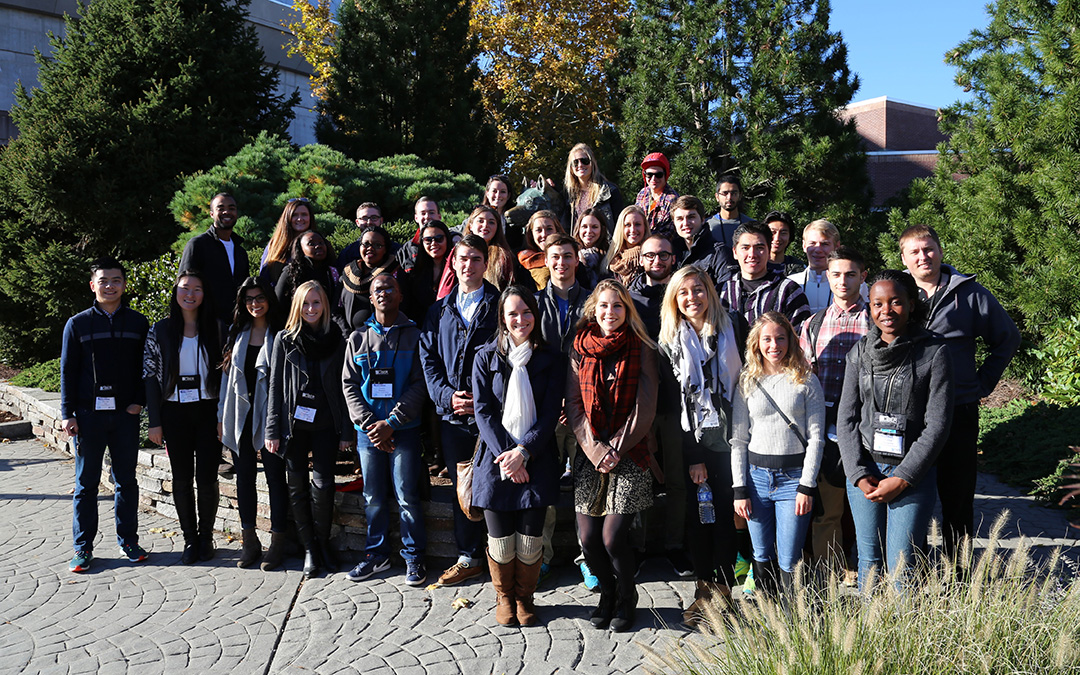 Students from Different States, Nations Collaborate to Solve Real-World Problem during UConn's CIBER Challenge
"I thought we'd never be able to do it," UConn marketing major Stacia Smart recalls thinking when she heard that she and a team of other college students, all strangers, would have just 24 hours to solve a vexing sustainability problem for a major corporation.
Not only did Smart and her "Quadruple Threat" team develop a possible solution, including a new product idea for Unilever, but they took second-place in the UConn CIBER International Case Challenge this fall.
"Everyone had a collaborative spirit and a great work ethic," she said. "We read the case, came up with individual answers and then discussed and brainstormed solutions. We all agreed on one decision. From there, it was a divide-and-conquer approach. I was very fortunate to be on a team that was wonderful."
Her teammates included Gianmarco Vanin, from the University of Trento (Italy), Christopher Wagner, from Florida State University and Lauren Willey from San Diego State University.
Although competition rules prevent participants from discussing the business problem in depth, Smart said she was ever conscious of the fact that 2 billion people use a Unilever product a day and that the issue they were addressing was real and relevant.
"We really crammed and packed our work in and it was impressive what we achieved," she said. "I was exhausted for three days afterward. I think CIBER is a wonderful program and I would recommend it highly to other students."
UConn is one of just 17 universities in the country designated as a CIBER—Center for International Business Education and Research—institution. Awarded $1.1 million last year by the U.S. Department of Education, the student case challenge is one of the programs that the School of Business has been able to fund. The ultimate goal of CIBER programs is to enhance competitiveness of U.S. businesses in the global marketplace.
Unlike traditional case competitions, where student teams hail from the same college, this one challenged students to demonstrate their ability to work in teams with others from different cultures and nations. Each four-member team had at least one international student.
For the first time this year, the program welcomed students from the University of Johannesburg, in South Africa. Other participating colleges included: Belmont University in Nashville, Florida State University, Purdue University, San Diego State University, University of Maryland, University of Trento (Italy) and University of Vermont.
CIBER Director Michele Metcalf said the event was a tremendous success and gave participants valuable career skills.
"One of our judges, [retired Timex Vice President for International Development] Robert Werner, said it best…he's never had a work opportunity where someone said, 'Collect three of your friends and solve this business problem,'" Metcalf said. "Working with a team of strangers presented an enormous growth opportunity for these students and one they will use often after graduation. I believe all the students felt there was value to what they had done."
The first day of the competition included several teambuilding and ice-breaking activities, including building a tower out of spaghetti and marshmallows. Students also traveled to Mystic Aquarium for a series of team challenges.
(Quian Callender and Nathan Oldham/UConn School of Business)
Once the case was released, teams had 24 hours to develop a solution, with many of them working through the night. At the end of the third day, students presented their solution to a panel of judges, with the top three moving to the final round.
Judges were international business executives from the region, representing companies such as PricewaterhouseCoopers, AAA, Loctite Corp. and more. Several UConn business professors, including Katherine Pancak and Mo Hussein, also served as judges.
At first, Smart said, she worried about whether there would be a language barrier between the students and if they were coming as serious competitors.
"Everyone was very outgoing and relaxed. Ultimately we became very good friends," she said.
"All four of us had fun with it. Working together we were able to deliver results."
As a senior, Smart said the experience will look good on her resume as she looks for a job in sales and marketing.
Other UConn student participants were: Crystal Mier, Marcello Gurciullo and Ashley Uliasz. The program is also student managed and participating students included co-chairs Kara Bordieri and Catherine Curtice; activities manager Helen Li; competition day manager James Huang; team host manager Eric Czapor, judge liaison Matthew Beidleman and public relations manager Catherine Curtice. Faculty director is Associate Dean Sulin Ba.
In addition to the competitors, UConn fielded a five-student management team and some 35 volunteers to assist in various activities. "It was amazingly well run by our management team," said Metcalf. "They organized everything from activities to writing the press release about the event."
Student employee Quian Callender was involved in the behind-the-scenes work, including making sure all documents were in order, preparing the case, setting up rooms, as well as photography. "There's definitely a lot of 'people power' that goes into preparing for a competition of this kind, both beforehand and while its happening," said Callender, a senior majoring in healthcare management and preparing for graduate school.
"It was a good experience in terms of working under pressure. I learned that you need to be prepared beforehand, but no matter how organized you are, there are still issues that come up at the last minute."