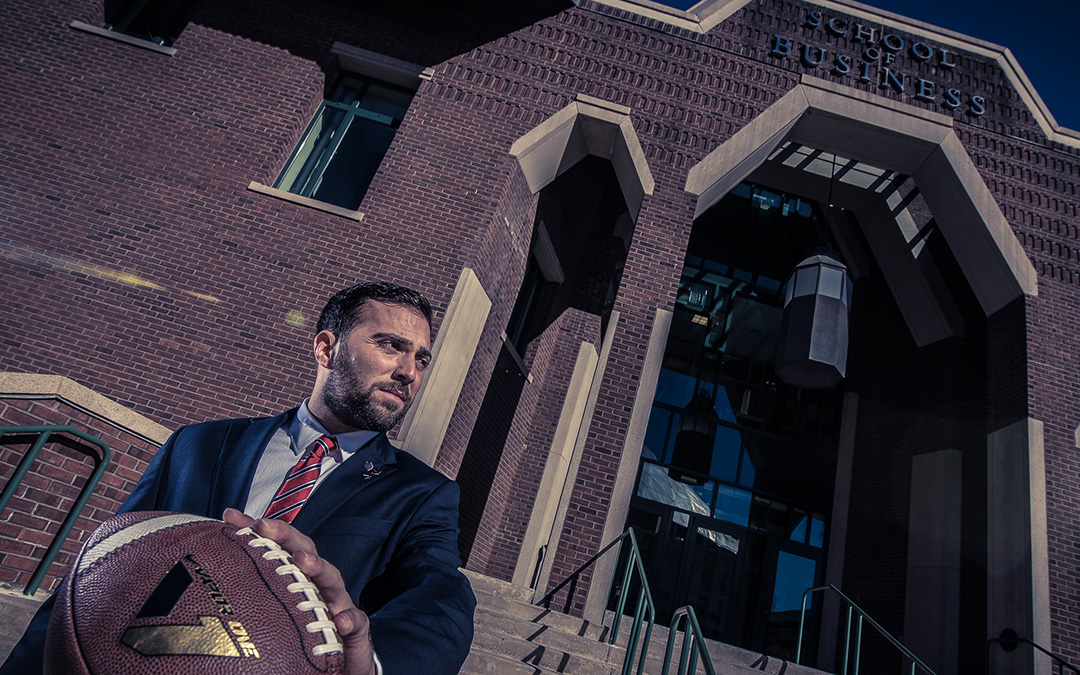 UConn Football Kicker Bobby Puyol Hopes to Score A Sports Management Job after Completing Education
Imagine that you have 5 seconds to do your job—with 30,000 people watching, the wind blowing, and your team's victory hinging on the accuracy of your kick.
For UConn place kicker Roberto "Bobby" Puyol '16, the pressure and excitement adds to the thrill of the game.
"I love it. I think it's so much fun. I go out there for five seconds and I've got to do my job," said Puyol, a senior who is majoring in management, with a concentration in international business.
"It's especially fun during away games when the crowds are screaming, telling you to miss, calling you names," Puyol said. "When you make it, it's so quiet you can hear a pin drop."
(UConn Athletics)
This month, Puyol was named one of 20 semifinalists for the 2015 Lou Groza Collegiate Place-Kicker Award presented by the Orange Bowl. The winner will be announced in December.
As of early November, Puyol was 12-for-13 in field goals this season and tied a career-long and season-high 45-yarder during UConn's victory over East Carolina on Oct. 30. He is also a serious student, who earned a 3.8 GPA last year.
Puyol, a confident and polite man with a relaxed sense of humor—"My brother and sister are in their 30s. My family calls me the 'love baby.'" —hails from North Palm Beach, Fla. His parents, who run a Christian pre-school, where his sister also works, travel to attend every game.
As a youngster, Puyol played football, baseball, soccer and basketball. In his freshman year in high school, his football team needed a kicker, and Puyol stepped up, even scoring the winning field goal in the final game. From then on, his destiny was set. Although he loved playing quarterback, he knew the kicker position would get him to college.
"I would have loved to play basketball also, but I'm a 5-foot-10 Cuban guy with no ups," he joked.
Both on the football field and off, Puyol—who will graduate in May but has another year of eligibility as a player—sees himself as a leader.
As an upperclassman, he tries to take the younger players under his wing and talk to them about life and football. "At this point in the season, everyone is tired," he said.
"Whenever I'm needed to do something, I put as much into it as I can. I think the younger guys notice and learn from it."
Off the field, Puyol is involved in community service initiatives. He serves on the NCAA Student-Athlete Advisory Committee (SAAC), whose work includes mentoring children from inner cities. He is also a member of Athletes in Action, a Christian organization that connects faith and sports. He also founded a player-led Bible study group on campus, called Journeymen.
"My faith is a big part of who I am," said Puyol, whose brother is a Christian singer. "I've relied on my faith, I've grown in my faith and it has helped me figure out who I am. I identify myself by my faith first, then by my sport."
Puyol chose UConn for the scenery, the football and the School of Business.
"I'm from North Palm Beach, Florida, and I'm used to the beach. I remember the first time I came to UConn and I saw all those trees. I thought I was in the forest," he said, laughing. He liked Connecticut's focus on collegiate sports and how the Huskies don't have to compete with professional football for spectators. He also liked the prominence of the School of Business.
Puyol enjoys math and had initially planned a career in accounting, but realized after his first class that being a CPA wasn't for him. It wasn't that he disliked the work, it was that he realized he wasn't the kind of guy to sit at a desk all day.
Instructor Nicole Jones, who taught a management course that he loved and Professor David Souder, who is his adviser on an independent study in social media, have been especially inspiring, he said. He hopes to return to UConn in the fall as a graduate student.
Puyol plans a career in sports management and hopes to land a front-office job with an NFL team. Although he's a huge Miami Dolphins fan, he would prefer to remain in the Northeast, which has, despite some misgivings about the cold, become his home.
This year, the team's success has Puyol and teammates hoping for a playoff bowl bid. They have to win one of their two remaining games to be considered.
"Both individually and collectively, last year was very different. Last year I was very inconsistent with my kicking, and this year started out that way. Then I fell back on what got me to UConn. I focused on preparation," he said.
He credits Coach Bob Diaco, as well as the assistant coaches, for pushing the team to do its best, but also fostering a bond between the players.
"Coach Diaco emphasizes the importance of brotherhood and spending time together as friends and being there for each other," Puyol said. "He wants us to develop a bond that carries onto the field.
"The 'brotherhood' aspect helped out. As a team, we all wanted to have fun, but also do well," he said. "Sometimes in football it can get too intense, too stressful. We've learned that when you do the little things right, then the big things will come."
His roommate and good friend is punter Justin Wain and this year's team boasts 11 players from Florida. "To have my Florida guys with me, especially freshman year, was great," Puyol said. "None of us had ever witnessed snow before!"
Although Puyol has made many friends on the Storrs campus, he isn't a recognized celebrity like the basketball players are. Sometime, he said, it would be fun to to walk around campus with a video camera and ask students and faculty how the team is doing, much as Mets player Matt Harvey recently did as a prank on "Jimmy Kimmel Live" a year ago.
This year is one of accomplishment, Puyol said, as excitement is building toward graduation. But next year will be a bonus, one final chance to enjoy athletics and academic life.
Puyol's father, Orlando, was a pitcher for the University of Florida, his mom Susie was a dancer. "I got my Dad's genes, he has a great deal of athletic skills," he said. "My mom, she's funny. She likes to coach me. She'll say, 'Bobby it's as easy as 1-2-3 kick.'"
During one recent visit to campus, the coaching staff offered parents a chance to compete in a football-kicking challenge, which Mrs. Puyol gladly accepted. It didn't go as well as she'd anticipated.
Afterward Puyol recalls his mom shaking her head and saying, "Bobby…it's not so easy."