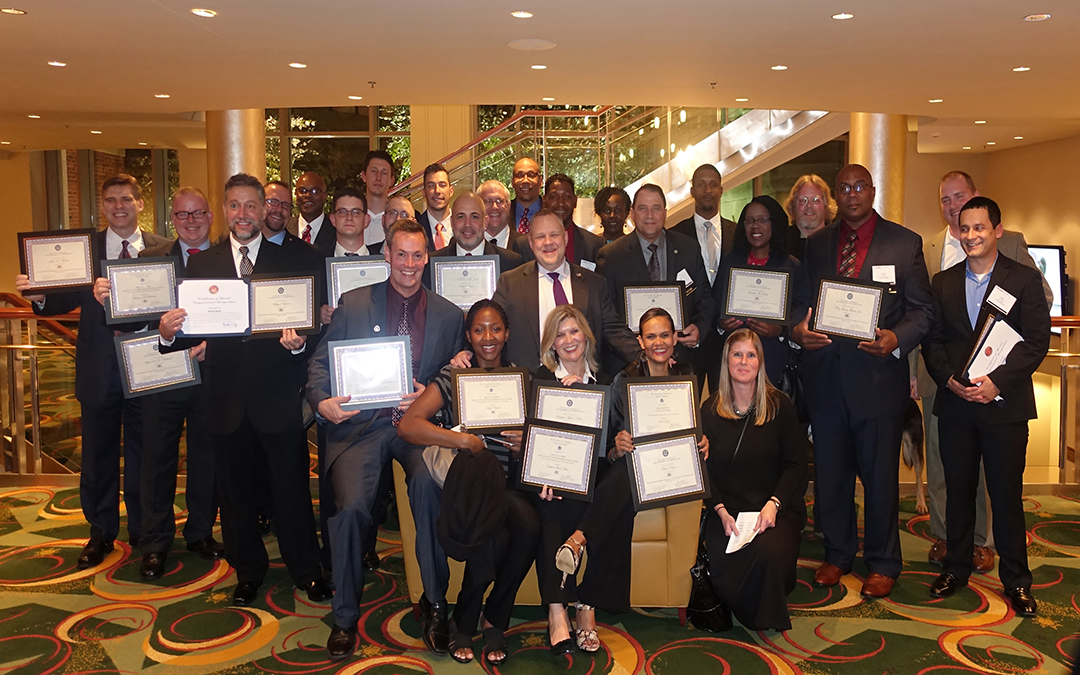 UConn Graduates 25 from EBV Program; Veteran Entrepreneurs Poised to Start Own Businesses
After the terrorist attacks on Sept. 11, 2001, retired U.S. Marine Corp. Staff Sergeant Lawrence "LD" Dapo's assignment was to fly then-Vice President Cheney to an undisclosed, secure location.
"It was all business that day," Dapo recalled. "I had no time to reflect on the tragedy until afterwards. But that was the day I knew I would marry my wife. She was quite the trooper."
Dapo, who has also flown Presidents Bill Clinton and George W. Bush, knows how to work under pressure and that's one of the skills he brings to his fledgling company, Jackson Ryan Construction.
Dapo, of Suffield, Conn., was one of 25 members of UConn's Entrepreneurship Bootcamp for Veterans with Disabilities. The Class of 2015, which included 20 men and five women, graduated Saturday (Oct. 10th). The accomplished cohort included two veterans awarded the Purple Heart, one honored with the Legion of Merit, and three who were decorated for valor in combat.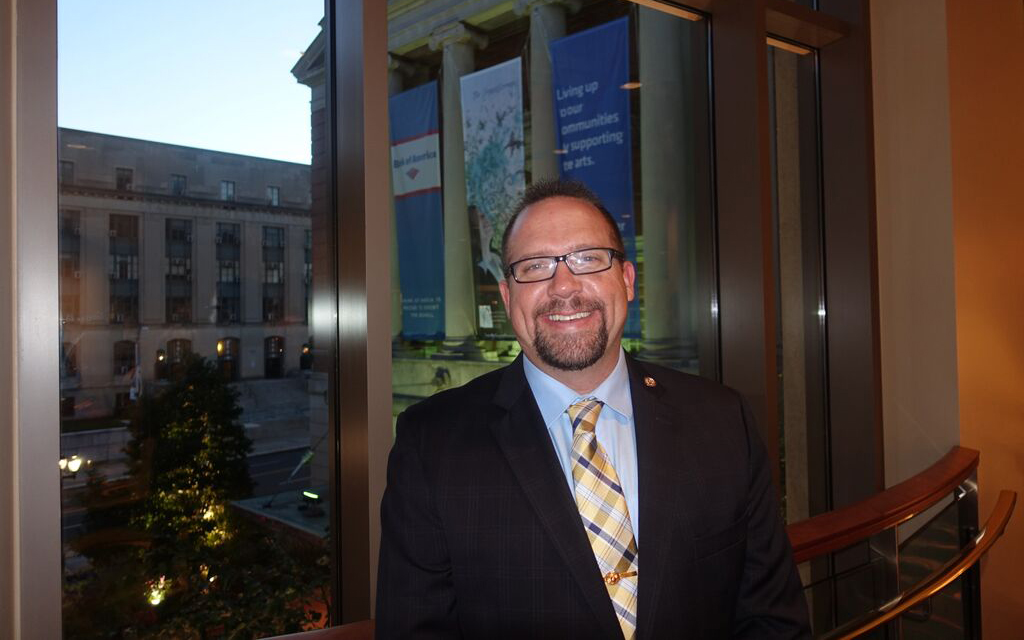 The program, offered at no cost to the participants, leverages the faculty and resources of the UConn School of Business to provide veterans with cutting-edge training in entrepreneurship and small-business management needed to pursue their dreams of owning a business. The students are from all branches of the military, and 13 of them are Connecticut residents.
The program, now in its sixth year at UConn, teaches veterans how to write business plans, raise capital, attract customers, develop a marketing strategy and collaborate with others in the community. After completing their coursework, the veterans are offered a year of ongoing support and mentorship.
"The connections and the network here are unbelievable. The best part is veterans helping other veterans," Dapo said. "There's a level of leadership and instruction here that I've never experienced before. It's mind-blowing."
Dapo said that he hopes his company, which serves VA hospitals and government facilities, will top $500,000 in sales this year. "We are growing fast," he said.
Hiring a veteran-owned business brings distinct advantages, he believes.
"As veterans, we have the ability to be fully engaged, and especially to care about the finished product, not just the mighty dollar," he said.
"To us, helping other veterans on a daily basis is fulfilling on many levels."
UConn's EBV Director, medically-retired Marine Lieutenant Colonel Michael Zacchea, said the program is far more than a crash-course in business.
"Entrepreneurial educational opportunities are a key element for reintegration into civilian life for the 25 veterans in this year's program," Zacchea said. "UConn's place in the 'Sea of Goodwill' of organizations that create reintegration opportunities for veterans continues to distinguish it among universities in the United States."
Among this year's class, 92 percent have earned a bachelor's degree and nearly half have been awarded a master's degree. Nineteen have served in Iraq or Afghanistan, and all 25 have had exemplary military careers.
EBV class member Dave Flounders, of Granby, has purchased a 115-acre working farm in Alabama, but when winter arrives he wants to have a second, income-generating business. Through the EBV program he is preparing a business plan for a leatherworking company that will make belts, wallets and other small personal items. He plans to purchase two "tiny houses" on the property for veteran employees to live in.
"When we're not planting and harvesting we will work on the leather business," said Flanders who devoted 32 years of his life to the military, first in the Navy and later in the Connecticut National Guard. "The EBV program is phenomenal, top notch. No one can come through this program without having their knowledge enhanced 10-fold."
When asked what makes a veteran-owned business unique, Flounders said military values become ingrained in each service member.
"We are all more 'detail driven' in what we do day-to-day. If you don't pay attention to the details in the military, you're likely to get killed," Flounders said. "We come out with a different mindset and with a work ethic that a lot of others don't have."
Jason Otrin, an IT expert and an Army veteran, taught a course to the EBV students. The experience was particularly moving for him. He noted that many of the veterans felt compelled to serve other veterans and that their commitment to teamwork was unwavering. Also, after working with diverse people—both from the U.S. and other nations—they value different points of view, he said.
"I saw a level of maturity, integrity and confidence, but not arrogance, which was well beyond the ages of the veterans," he said. "We talked about how a 23-year-old can lead a group of soldiers in combat and be responsible for multi-million dollar equipment, then enter the business world and have difficulty being hired in a supervisory role."
"I think this is one reason entrepreneurship is so attractive to veterans," he said. "It also reflects a lost hiring opportunity for companies that have difficulty translating or understanding military resumes and experience."