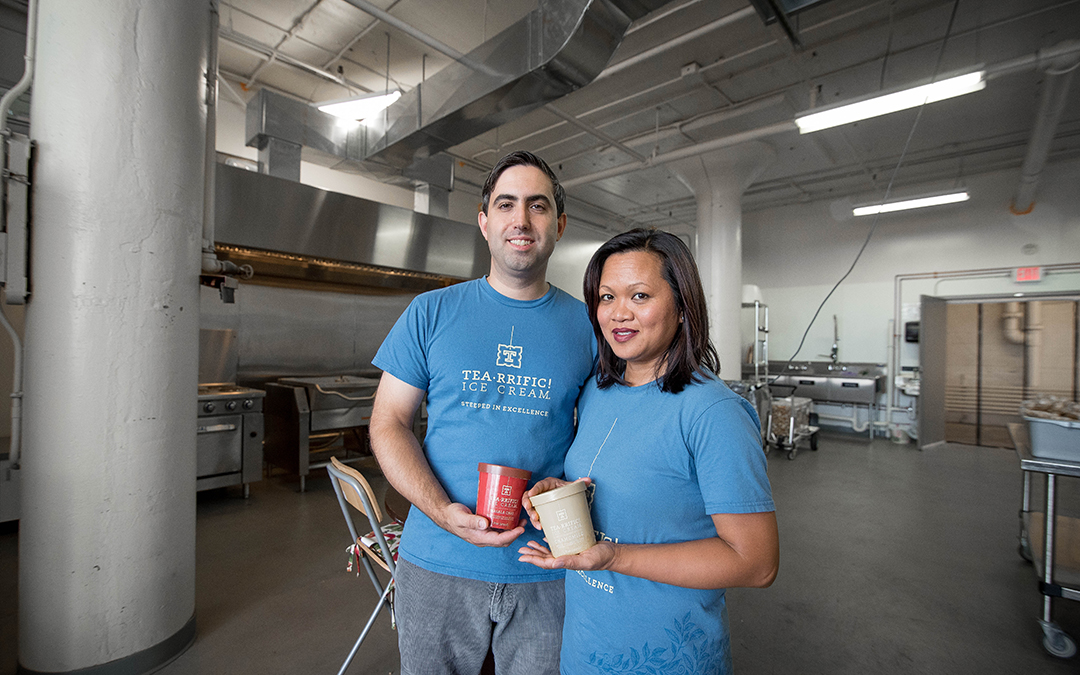 Enterprising Husband-and-Wife Team Create Award-Winning, Tea-infused Ice Cream
What happens when you combine two of America's top comfort foods with the ambition and knowledge of an enterprising UConn husband-and-wife team?
The result is an award-winning, tea-infused dessert, called Tea•rrific! Ice Cream. The company, founded in 2011, is now producing 23,000 pints of ice cream a month, which is sold at Whole Foods, Stop & Shop and specialty stores and restaurants from Maine to the Washington D.C.-area.
"When I was younger, I enjoyed ice cream that was sticky and gooey," said Mario Leite '98, president and founder of Tea•rrific! Ice Cream, and a self-proclaimed ice cream fanatic. "But as I grew up, I got tired of the gummy, tackiness. Many ice creams are over-flavored and filled with artificial food coloring and ingredients. I wanted something like you would get at a fine restaurant, creamy and satisfying."
"We have unique flavors, like Jasmine Peach (a jasmine green tea with sweet and tangy chunks of peaches), London Mist (malty and citrusy notes of Earl Grey tea with a hint of vanilla) and Lavender's Blueberry (a sweet, floral blend of black tea and lavender with a fresh blueberry puree), but what also sets us apart is the texture and the finish," he said. "When you're finished eating the ice cream, the tea flavor is left over. Most people say it is refreshing, something you may hear about a sorbet but rarely about a full-fat ice cream."
The Tea•rrific! story begins with an unhappy ending. In 2011, Mario was laid off from his job as a New York investment banker. With free time on his hands, he began experimenting with a 2-quart, home ice cream maker that his wife, Souvannee Leite '98, had purchased for him several years prior.
"My wife is not a big ice cream eater but she really liked the Earl Grey ice cream I made, and I said, 'OK, I think I've got something here,'" he recalled. "I realized there might be a niche for a more complex ice cream."
When he brought up the idea of starting his own ice cream business, Souvannee didn't hesitate. "Go for it!" she said.
"You've got to take risks or you won't move forward in life," said Souvannee, who is the company's director of operations and earned her bachelor's in business management at UConn. "You must follow your dream. If you don't take that step, you'll never know if it would have worked. My husband has always worked really hard. He has that drive. When he's working in the business, I see all the qualities that he has. I'm glad I supported him."
They agreed he would give it a try, with a two-year, make-or-break deadline.
Making ice cream involves a great deal of food science and a careful balance between the fat, the milk products, the sugar and the water. Mario knew he needed an expert, so he turned to William Sciturro, manager of dairy manufacturing at the UConn Dairy Bar, for advice and assistance.
Mario, who studied molecular and cell biology at UConn and has an MBA from Columbia University, blends and prepares all the tea products at Tea•rrific!'s headquarters in a revived business district in Bridgeport. All the ice cream is hormone-free, the teas are high quality and fresh brewed, and the ice cream contains no artificial flavorings. The Leites see their greatest appeal among foodies, the health conscious, label readers and those who appreciate a delicious, local product.
"People are used to chocolate, vanilla and strawberry ice cream, and tea that is hot, so we're introducing flavors that people aren't accustomed to. People say, 'Why tea?' and we answer, 'Why not?,'" said Souvannee. "When they taste it, they say, 'Wow! I love it.'"
When they started out, the Leites handled every aspect of the job, from creation to supermarket demos to sales. They rented a kitchen in Stamford and worked overnight, when the kitchen was available, until 3 a.m. to create the tea infusions.
They launched into the retail market in October 2012 with about 20 independent supermarkets, but their business really gained steam when they secured distribution in the New York-metro area and were chosen to be carried in nine local Whole Foods locations in Spring/Summer of 2013.
The couple's daughters, age 5 and 7, are their front-line tasters. "If we present a new flavor and they don't finish it, I know something is wrong," Mario said. "And they're very honest," Souvannee added. While the Leites fresh brew all the tea and craft all the specialty flavoring components of the ice cream, the finished product is manufactured in Milford, Conn., at Buck's Ice Cream, where vice president Chris Buck '02 is also a UConn alumnus.
Tea•rrific! Ice Cream has won numerous awards and honors, including being chosen as one of three finalists (from a field of more than 70 entrants) at the Summer Fancy Food Show sofi Awards, the 2013 and 2015 Connecticut Specialty Food Products (they meant to enter in 2014 but they were so busy, they forgot to send their ice cream sample) and a finalist in the 2014 Martha Stewart American Made Competition. They've even been interviewed by CNBC and numerous publications, both general and food-oriented.
Because taste is subjective, Mario said, he recognizes that not everyone will crave their products.
"Some will hate it, some will love it. You can't take it personally. As long as more people love it than hate it, you're good to go," he said. "The only thing that frustrates me is when people are unwilling to try it."
Whole Foods is Tea•rrific!'s biggest customer and the grocer has a startup loan program for companies that have strong potential, from which Tea•rrific! has benefited. "That was a tremendous point of validation for us," Mario said. "They've given us tremendous financial, marketing and promotional support. And, in exchange, we provide them with exclusive items."
The company is close to turning a profit and, with some very lucrative deals in the offing, Mario is clearly comfortable with the outlook. Tea•rrific! Ice Cream will soon be available in the Midwest and beyond.
"Whenever we'd have a bad week, something good always came along to keep us going," he said. Souvannee's sister is now the company production manager and they have 30 people who conduct in-store tastings. They've now been able to outsource their design work and have hired a sales broker.
As an investment banker, Mario was used to long hours, and he's still working about 80 hours a week. But a home-office allows him to have meals with his children, whom he only saw on weekends when he worked in New York.
"Basically I work until I go to sleep," said Mario. "I love doing stuff for the company. It's not like work. It's nice to be the boss and have a vision and move the company forward."
Souvannee, who re-entered the workforce after being a full-time mother, said she enjoys using her management degree and is glad to have a business background.
This couple, who met at UConn and often bring their children to visit, said they are committed to Connecticut. Souvannee grew up in Bridgeport, and their business often supports several charities and non-profit organizations, such as the Connecticut Food Bank's Walk for Hunger and Habitat for Humanity. They hire Connecticut people for their packing and graphic design work.
"We're focused on staying local and helping to build the economy in Connecticut," Mario said.
To other budding entrepreneurs, Mario has some advice, based on experience.
"Follow your passion. Don't be scared to just jump in," he said. "Things will come as you get into it. Just start it; just do it.
"When I look back on the layoff, I think things happened for a reason," Mario said. "I'm really really happy that we took the path we did. It's a great, unique experience to start our own business."

Tea•rrific! Ice Cream is available online for shipping and at many local grocery stores. For more information, visit www.tearrificicecream.com.