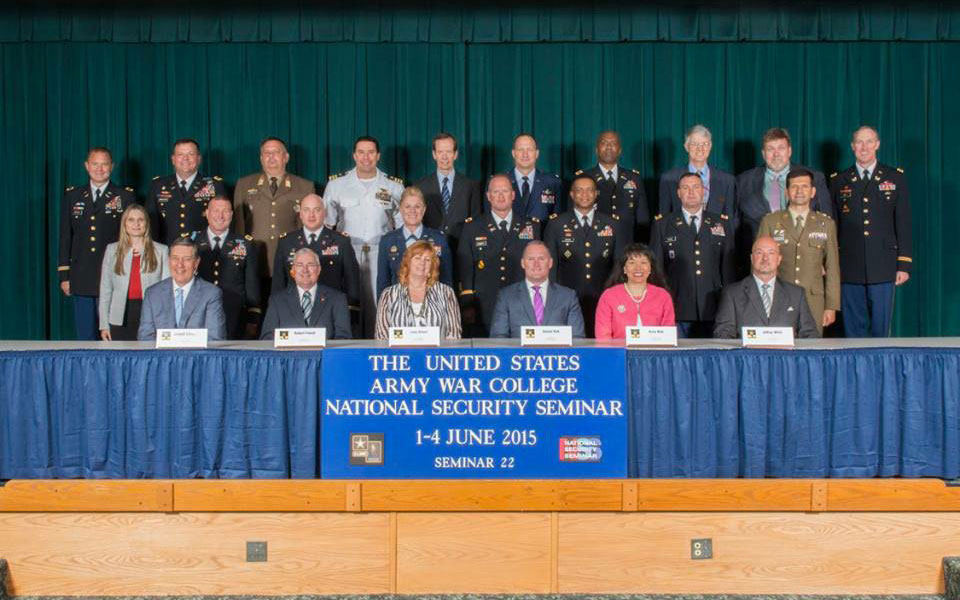 Returns with Ideas for Strengthening Business Leadership Curriculum
Would UConn business students planning careers in corporate America benefit from exploring U.S. military leadership skills as part of the curriculum?
That's one of the ideas that Management Professor Lucy Gilson has been pondering after completing an intensive, four-day program at the U.S. Army War College in Carlisle, Penn., in early June.
Gilson was one of 160 distinguished civilians invited to brainstorm national security issues with 387 high-ranking military officers during the U.S. Army War College's 61st Annual National Security Seminar.
She and a diverse group of civilians were asked to represent fellow Americans in discussions with the next generation of senior leaders of the U.S. and Allied Armed Forces, giving military personnel a deeper understanding of the society they serve.
"You do a lot of interesting things as a professor, but this experience was definitely among the most fascinating. My brain was going full-steam ahead the entire time," said Gilson, who also serves as the academic director of the Geno Auriemma UConn Leadership Conference.
"The seminar made me think about the untapped potential that military expertise could add to our students' experiences," she said. "How, for instance, do you get 400-plus soldiers to work together as a team and accomplish a critical task often in difficult situations where time is of the essence? The same levels of trust, communication, and team-building necessary in military maneuvers should also benefit leaders in the corporate world."
The seminar was the capstone event of the Army War College's 10-month curriculum, just before the Class of 2015 graduated with a master's degree in strategic studies. The forum was structured around issues of significance to national security. Lectures focused on the important roles that diplomacy, information, trade, and economics (DIME) play in combating ISIS, securing international trade agreements, the war on drugs, cybercrime and more. After each lecture, participants divided into small groups for candid discussions of the topics. The Army War College embraces a strict non-attribution code, meaning that members are encouraged to all speak freely and candidly, knowing that their comments will not be taken out of context or attributed outside of the seminar room.
Gilson said the School of Business' MBA leadership program already offers a class on leadership lessons from the military, but she thinks that it might be interesting to integrate something similar at the undergraduate level.
The seminar also had her brainstorming about ways the academic community could be of service to military personnel and veterans. For instance, the academic community could offer educational courses to assist military officers in transition from military command to executive corporate leadership, she said.
Gilson was also intrigued when the civilians discussed how little they know about military life. While many military tasks are, understandably, confidential, Gilson said, it seems the average American has little concept of a military person's skills, experiences and job qualifications. Unless you have a friend or a loved one in the Armed Forces, your view of military service is based on what you see in the movies. "And from what I learned at the Army War College, it is not all 'Top Gun' and 'American Sniper,'" she said.
Gilson said after meeting and speaking with Army, Navy, Marine Corps, Air Force, and Coast Guard officers, all of whom had attained the rank of lieutenant colonel or colonel, she felt very comfortable that the country is in good hands.
"I left there feeling incredibly impressed by our military commanders," Gilson said. "These people are incredibly smart, knowledgeable, and committed. They had a large range of views and equally unique background experiences."