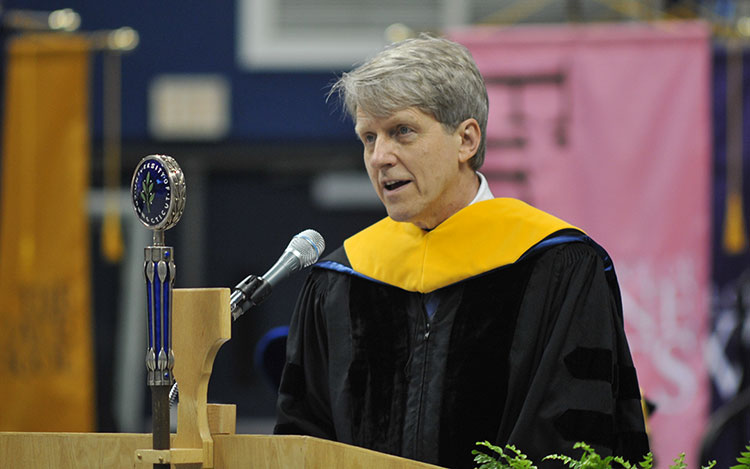 Nobel-Prize Winning Professor Tells Business Graduates to Do Well, Do Good
The business world can sometimes seem like a vicious place, but as UConn School of Business graduates begin their professional careers, they should stay faithful to their moral compass and never lose sight of the well-being of the communities they serve.
That was the advice offered by graduation speaker Robert J. Shiller, the winner of the 2013 Nobel Prize in Economic Sciences. He is also the Sterling Professor of Economics and a professor and fellow in finance at Yale University.
Shiller spoke Sunday May 10 to an enthusiastic crowd of undergraduates, parents and friends under the dome of Gampel Pavilion. UConn President Susan Herbst and members of the Board of Trustees were also present. This year nearly 700 undergraduates received their bachelors' degrees in business.
"The title of my talk is 'Business and the Good Society,'" Shiller told the crowd. "I chose this title, aware that it may seem an oxymoron to some, to emphasize that business ought to be, and is indeed, part of the 'good society.' But business has always attracted some scorn, for the very fact of its devotion to profits is seen as evidence of lack of concern for people."
After the financial crisis and government bailouts of financial institutions in 2008, Americans expressed more skepticism of business than had existed since the Great Depression, he said. The Occupy Wall Street movement, in 2011, was one indicator of a resurgence in public feeling of distance between business and 'the good society,' he said.
The term 'a good society' was coined in the 19th century and referred to kind people who cared about others, maintained their property, raised their children well and were loyal citizens, explained Shiller, who also writes the "Economic View" column for the New York Times.
"Walter Lippman, a great public intellectual of his day and free-market advocate, wrote a book in 1936 titled, "The Good Society," Shiller noted. "He said that the defining characteristic of the good society is that people adhere to the Golden Rule: 'Do unto others as you would have them do unto you.'"
That fundamental belief exists in most recognized religions, and generates the feelings of cooperation and friendship upon which successful societies are built, he noted. "Lippman thought that a successful life in business did not have to violate the Golden Rule," Shiller said.
In her 2010 book, "The Economics of Integrity," Anna Bernasek documented how people who work in the dairy business—anywhere along the supply chain—conduct their tasks with a great deal of personal and professional integrity, not out of concern for profit but out of respect for those who will be consuming the milk.
The UConn School of Business is associated with many 'good society' activities, from hosting the Connecticut Small Business Development Center within its building, to presenting programs on human rights, corporate social responsibility and the environment, Shiller continued. He praised the relatively new UConn chapter of Net Impact, whose mission is to create positive social and environmental change in the workplace and beyond.
"UConn, and your class, have demonstrated a commitment to the 'good society,'" he said.
"I think that, in going forward with your lives, you, the graduates of a business program, will have to navigate a complex economic system that seems to sometimes place you in a nasty competition, that does not feel friendly at all; that seems dog-eat-dog rather than 'good society,'" Shiller remarked.
Competition and failure are part of business, and that struggle is something the new graduates will have to accept, he said. But the emerging focus on idealism in for-profit business, with the creation of benefit corporations that support and promote a social mission, is a bright light on the horizon.
Working in business is a noble profession, he said, and its success should be measured in helping people meet their goals. "When one embraces the Golden Rule in business, the goals of others become indirectly one's own goals," he said. "Profits are not the only measure of success of a manager, for success is still defined by our sense of community."
"In saying farewell to you, the graduates of 2015, about to leave for real-world careers, I would like to wish you success on the profit scorecard, but also on a community scorecard, on your sense of participation as a citizen and as a contributing member of the 'good society,'" Shiller said.
Commencement ceremonies for graduate business students were held the day before, on May 9. Addressing the audience was Peter J. Werth Jr., Founder, ChemWerth, whose passion drove him to improve national health and well-being through greater access to affordable medications.