Rowena Ortiz-Walters Becomes One of the Few Hispanic-Americans to Lead a U.S. Business School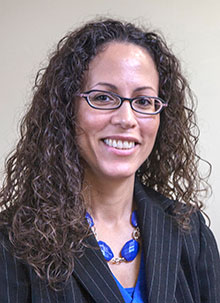 Rowena Ortiz-Walters, a two-time UConn graduate who earned her Ph.D. in 2005, has been appointed Dean of the School of Business and Economics at the State University of New York—Plattsburgh.
Ortiz-Walters is only the ninth Hispanic-American dean of a business school in the United States, according to The Ph.D. Project, a program designed to foster more diversity in corporate America and higher education administration. She will begin her new job on July 1.
Ortiz-Walters is currently the Chair of Management in the School of Business at Quinnipiac University. She is also the co-founder and co-director of the Center for Women and Business at Quinnipiac, whose mission is to develop women leaders, engage key decision makers in formulating policies that support women's careers and help corporations leverage the full talent of their female workforce.
"Rowena was my first Ph.D. student and as such, I am so incredibly proud of everything she has accomplished and will continue to achieve," said Management Professor Lucy Gilson, who is the faculty director of the Geno Auriemma UConn Leadership Conference and the faculty adviser to the UConn Women's MBA Association.
"Rowena is an incredibly hard worker and does not shy away from learning what she does not know," Gilson said. "As a Ph.D. student, she re-took a seminar when a new professor joined our faculty, to ensure she had the necessary foundation to move forward in her dissertation work. I have never known another student do that!'"
While at UConn, Ortiz-Walters helped mentor incoming doctoral students while also being active with the Ph.D. Project on a national level, Gilson said.
"Since graduating from UConn, Rowena's career advancement has been nothing short of impressive," Gilson said. "Rowena's dissertation and research focused on mentoring, and, in particular, the mentoring of minorities. She quickly became an expert in this field, being invited to give presentations and contribute scholarly chapters on the topic. At Quinnipiac, Rowena was promoted early and quickly took the reins as department chair, then started a center focusing on women and mentoring, two of the areas about which she is truly passionate."
Ortiz-Walters earned her bachelor's degree in chemistry at UConn in 1996 and worked for several years at Uniroyal Chemical Co. in Middlebury, Conn. She earned her MBA in Technology Management from the University of New Haven in 1999, before pursuing her Ph.D. at UConn.
She will begin her job at SUNY—Plattsburgh on July 1 and oversee a staff of 38 full-time faculty members and an undergraduate student body of more than 1,000. The SUNY program, like UConn's, is accredited by the Association to Advance Collegiate Schools of Business (AACSB), the premier accrediting agency.
"Rowena is, and always has been, a joy to work with and she will make an outstanding Dean with her focus on detail, caring, and results," Gilson said. "Being a Dean requires leading students, faculty, staff, and alumni and I have no doubt Rowena will be as great in this role as she has been in all the leadership positions she has held thus far."