The Honors in Business Association (HiBA) hosted a trip to visit the Federal Reserve Bank of Boston and PwC. Approximately 30 students attended and were split into two groups, with one group visiting PwC and the other group visiting the Federal Reserve Bank of Boston.
Students visiting PwC were hosted by Ann Ulett, northeast sourcing manager. Students learned about the day-to-day responsibilities of an accountant from a panel that included a recent UConn graduate followed by a team building activity. PwC also spoke about the future of the company in the city of Boston.
At the Federal Reserve Bank, students were hosted by Don Anderson '99, vice president of network services. Anderson along with other officers of the Federal Reserve Bank gave an overview of the Bank's corporate structure. Students also attended a presentation on the topics of economic growth and the Bank's balance sheet by the associate vice President of accounting. The visit at the Federal Reserve Bank ended with a cash tour given by the vice president of cash services.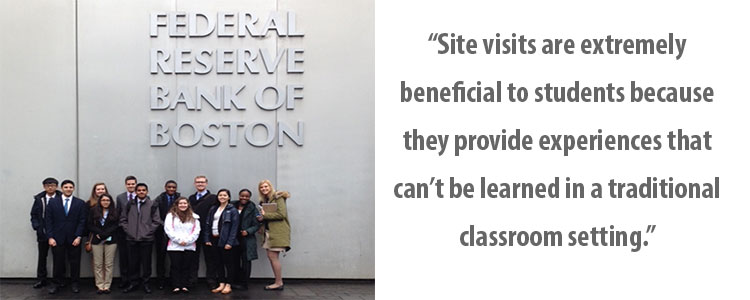 Brooke Wasserman '15, an accounting major who visited the Federal Reserve Bank mentioned, "I found the overview of the balance sheet to be very interesting. The Federal Reserve Bank considers cash to be a liability on their balance sheet." In Generally Accepted Accounting Principles (GAAP), cash is considered an asset and not a liability.
Quian Callender '16, president of the Honors in Business Association, states, "Site visits are extremely beneficial to students because they provide experiences that can't be learned in a traditional classroom setting."
About Honors in Business Association
Honors in Business Association (HiBA) is a student organization formed between the Honors Program and School of Business. HiBA strives to create a sense of community for students in both Honors and the School of Business and those with an interest in business. HiBA's programming provides the opportunity for students to demonstrate and develop skills necessary to succeed in today's business world all while building a strong alumni network. Contact information: uconnhiba@gmail.com or Quian Callender at quian.callender@uconn.edu.