On Thursday, February 12th, five teams of Freshmen and Sophomore business students participated in a case competition sponsored by Minneapolis-based Target Corporation. The purpose of the event was to provide case competition training and practice for underclassmen, offering them a terrific opportunity to gain real world business experience with the support of representatives who could provide professional advice.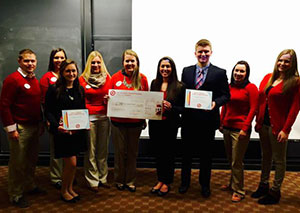 The student teams selected the topic of Elevating the In-Store Experience, which focused on the question, "How might Target leverage Cartwheel to engage team members to even higher levels of guest service in our stores?" Target's Cartwheel is a highly interactive app for mobile devices that shares discounts, promotions and the latest trends with Target guests via Facebook.
The teams were required to include a SWOT analysis demonstrating their understanding of Target's current situation and a second SWOT analysis based upon implementation of their proposal. Teams made proposals, described why their recommended changes should be made, and detailed how the changes would improve the guest experience, drive top line growth and minimize back room inventory to reduce expenses. The case competition required teams to familiarize themselves with Target's guest demographics, the Target team members' approach to guest services, marketing elements, and Target competitors.
Target management judged the competition, weighing knowledge of current Target programs, feasibility of suggested improvements and level of professionalism of each presenting team. Critiques and suggestions were provided to each team. All the team presentations were impressive, with well-coordinated sharing of presentation topics among team members, impactful graphics, persuasive closing arguments, and confident professional communication with Target management during Q&A.
Congratulations to the winners!
First Place
Erin Aspinwall, Angela DeFilippo, Austin Barret
Second Place
Grace Winans, Divya Ganesh, Megan D'Alessandro, David Anzini, Sandy Zhang
Third Place
Sabina Tarafdar, Mahnoor Hassan, Laura Iliesciu
Target donated $1000 to fund refreshments for the case competition's related events and a final celebration dinner for all participating teams which took place on March 5th.