Have you ever tried to buy concert- or theater- tickets online and been asked to retype two words, which are displayed in squashed, blurry, italic font that is virtually impossible to distinguish?
If you're like Theo Marrinan, that hurdle absolutely drives you nuts. Marrinan has a plan that will make that task a little easier, a great deal more fun, and may also be intriguing to advertisers who could use it to promote their product.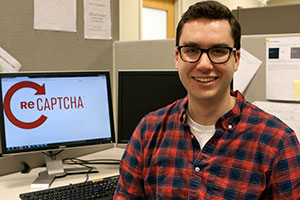 "My idea is to change the way CAPTCHA security on the Internet is done," said Marrinan, a sophomore majoring in economics. "I want to change this to an image-based test that relies on our ability to make associations and connections. This is a much more efficient and convenient system for humans than trying to decipher scrambled text."
Marrinan is one of an estimated 200 students entering an idea in UConn's Innovation Quest (iQ) competition, which kicked-off on Monday evening. All students, from any discipline, in any UConn degree program, who have an idea that they think can turn into a business, are invited to participate. And those who don't have a specific idea but would like to work with the entrepreneurs, are also welcome.
The iQ program connects student teams with alumni mentors and other experts who have experience in building companies and can help take a project from an idea to the marketplace. No idea is too unusual to be considered, but novel ideas with high potential for commercialization are more likely to win. The top finalists will share $30,000 in prize money and receive a coveted invitation to the iQ summer InQbator.
"What makes iQ so exciting is the breadth of ideas that we see," said Management Professor Rich Dino, who is the director of UConn's iQ program. "In the past, we've had a diversity of novel and useful ideas from the simple to the very complex, all developed with the intent of solving a market or societal need. We are fortunate at UConn to be able to offer such a remarkable program that has potential not only to help our students, but to change lives. Growth and opportunity in this country is embedded in creative, innovative and entrepreneurial outcomes. iQ is designed to help our students achieve those outcomes."
Matt Houston, of Glastonbury, will be entering this year's iQ competition with his plans for a proximity-based website that would allow someone to sell or trade items, such as clothing. He thinks it would be popular in a university setting, and, if successful, could launch to a broader audience. "I'm really excited about iQ," said Houston, a mechanical engineering major. "I really want to create something new. It seemed out of reach for me initially. But now, hearing about all the opportunity and all these successful entrepreneurs who are willing to help, it makes it seem within reach."
Last summer, Houston had an internship in product design at Pratt & Whitney.  When he came home, exhausted, he said he really just wanted to watch TV. But instead he spent his free time brainstorming, researching and studying up on entrepreneurship.
"I loved my internship at Pratt and the professional corporate setting," he said. "But I think it is so fascinating to form your own business, make your own rules, and have so much passion about your own product that you stay up all night working on it. That's the kind of enthusiasm that drives success."
Alumnus Keith Fox '80, a longtime entrepreneur, executive and philanthropist, introduced iQ at UConn in 2012, after discovering the successful program at California Polytechnic State University. He serves as a mentor and the program's financial supporter.
During the first phase of Innovation Quest, teams prepare their competition application, work on prototypes and discuss their ideas with the mentors, which sharpens their thinking, particularly in relation to identified needs in either the marketplace or society. Applications are evaluated and those who do well are invited to the next step, formally presenting their ideas to a group of judges for a second evaluation. Those who overcome this hurdle share in the prize money and receive an invitation to an accelerated training program dubbed the iQ inQbator. It has been described as like learning a year's worth of business courses in six weeks. In the last inQbator session, the teams present their now-refined plans to an audience comprised of angel investors and venture capitalists, who then begin monitoring the progress of these new startups, with an eye toward potential investment.
"It's really, really exciting for me," said Marrinan, of Montville. "The idea that something I came up with could work in the real world is crazy to me! But it's great to see people get excited about something that you created."
"As a sophomore, I'd love to be a finalist," Houston said. "But in the end I'm just hoping to learn as much as possible. I think the combination of engineering and business could create the most success, so I'm looking forward to doing a lot of networking and making many business connections."