Thirty students in the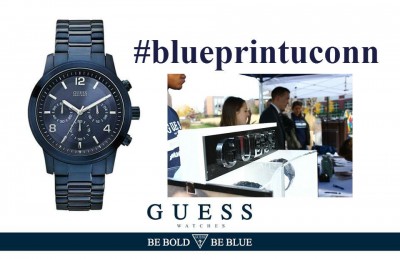 'Integrated Marketing Communication in the Digital Age' class taught by Joseph Pancras in Fall 2014 participated in a semester-long IMC campaign with Sequel, the brand licensee for GUESS Watches. GUESS Watches is a mid-level luxury brand that defines itself as bold, adventurous, and sexy. An iconic brand, it has launched the modeling careers of celebrities such as Brooke Shields, and is looking to expand its presence and relevance in campuses across the United States.
Students worked in four major functional groups: Strategy, Advertising/Creative, Public Relations and Budgeting, and Marketing Research. Teams consisted of members from each functional group to coordinate responsibilities for the UConn GUESS Watches campaign, which would serve as a pilot launch for related GUESS Watches events on other campuses.
The Advertising group created a strong logo and slogan, encompassing GUESS' message and values and relating to UConn students with the slogan, "Be Bold, Be Blue". They used bus advertisements, flyers, social media platforms, and useful promotional to attract students and raise awareness and online buzz.
The Strategy team organized and planned the campus event. Four of the event's 500 student participants received GUESS watches, while others received branded items for participating in activities like spinning a wheel, "guessing the candy in the jar," and surveys.
The PR/Budget team delivered the message the Advertising Team created to UConn students by targeting popular social media websites, placing advertisements in areas of high student use, and having Her Campus write about the event.
The Market Research Team focused on creating a pre-survey and post-survey to uncover how people perceived the GUESS brand and watches. Their findings revealed that most students perceived the brand as cool and high-end. Additionally, the post survey revealed that positive impressions improved by 17.7% after the event.
After the event, the students submitted a final report to Sequel and presented before senior Sequel executives, who attested to the project's value.
Sequel executives and Dr. Joseph Pancras' Integrated
Marketing Communication class students at the Final Presentation