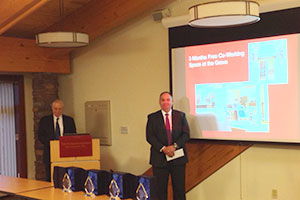 An October graduate of the School of Business' Entrepreneurship Bootcamp for Veterans with Disabilities (EBV) has placed in the top five in a rigorous business start-up competition.
Mike Ennis, a retired Marine with experience as a military recruiter, successfully explained and defended his plan for a start-up called Veterans and Executive Talent Search (VETS) recruiting company, which will seek medical personnel interested in working for the Veterans Administration.
Ennis, who is from the Groton area, has already secured the support of a key angel investor, said Michael Zacchea '12 MBA, director of the EBV program. Ennis impressed a panel of judges, all entrepreneurs or inventors, to place in the 18th annual Connecticut Collegiate Business Plan Competition, sponsored by the Entrepreneurship Foundation of Fairfield. Ennis was awarded free use of office space to grow his business at The Grove in New Haven.
His business will augment the Veteran's Choice and Accountability Act, which seeks to expand VA services, including the number of doctors and mental health professionals, Zacchea said. Ennis currently works as a veteran employment specialist at the Connecticut Department of Labor.
The School of Business offers a nine-day Entrepreneurship Bootcamp for Veterans with Disabilities each year. The intensive course is funded by private donations and features the expertise of UConn faculty. While enrolled in the boot camp, veterans learn everything from creating a business plan to finding funding. They are offered additional planning support for their businesses during the ensuing year. The UConn program, now in its fifth year, has been recognized as one of the nation's best for military personnel.
The 2014 EBV class was exceptional, Zacchea said. Twenty-six students were accepted into the class and there was no attrition, despite the difficult schedule, which started with 8 a.m. classes and continued with homework until midnight. Nine of the graduates from this class have already started businesses and a tenth will launch this month. Two others have accepted full-time jobs and another graduate enrolled in an MBA program, Zacchea said.