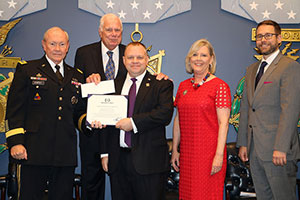 The School of Business' Entrepreneurship Bootcamp for Veterans with Disabilities was recognized as one of the nation's best and most innovative programs for improving the quality of life for U.S. military personnel.
General Martin E. Dempsey, chairman of the Joint Chiefs of Staff, provided remarks at the 15th Annual Newman's Own Award Ceremony at the Pentagon on Sept. 24. In addition to the honor, the UConn program will receive a $37,500 award.
"I was really surprised and extremely flattered," said Program Director Michael Zacchea, a retired U.S. Marine Corps lieutenant colonel and a Purple Heart and Bronze Star recipient. "There are 400,000 organizations in this country that work with veterans. To be one of five selected for this incredibly prestigious award was truly an honor."
The UConn Entrepreneurship Bootcamp for Veterans with Disabilities (EBV) is offered at no cost to participants, who typically come from across the Northeast. The program taps the talent of the UConn School of Business faculty to provide veterans, disabled due to their service, with cutting-edge training in entrepreneurship and small business management.
Zacchea hopes the award will bring greater recognition to the EBV program and further develop the network of services available to returning veterans. Despite its U.S. Navy sub base and the Coast Guard Academy, Connecticut isn't known for embracing the military culture in the way that other states have, he noted.
"Historically the veteran population hasn't had the attention here that it has in other states like Florida, Texas, California and the South," he said. "We feel some of our award was due to our unsung work in an underserved area."
Yet Connecticut offers many advantages to returning veterans, including educational and business opportunities, he said.
Unlike other entrepreneurship programs, the EBV addresses reintegration issues beyond just business. For instance, the veterans are offered a free business suit, courtesy of Brooks Brothers, to help ensure their business success. In addition, the program graduates have access to intense mentorship services for a year, so whether they want to start an IT business or a company that specializes in personal training, they have assistance identifying and overcoming business barriers.
UConn alumni Mitchell Strauss '79 MBA, Ray Gustini '65, '65 JD, General Joseph Went '53, Barbara Went and John Welch '80 MBA, also attended the ceremony.
Newman's Own, Fisher House Foundation, and Military Times sponsor the competition, which seeks to reward ingenuity for programs that benefit service men and women and their families.
"Improving lives for the military is the cornerstone of this program. Newman's Own is proud to be part of an initiative that helps serve a crucial segment of Americans, those who serve our country," according to Tom Indoe, president and chief operating officer of Newman's Own.
Over 250 entries were submitted for the 2014 program. Seven judges evaluated each entry based on the organization's impact to the respective communities, creativity and innovation.
View photos from the 2014 Newman's Own Awards here.
Pictured: General Martin Dempsey, Chairman, Joint Chiefs of Staff; Michael Zacchea, Lt. Col. U.S.M.C. Ret, Program Director, Entrepreneurship Bootcamp for Veterans with Disabilities; Tom Indoe, President & Chief Operating Officer, Newman's Own, Inc.; Suzie Schwartz, Trustee, Fisher House Foundation; Peter Lundquist, Vice President & General Manager, Military Times. Photos by Ashley Estill.