Faculty and Ph.D. students in the School of Business' management department have been selected for two prestigious awards in recent weeks.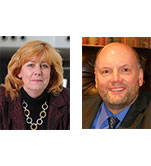 The Journal of Occupational and Organizational Psychology (JOOP) recently recognized a paper titled "Unpacking the Cross-level Effects of Tenure Diversity, Explicit Knowledge, and Knowledge Sharing on Individual Creativity," as Best Paper for 2013. The paper was co-authored by UConn graduate students Margaret Luciano and Hyoun Sook Lim and Professor of Management Lucy Gilson. This paper examines tenure diversity and creativity, two critical areas that managers need to embrace. The results suggest that team tenure diversity is positively related to individual creativity through individual explicit knowledge only when there are high levels of knowledge sharing.
Meanwhile, "Empowered to Perform: a Multi-level Investigation of Empowerment on Performance in Hospital Units," won the Health Care Management Division Best Paper Award from the Academy of Management this summer. The team of authors included doctoral students Lauren D'Innocenzo '14 Ph.D. and Margaret Luciano, John Mathieu, professor and Cizik Chair in Management, and M. Travis Maynard '07 Ph.D., associate professor at Colorado State University. Their research unveiled that in the high-stakes, dynamic environment in the healthcare industry, empowering work units is an important means by which leaders can enhance individuals' motivation and performance.