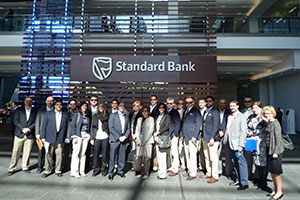 Each year, a team of UConn's Executive MBA (EMBA) students travel abroad to enrich their experience and understanding of global business issues. As part of the curriculum, the international study trip enables participants to experience firsthand how concepts and theories learned in the classroom are applied in the global arena.
The program's latest destination was South Africa, a diverse, emerging global market that serves as the gateway to the African continent. Students returned equipped with new knowledge and insights, having visited with executives from an array of companies and industries. The business visits covered discussions on topics such as investments in the country, banking, business ownership, and various challenges and opportunities:
"Investing in South Africa: High risk or High Return?"
Mteto Nyati, Managing Director, Microsoft

"Finance and Banking in South Africa"
Carolina Reddy, Head of Distribution and Sales, Standard Bank

"Challenges and Opportunities in the South African Real Estate Industry"
David Stoll, Regional Head and Martin Kearns, Development Executive at Victoria and Albert Waterfront, both of Growth Point

"Retail Strategies for Low-Income Population"
Suzanne Ackerman-Berman, Transformation Director, Pick n Pay

"Labor Market Challenges in South Africa"
Nico Grobbelaar, Executive Director of Human Resources, Paarl Media Group

"Building a Successful Business in South Africa"
Tony Gerrans, CEO, Grotto

"The Wine Industry in South Africa"
Gary Jordan, Owner, Jordan Wines
While in South Africa, students also explored its cultural history. One of the cultural highlights was The Apartheid Museum—the first of its kind—illustrating the rise and fall of apartheid, the system of racial segregation in South Africa that blighted much of its progress for half a century. EMBA students were also able to visit Robben Island; where Nelson Mandela served his prison term for his rebellion against the Apartheid regime.
A guided tour of Johannesburg and Soweto—an urban section of the city—immersed the EMBAs in its turbulent history and diversity of people and cultures.
"Understanding the history and culture of a country in which you conduct business is critical," said Noel Petrolati, a current EMBA student. "I knew it was important, but to see and experience South Africa's turbulent past and to see its economic development was enlightening," she said.