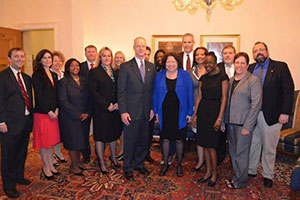 A professor at the UConn Center for Real Estate and Urban Economic Studies was recently admitted to practice law before the United States Supreme Court. Attorney Lucy Michaud, whose areas of expertise are real estate and business law, has been working with the real estate center at the School of Business as asst. ext. professor and a liaison to the Department of Consumer Protection.
Michaud was among 14 attorneys invited to apply for the special designation by the Phi Alpha Delta Law Fraternity, International (P.A.D.). The accepted group was inducted to the Supreme Court of the United States in a ceremonial ritual on June 2, as part of the 48th annual P.A.D. Day held in Washington, D.C.
Phi Alpha Delta Law Fraternity, International is the largest co-ed professional law fraternity in the United States. Justices Samuel Anthony Alito, Stephen G. Breyer, Ruth Bader Ginsburg, Elena Kagan, and Sonia Sotomayor are all P.A.D. members. Following the swearing-in ceremony, Justices Ginsburg and Sotomayor visited with the group to individually meet the inductees.
Pictured: Lucy Michaud (front, right) and P.A.D. members pose with Supreme Court Justice Sonia Sotomayor (front, center).