This article first appeared in the UConn Business magazine, Volume 4, Issue 2 (Spring 2014)

When a teenage boy asked if he could buy a World Wrestling Entertainment t-shirt, then-CEO Linda McMahon came up with a quick response.
"Not yet," she told him. His question helped launch the WWE's highly profitable consumer products division, adding toys, books, video games and apparel to the growth of what was already a global empire.
"Be open to new ideas, no matter where they come from," McMahon advised almost 200 people who attended a "CEO Evolution" roundtable discussion on UConn's Stamford campus.
"Treat every day like it's your first day on the job. Look at things with fresh eyes," said McMahon, who grew her company from 13 employees to more than 700. "Don't do something just because it's the way it's always been done."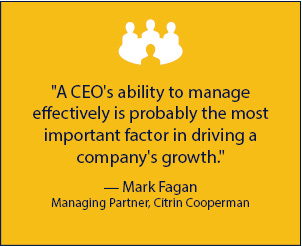 Co-sponsored by the UConn School of Business; Citrin Cooperman, an accounting, tax and consulting firm with an office in Norwalk; and the Fairfield County Business Journal, the CEO Evolution program was held on the Stamford campus in January.
The event tapped the expertise of four executives whose companies are among the most successful in Connecticut—and beyond. Coming from industries as diverse as healthcare, technology, service and entertainment, a common theme involved recruiting and hiring outstanding employees.
Dr. John Votto '73 (CLAS), CEO of the Hospital for Special Care in New Britain, said the key to running a successful organization is finding the right people and trusting them to do what is best.
"So often in today's hectic work environment we lose sight of that one very simple thing," said Votto, who has overseen a $65 million hospital expansion and the development of programs enhancing the physical rehabilitation, respiratory care and medically complex pediatric programs.
"It's not uncommon for successful workplaces to have their fair share of inflated egos, so I'm very up-front with my employees: I respect you, I believe in you—but no one is irreplaceable. You should always be working your hardest and striving to secure your job."
The idea for the panel discussion originated with Mark Fagan, the Connecticut managing partner of Citrin Cooperman and the author of a popular series of CEO advice columns titled "The CEO Evolution" published in the Fairfield County Business Journal.
"A CEO's ability to manage effectively is probably the most important factor in driving a company's growth," Fagan said. Too often the top executive gets mired in petty details.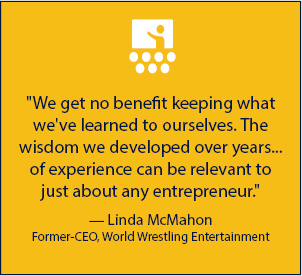 "One common thread expressed by each panelist was the need to identify talent and enable talent, which ultimately allows the CEO to devote the majority of his or her time to looking toward the future and determining where the company is going," Fagan said. "That enables the CEO to concentrate on developing the next product or brainstorming the next acquisition."
Jud Saviskas, executive director of the UConn School of Business in Stamford, said the executives' honest and insightful answers made for an informative evening.
"What CEO, or future CEO, wouldn't relish the chance to spend two hours learning the strategies, challenges, missteps, opportunities, ideas, and wisdom of four incredibly successful business owners?" Saviskas said.
"All four panelists were fascinating. And because they represented industries as diverse as healthcare and entertainment, they gave comments that you might not expect," he said. "Each one stressed the importance of hiring great talent. I think that was the biggest take-away message."
Paul Senecal, president of United Services of America, a $35 million cleaning and maintenance company based in Bridgeport, said an organization's mission needs to be clear. "We are not in the cleaning business to make money," he said. "We are in the cleaning business to have clean buildings, because if we do, our valued customers will allow us to make a reasonable profit."
Running one of the largest commercial cleaning companies in the Northeast, Senecal discussed the challenges of managing 1,700 employees, dispersed in different locations.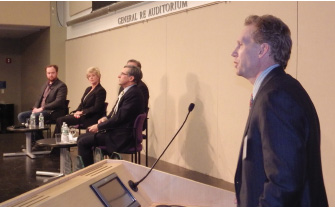 The culture of his organization is one in which all employees share the same goals, objectives and vision, he said. "We tell each other, and most importantly ourselves, the truth, and conduct ourselves in the same manner as we want to be treated," Senecal said.
Panelist Austin McChord is the founder and CEO of Datto Inc. of Norwalk, whose company offers data backup service for disaster recovery and business continuity. In 2013, the company marked its fourth year of 300 percent annual growth and has received industry recognition for excellence and technical support. The audience was intrigued when McChord, 28, explained that he recently turned down a $150 million buy-out offer because he believes he hasn't yet maximized the company's potential.
After the program, McMahon noted that only 22 women are CEOs of Fortune 500 companies, indicating that many talented people could benefit from others who can "light the path" to the corner office. "We get no benefit keeping what we've learned to ourselves," she said. "The wisdom we developed over years—or in my case, decades—of experience can be relevant to just about any entrepreneur."
The CEO Evolution program was so successful that Saviskas said he expects it to become an annual event. "It fits well with the School of Business' mission," he said, "not only to educate future business leaders but to also provide learning and networking opportunities for the existing business community."