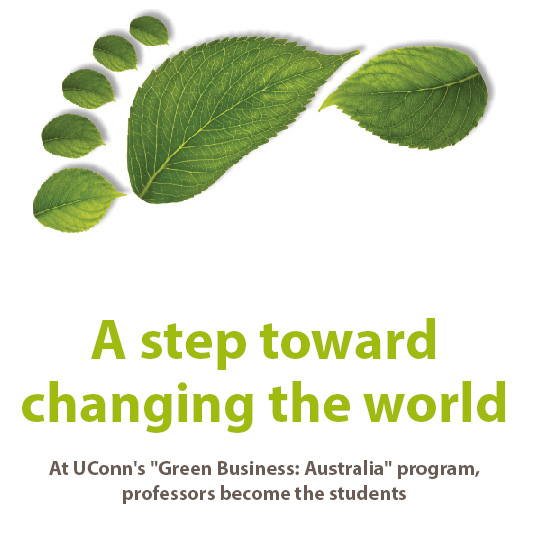 This article first appeared in the UConn Business magazine, Volume 4, Issue 2 (Spring 2014)
Professor Katherine Pancak always wanted to teach a course on sustainable real estate, but didn't know if she had enough expertise.
After taking a University of Connecticut-sponsored faculty education trip to Australia, she came back ready to tackle it. This spring she led a one-credit course on sustainable building principles and practices that gave students the core knowledge needed to become a certified green building professional.
"From a real estate perspective, we are on the verge of an enormous change," said Pancak, a professor of finance and real estate. "From new construction to retrofitting older buildings, everyone is concerned about sustainability. It is not just an environmental issue, either. It is driven by economic and social needs as well. This is the wave of the future."
The University of Connecticut is one of only 33 institutions of higher education in the country to house a Center for International Business Education and Research (CIBER) program, which is funded by the U.S. Department of Education, according to Managing Director Kelly Aceto. The "Green Business: Australia" program is also open to faculty from other colleges, and this year professors from seven universities participated.
"Australia is on the forefront of incorporating sustainability into business," Aceto said, and learning from their experts was the purpose of this trip. "The people we've met there are not only extremely knowledgeable but also are genuinely interested in sharing their approaches with our faculty."
"We've received excellent feedback about the trip," she said. "In fact, almost universally the professors asked if they could return a second time!"

The 11-day program is a balance of academic and cultural activities. Faculty spent considerable time learning about real estate development, construction and property management in Sydney. They also visited with a local Aboriginal community, Muru Mittgar, and learned about the indigenous people's land-stewardship philosophy. Other speakers discussed everything from responsible mining to Australian health care. Participants visited manufacturing facilities, a brewery, and the Brisbane City Council.
Another highlight is a trip to the University of Queensland in Brisbane, where Andrew Griffiths, dean of the Business School, goes out of his way to make sure the Americans have a memorable trip.
"We hope that the participants leave generally better informed on a range of sustainability concepts, and that they are able to translate this passion into a range of direct outcomes for themselves, their communities and their students," Griffiths said.
Griffiths, one of the first scholars in the world to study corporate resilience and adaptation to long-term global climate change, offered perspectives on industry sustainability and strategies for integrating topics across the business school curriculum.
"The key points of the program are understanding that there does not exist a 'one best way' approach to sustainability," he said. "We try to engage our guests with key individuals who are running sustainable business – to demonstrate the innovation and creativity at work."
This year's program included the introduction of the faculty from both Australia and the United States. "From this exchange it appears that our colleagues are talking about collaborations, not all sustainability based, but also about exciting opportunities in their own fields of research and teaching," he said.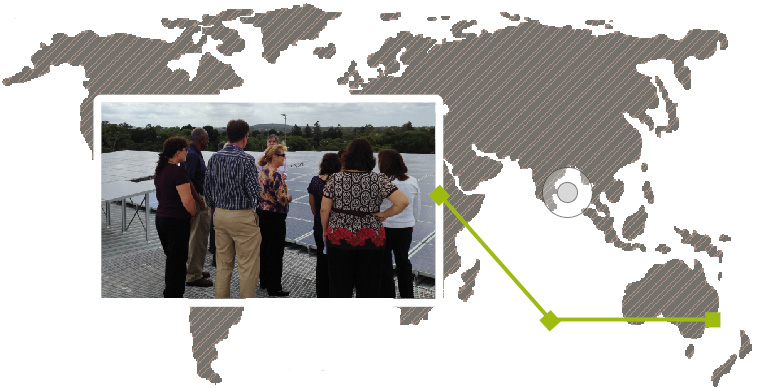 Sue White, a finance professor and distinguished teaching fellow from the University of Maryland's Robert H. Smith School of Business, said the experience was remarkable.
"We toured firms that were dedicated to sustainability. For example, we visited firms that have incorporated nature into their high rise buildings, while being very energy efficient," she said.
"We toured Perfect Potions, which manufactures organic shampoos and lotions, and learned about their commitment not only to their environment in Australia but to the countries where they obtain their supplies."
Back at UConn, Pancak's Sustainable Real Estate course taught students the techniques, approaches, materials and technologies used in the internationally recognized Leadership for Energy and Environmental Design (LEED) green-building rating systems. Students also learned how buildings can be designed to improve sustainability, promote water and energy efficiency, and minimize environmental impacts. After completing the course, students are eligible to take the U.S. Green Building Council LEED Green Associate exam.
The course is already paying dividends for UConn junior Austin Smyth, of Guilford, who is planning a career in commercial real estate. When interviewing for a coveted summer internship in New York City, he told his interviewers about his plans to take the Sustainable Real Estate course and he ultimately got the offer.
"Sustainability is a really big deal with all the companies I was applying to," Smyth said. "They are all trying to get buildings LEED certified, so it was certainly a good talking point."
"I think it is something extra that UConn offers that other universities don't," he said. Based on what he learned in the course, he is planning to take an exam to become LEED certified.
"These exams are normally taken by real estate professionals. To be able to take it as students, definitely puts us at an advantage," he said. "It is one of the best opportunities I've had."